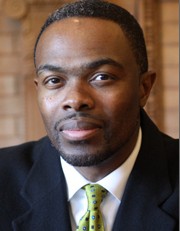 Ronald L Jackson II , Ph.D.
Professor
Professor of Communication
Dr. Ronald L. Jackson II was awarded the 2020 Distinguished Scholar Award from the National Communication Association in November 2020, a prestigious lifetime research achievement award.  He is Past President of the National Communication Association, Dean Emeritus of the College of Arts & Sciences at University of Cincinnati, Past Co-editor (with Kent Ono) of Critical Studies in Media Communication, and previous winner of the coveted Comic-Con International's Will Eisner Award for Best Academic Scholarly Work. His research explores empirical, conceptual, and critical approaches to the study of race, masculinity, identity negotiation, whiteness, and Afrocentricity. He is author of 17 books, including his most recent book (with Amber Johnson, Michael Hecht, and Sidney Ribeau) entitled African American Communication, and the well-received anthology Gladiators in Suits: Race, Gender, and Politics of Representation in Scandal, with Simone Adams and Kimberly Moffitt.  He also is co-writing (with Tina Harris) a public speaking book to be published by Oxford University Press.  The book will likely debut in 2021.
PhD.: Howard University 1996 (Rhetoric/Intercultural Communication)
M.A.: University of Cincinnati 1993 (Organizational Communication)
B.A.: University of Cincinnati 1991 (Speech Communication))
Positions and Work Experience
2008 -2012 University of Illinois at Urbana-Champaign,
2012 -2021 University of Cincinnati,
2007 -2008 Penn State Cancer Institute,
2002 -2002 Howard University,
1998 -2008 Pennsylvania State University,
1996 -1998 Shippensburg University of Pennsylvania,
1995 -1996 Xavier University of Louisiana,
Grant: #Advancing the Discipline Grant Investigators:Jackson, Ronald 05-01-2022 -12-31-2022 National Communication Association Project 1 Small Grant $4800 Role:PI 4800.00 Hold Level:Non Profit
Grant: #HBCU Communication Fellows Program Investigators:Jackson, Ronald 08-01-2022 -07-31-2024 National Communication Association Project 2 Larger Grant: Special Project Disbursement- Executive Council of the National Communication Association Role:PI 17260.00 Hold Level:Non Profit
Peer Reviewed Publications
Jackson, R. & Morrison, C. An analysis of Boondocks' Uncle Ruckus Reality show and Griaule's four degrees of the word .Journal of Black Studies, ,
Jackson, R. L. (2012. ) Articulating the heuristic value of African American Communication Studies .Review of Communication, , 12 (3 ) ,
Jackson, R. L. (1997. ) Black Manhood as Xenophobe: An Ontological Exploration of the Hegelian Dialectic .Journal of Black Studies, , 27 (6 ) ,731-750
Jackson, R. L. & Garner, T. (1998. ) Tracing the Evolution of Race, Ethnicity, and Culture in Communication Studies .Howard Journal of Communication, , 9 (1 ) ,47-56
Wilson, K., Jackson, R. L., & Doughty, J. (1999. ) What a Difference a Race Makes: Reasons for Ineligibility Within the Vocational Rehabilitation System .American Rehabilitation, , 25 (2 ) ,16-24
Jackson, R. L. (1999. ) White Space, White Privilege: Mapping Discursive Inquiry into the Self .Quarterly Journal of Speech, , 55 (1 ) ,1-17
Jackson, R. L. (1999. ) Mommy, There's a Nigger at the Door: Personal Narratives, Anecdotes and Episodes of Race .Journal of Counseling & Development,, , 77 (1 ) ,4-7
Jackson, R. L., Shin, C. I. & Wilson, K. B. (2000. ) The Meaning of Whiteness: Critical Implications of Communicating and Negotiating Race .World Communication, , 29 (1 ) ,69-86
Jackson, R. L. (2000. ) So Real Illusions of Black Intellectualism: Exploring Race, Roles, and Gender in the Academy .Communication Theory, , 10 (1 ) ,48-63
Jackson, R. L. (2000. ) Africalogical Theory Building: Positioning the Discourse .International and Intercultural Communication Annual, , 22 ,31-41
Wilson, K., Harley, D., McCormick, K., Jolivette, K. & Jackson, R. L. (2001. ) A Literature Review of Vocational Rehabilitation Acceptance and Rationales for Bias in the Rehabilitation Process .Journal of Applied Rehabilitation Counseling, , 32 (1 ) ,24-35
Jackson, R. L. & Wilson, K. (2001. ) Dynamics of Race and Identity in Vocational Rehabilitation Settings: A Systematic Comparison of Closure Rates Among Blacks and Whites .Journal of Intergroup Relations, , 27 (4 ) ,24-35
Jackson, R. L. (2002. ) Introduction: Theorizing and Analyzing The Nexus between Cultural and Gendered Identities and the Body .Communication Quarterly, , 50 (3/4 ) ,245-250
Wilson, K. B., Turner, T., & Jackson, R. L. (2002. ) Vocational rehabilitation services received after successful closure: A comparison by race .Journal of Applied Rehabilitation, , 33 (1 ) ,26-34
Tierney, S., & Jackson, R. L. (2002. ) ). Deconstructing Whiteness Ideology As a Set of Rhetorical Fantasy Themes: Implications for intercultural alliance building in the United States .Intercultural Alliances, , 25 ,81-106
Jackson, R. L. & Heckman, S. (2002. ) Perceptions of White Identity and White Liability: An Analysis of White Student Responses to a College Campus Racial Hate Crime .Journal of Communication, , 52 ,434-450
Jackson, R. L. (2002. ) Exploring African American Identity Negotiation in the Academy: Toward a Transformative Vision of African American Communication Scholarship .Howard Journal of Communication, , 12 (4 ) ,43-57
Jackson, R. L. (2002. ) Cultural Contracts Theory: Toward an understanding of identity negotiation .Communication Quarterly, , 50 (3/4 ) ,359-367
Onwumechili, C., Nwosu, P., Jackson, R. L. & James-Hughes, J. (2003. ) In the Deep Valley with Mountains to Climb: Exploring Identity and Multiple Reacculturation .International Journal of Intercultural Relations, , 27 ,41-62
Jackson, R. L. & Simpson, K. (2003. ) White Positionalities and Cultural Contracts: Critiquing Entitlement, Theorizing and Exploring the Negotiation of White Identities .Ferment in the Intercultural Field, , 26 ,319-326
Jackson, R. L. & Crawley, R. (2003. ) White Student Confessions about an African American male professor: A Cultural Contracts Theory approach to intimate conversations about race and worldview .Journal of Men's Studies, , 12 (1 ) ,25-42
Shin, C. I. & Jackson, R. L. (2003. ) A Review of Identity Research in Communication Theory: Re-conceptualizing Cultural Identity .Ferment in the Intercultural Field, , 26 ,268-312
Hendrix, K. G., Jackson, R. L., Warren, J. R. (2003. ) Shifting Academic Landscapes: Exploring Co-Identities, Identity Negotiation, and Critical Progressive Pedagogy .Communication Education, , 54 (4 ) ,177-190
Jackson, R. L. & Hendrix, K. (2003. ) THEME: Racial, Cultural, and Gendered Identities in Educational Contexts: Communication Perspectives on Identity Negotiation [Double Thematic Issue] .Communication Education, , 53 (3/4 ) ,177-317
Jackson, R. L. (2003. ) THEME: Identity Negotiation: An exploration of racial, cultural and gendered identities [First Part of Double Thematic Issue on Identity Negotiation] .Communication Quarterly, , 50 (3 ) ,
Jackson, R. L. (2003. ) THEME: Identity Negotiation: An exploration of racial, cultural and gendered identities [Second Part of Double Thematic Issue on Identity Negotiation] .Communication Quarterly, , 50 (4 ) ,
Oliver, M. B., Jackson, R. L., Moses, N. & Dangerfield, C. (2004. ) The Face of Crime: Viewers' Memory of Black and White Facial Features of Individuals Pictured in the News .Journal of Communication, , 54 (1 ) ,88-104
Jackson, R. L. (2004. ) Negotiating and Mediating Constructions of Racial Identities .Review of Communication, , 4 (1/2 ) ,6-15
Jackson, R. L. (2005. ) African American Rhetoric: What it is in a sentence .Retorik Magasinet , ,
Jackson, R. L. (2007. ) What is Qualitative Research? .Qualitative Research Reports in Communication, , 8 (1 ) ,21-28
Camara, S., White, T., Drummond, D., & Jackson, R. (2009. ) Deconstructing ideological notions of otherness in Far from Heaven .Interactions: Studies in Communication and culture, , 1 (3 ) ,391-408
Ono, K. & Jackson, R. (2011. ) Civil Discourse in the Face of Complex Social Issues .Critical Studies in Media Communication, , 28 (1 ) ,1-7
Agnew, L., Gries, L., Stuckey, Z., Burton, V. T., Dolmage, J., Enoch, J., Jackson, R., Mao, L., Powell, M., Walzer, A., Cintron, R., and Vitanza, V. (2011. ) Octalog III: The Politics of Historiography in 2010 .Rhetoric Review, , 30 (2 ) ,109-134
Jackson, R. (2012. ) Articulating the heuristic value of African American Communication Studies. .Review of Communication, , 12(3) ,237-250
Wiliams, K. & Jackson, R. (2013. ) The big, bad wolf: Lupus, identity, and African American women. .Africana Studies, , 5 ,65-80
Ronald Jackson (2015. ) Don't Forget There's Violence in Racist Violations. .Journal of International and Intercultural Communication, , 8 (2 ) ,1 -1-2
Ronald Jackson and Murali Balaji (2015. ) Border Citizenry and the Arbitrary Civil Protection of Black Males: A look at Trayvon Martin and Emmett Till. .Cultural Studies, Critical Methodologies., ,
Ronald L. Jackson II (2019. ) Is this what revolution looks like? .Departures in Critical Qualitative Research, , 7 (4 ) , -196-199
Katherine Hendrix and Ronald Jackson (2016. ) The Contours of Progress: Parsing Diversity and Difference Studies .Communication Education, , 65 (2 ) ,245 -245-249
Ronald L. Jackson II & Ashley McDonald (2019. ) The Violence of White Entitlement and the Hypocrisy of Earned Merit. .Departures in Critical Qualitative Research, , 8 (4 ) ,63-67
Ronald L. Jackson II & Christi Moss (2017. ) Introduction to Special Issue: We March Lest We Forget. .Howard Journal of Communications, , 28 (2 ) ,123-131
Invited Publications
Ronald L. Jackson II (2019. ) Foreword: Representing Blackness. .Representations of Black Womanhood on Television: Being Mara Brock Akil. ,
Ronald L. Jackson II Foreword: Functions of Global media. .Media in the Global Context: Applications and Interventions,
Ronald L. Jackson II (2019. ) Foreword: Troubling whiteness and its neoliberalist impulse. .Interrogating the Communicative Power of Whiteness. ,
Ronald L. Jackson II (2018. ) Foreword: A tool for understanding the African Diaspora. .Black/Africana Communication Theory,
Ronald L. Jackson II (2017. ) Foreword: The pulp of progressive possibilities in the academy. .Deviant Communication in Teacher Student Interactions. ,
Published Books
Howard, S. & Jackson, R. L (2013. ) Black Comics: Past and Present .New York, NY , Continuum (Co-Editor)
Jackson, R. L. & Moshin, J. E. (2012. ) Communicating Marginalized Masculinities: Identity Politics in TV, Film, and New Media .New York , Routledge (Author)
Jackson, R. L. & Balaji, M (2011. ) Global Masculinities and Manhood .Urbana, IL , University of Illinois Press (Co-Author)
Jackson, R. L. & Hopson, M. ( (2011. ) Masculinity in the Black Imagination .New York , Peter Lang (Co-Author)
Jackson, R. L. (2010. ) Encyclopedia of Identity (2 volumes) .Thousand Oaks, CA , Sage (Author)
Jackson, R. L. (2006. ) Scripting the Black Masculine Body: Identity, Discourse and Racial Politics in Popular Media .Albany, NY , SUNY Press (Author)
Jackson, R. L., & Brown Givens, S (2006. ) Black Pioneers in Communication Research .Thousand Oaks, CA , Sage Publications (Co-Author)
Richardson, E. & Jackson, R. L. (2004. ) African American Rhetoric(s): Interdisciplinary Perspectives .Carbondale, Ill. , Southern Illinois University Press (Co-Author)
Jackson, R. L. & Hendrix, K. (2004. ) Racial,Cultural, and Gendered Identities in Educational Contexts: Communication Perspectives on Identity .New York , Routledge
Jackson, R. L. (2004. ) African American Communication and Identities: Essential Readings .Thousand Oaks, CA , Sage Publications (Author)
Jackson, R. L. & Richardson, E (2003. ) Understanding African American Rhetoric: Classical origins to contemporary innovations .New York , Routledge (Co-Author)
Hecht, M. L., Jackson, R. L. (2003. ) ). African American Communication: Exploring Identity and Culture. (2nd Edition) .Mahwah, NJ , Erlbaum (Co-Author)
Jackson, R. L. (1999. ) The Negotiation of Cultural Identity .Westport, CT , Praeger Press (Author)
Bell, J. & Jackson, R. (2013. ) Interpreting Tyler Perry .New York, NY , Routledge (Co-Editor)
Jackson, R. L. (2000. ) Think About It: The Question Book for Those Curious about Race and Self-Discovery .Lincoln, NE , Writer's Club Press
Ronald Jackson Contemporary Public Speaking: Five Steps to Captivating Audiences. .New York , Oxford University Press (Author)
Simone Adams, Kimberly Moffitt, and Ronald L. Jackson II (2019. ) Gladiators in Suits: Race, Gender, and the Politics of Representation in Scandal .Syracuse, NY , Syracuse University Press (Co-Author)
Ronald L. Jackson II, Amber Johnson, Michael Hecht, and Sidney Ribeau (2020. ) ). African American Communication: Examining the Complexities of Lived Experience. (3rd Edition) .New York, NY , Taylor & Francis
Book Chapter
Morrison, C. & Jackson, R. (2015 ) The Appropriation of the African Naming Process & Black hip hop Masculinity in Ego Trip's The (White) Rapper Show Soul Thieves .(pp. 8 -9-21).New York, Palgrave MacMillan
Glenn & Jackson, R. (2015 ) Renegotiating Identity and Communication: Keywords in Communication Research Keywords in Communication .(pp. 165 -189).New York, Hampton Press
Jackson, R. L., Glenn, C. L., & Morant, K. M. (2013 ) Self-identity Inter/Cultural Communication: Representation and Construction of Culture in Everyday Interaction .Thousand Oaks, CA, Sage Publications
Jackson, R. L. & Camara, S. (2012 ) Scripting and Consuming Black Bodies in Hip Hop Music and Pimp Movies Message in the Music: Hip Hop, History & Pedagogy .Atlanta, GA, Clarity Press
Jackson, R. L (2011 ) Foreword The Talking Drum .(pp. 9-11).Cresskill, NJ, Hampton Press
Jackson, R. L. & Moshin, J. (2011 ) Identity and difference: Race and the necessity of the discriminating subject The Handbook of Critical Intercultural Communication .(pp. 348-363).New York, Wiley
Moshin, J. & Jackson, R. L. (2011 ) Inscribing racial bodies and relieving responsibility: Examining racial politics in Crash Critical Rhetorics of Race .(pp. 214-232).New York, NYU Press
Jackson, R. L. & Brown-Givens, S. (2009 ) Molefi Kete Asante: Father of Afrocentricity Essays in honor of an intellectual warrior, Molefi Kete Asante .Paris, France, Menaibuc
Jackson, R. L. & Hendrix, K (2009 ) Mapping cultural communication research: 1960s to the present A Century of Transformation: Studies in honor of the 100th Anniversary of the Eastern Communication Association .(pp. 272-292).New York, Oxford University Press
Moshin, J. & Jackson, R. L. (2008 ) Constructing, Negotiating, and Communicating Jewish Identity in America Intercultural Communication: A Reader .(pp. 70-78).Belmont, CA, Wadsworth
Onwumechili, C., Nwosu, P., & Jackson, R. L. (2008 ) Straddling cultural borders: Exploring Identity and Multiple Reacculturation Intercultural Communication: A Reader .(pp. 116-127).Belmont, CA, Wadsworth
Jackson, R. L. & Moshin, J. (2008 ) Scripting Jewishness within the satire Hebrew Hammer Communication Ethics: Between cosmopolitanism and provincialit .(pp. 187-214).New York, Peter Lang
Jackson, R. L., Warren, J. R., Pitts, M. J., & Wilson, K. B. (2007 ) ). "It is Not My Responsibility to Teach Culture!": White Graduate Teaching Assistants Negotiating Identity and Pedagogy Whiteness, Pedagogy, and Performance: Dis/Placing race .(pp. 67-86).Lanham, MD, Lexington Books
Hecht, M. L., Jackson, R. L., & Pitts, M. (2005 ) Culture Intergroup Communication: Multiple Perspectives .(pp. 24-47).New York, Peter Lang
Jackson, R. (2015 ) Mapping cultural communication research (reprinted essay) The Global Intercultural Communication Reader .(pp. 76-91).New York, Routledge
Electronic Journal
Jackson, R. L (2001. ) Negotiating Race, Culture, & Identity in Rural Community Settings: An Introduction .Journal of Rural Community Psychology, E4 (1 ) ,
Jackson, R. L. & Stewart, J. B. (2001. ) Negotiation of African American Identities in Rural America: A Cultural Contracts Approach .Journal of Rural Community Psychology, E4 (1 ) ,
Jackson, R. L. (2001. ) THEME: Negotiating Race, Culture & Identity in Rural Communities .Journal of Rural Community Psychology, E4 (1 ) ,
Encyclopedia Article
Jackson, R. (2012. ) Encyclopedia of Communication Theory .Thousand Oaks, CA, Sage
Jackson, R. Encyclopedia of Intercultural Competence .Thousand Oaks, CA, Sage
Paper Presentations
Ronald Jackson (11-22-2014. ) A Tribute to Melbourne S. Cummings: Celebrating over 40 Years as Scholar, Professor, Mentor, NCA Leader, and Colleague .Chicago, IL. Professional Meeting. Level:National
Ronald Jackson (11-22-2014. ) Diversifying Research through Leadership, Publishing and Mentorship: The Future of Our Presence(s) .Chicago, IL. Professional Meeting. Level:National
Ronald Jackson (11-22-2014. ) The Past in the Present .Chicago, IL. Professional Meeting. Level:National
2012 University of Cincinnati Department of Communication 2012 Alumnus of the Year
2009 -2011 NCA Service Award for serving as Director of Finance Board
2011 -2011 American Library Association/Reference and User Services Association 2011 Outstanding Reference Sources Award for the Encyclopedia of Identity Status:Recipient
2010 -2012 Eastern Communication Association Distinguished Teaching Fellow
2009 Eastern Communication Association Centennial Scholar
2007 NCA International and Intercultural Communication & Culture Division's Status:Recipient
2006 Distinguished Scholarship Award for the book Scripting the Black Masculine Body
2007 Eastern Communication Association's Everett Lee Hunt Award for Outstanding Scholarship Status:Recipient
2007 Duquesne University Scholarly Award for Communication Excellence in Ethics Education for the Mind, Heart, and Spirit Status:Recipient
2006 NCA African American Communication & Culture Division's Status:Recipient
2006 Distinguished Scholarship Award for the book Black Pioneers in Communication Research Status:Recipient
Youn, ChangGook (Doctoral ) Committee Member Status:Completed 2007
Wright, Trina (Doctoral ) Committee Member Status:Completed 2001
Williams, Carol (Doctoral ) Committee Member Status:Completed 2009
Watson, Kimberlyn (Doctoral ) Committee Member Status:Completed 2003
Warren, Jennifer (Doctoral ) Committee Member Status:Completed 2006
Walker, Felicia (Doctoral ) Committee Member Status:Completed 1998
Wadsworth, Brooke C (Doctoral ) Committee Member Status:Completed 2006
Tu, Hui-wen (Doctoral ) Committee Member Status:Completed 2005
Sun, Wei (Doctoral ) Committee Member Status:Completed 2002
Smallwood, Maya (Master ) Committee Member
Schneider, Stephen (Doctoral ) Committee Member Status:Completed 2006
Moshin, Jamie (Master ) Committee Member Status:Completed 2006
Morgan, Allison (Doctoral ) Committee Member Status:Completed 2009
Measel, Kristen (Undergrad ) Committee Member Status:Completed 2005
Maeda, Eriko (Doctoral ) Committee Member Status:Completed 2006
Lewis, Shawn (Doctoral ) Committee Member Status:Completed 2003
Levy, Meloney (Doctoral ) Committee Member Status:Completed 2002
Laskowski, Kara (Doctoral ) Committee Member Status:Completed 2006
Kundrat, Amanda (Doctoral ) Committee Member Status:Completed 2001
King, Donna (Doctoral ) Committee Member Status:Completed 2009
Kimokeo-Goes, Una (Master ) Committee Member Status:Completed 2007
Johnson, Curtis (Master ) Committee Member Status:Completed 2008
Johnson, Amber (Doctoral ) Committee Member Status:Completed 2006
James-Hughes, Jacqueline (Doctoral ) Committee Member Status:Completed 2002
Imperato, Nicole (Doctoral ) Committee Member Status:Completed 2002
Huang, Haiyan (Doctoral ) Committee Member Status:Completed 2009
Horikami, Bryan (Doctoral ) Committee Member Status:Completed 2006
Herbert, Shamine (Doctoral ) Committee Member Status:Completed 2000
Gersie, Wayne (Doctoral ) Committee Member Status:Completed 2009
Freymiller, Lyn (Doctoral ) Committee Member Status:Completed 2003
Fredrick, John G. M. (Doctoral ) Committee Member Status:Completed 2004
Falkowski, Tan (Master ) Committee Member Status:Completed 2001
Ervin, Cory (Master ) Committee Member Status:Completed 2007
Droll, Leia (Doctoral ) Committee Member Status:Completed 2005
Drayton, Bredndaly (Doctoral ) Committee Member Status:In Progress 2012
Dangerfield, Celnisha (Master ) Committee Member Status:Completed 2002
Carraway, Vernon (Doctoral ) Committee Member Status:Completed 2008
Byme, Dara (Doctoral ) Committee Member Status:Completed 2002
Broussard, Dana (Doctoral ) Committee Member 2001
Bridges, Shenay (Doctoral ) Committee Member Status:Completed 2007
Boonsathom, Wasita (Doctoral ) Committee Member Status:Completed 2003
Boes, Cynthia (Doctoral ) Committee Member Status:Completed 2006
Barnett, Jacqueline (Doctoral ) Committee Member Status:Completed 2006
Balaji, Murali (Doctoral ) Committee Member Status:Completed 2009
Jones, Mercedes (Master ) Chair Status:Completed 05-2016
Branden Elmore (Master ) Chair Status:Completed 05-2016
Harrison, Olivia (Master ) Committee Member Status:In Progress 05-2017
Branden Elmore (Master ) Chair 2014
Luong, Jemmani (Master ) Chair Status:Completed 2015
Richardson, Richara (Doctoral ) Co-Chair Status:Completed 2019
Harris, Rockia (Master ) Chair Status:Completed 2019
McDonald, Ashley (Master ) Chair Status:Completed 2019
Brown, Jade (Master ) Chair Status:Completed 2019
Francisco, Dominique (Master ) Chair Status:Completed 2020
Swett, Jalen (Master ) Chair Status:Completed 2020
National Communication Association (Officer ) President-Elect Type:Service to Professional Associations Level:National 03-01-2015 -01-01-2020
National Communication Association (NCA)- Life Member
International Communication Association (ICA) – Life Member
Eastern Communication Association (ECA) – Life Member
Western States Communication Association (WSCA) – Life Member
Southern States Communication Association (SSCA) – Life Member
Central Stated Communication Association (CSCA) – Life Member
National Association of African American Studies (NAAS)
National Council of Black Studies (NCBS)
Association for the Study of African American Life & History
Negotiating Cultural Identities
Introduction to African American Film
Introduction to Whiteness Studies
Blacks in Blockbuster Films
African American Communication
Communication Skills for Business Leadership (newly proposed freshman seminar)
Communicating Race & Identity (newly proposed freshman seminar)
Effective Speech (another section taught as Continuing Ed. course)
Honors Effective Speech (honors section for university scholars)
Intercultural Communication
Systems and Theories of Human Communication
Gender & Communication
Nonverbal Communication
Intercultural Communication Theory & Research
African American Comm. & Identities
Dynamic Presentations with Powerpoint
Contemporary African American Rhetorical Theory (Newly Proposed Graduate Seminar)
Cross-Cultural Communication (Graduate Seminar)
Communication, Culture & Identities (Newly Proposed Graduate Seminar)
Trends & Issues in Cultural Research (Newly Proposed Graduate Seminar)