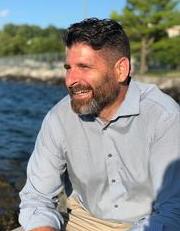 Mark Hobart Adams
Instructor - Adjunct
Home
8557 Cherryridge Ave NW
Canal Fulton, Ohio 44614
Phone 330-412-1621
Email adams3m2@uc.edu
Mark has served as the health commissioner for the Lorain County Public Health since 2020 and was the health commissioner in Henry County prior to that and served as the director of environmental health at the Canton City Health Department for 24 years. He received his BS from the University of Akron, his MPH from Tulane University, and completed Officer Candidate School at the United States Coast Guard Academy.
In Canton, Mark campaigned for changes in local lead and indoor air initiatives through collaborative partnerships, responded to hundreds of regional health incidents in various leadership capacities, and was a liaison between government and civilian stakeholders on issues relating to public health.
As health commissioner, he acted as the incident commander for the county's response to COVID in first preventing spread then leading the vaccination effort.
As a Lieutenant for the USCG, Mark served with the Joint Terrorism Task Force, deployed numerous times, and retired after 24 years.
Master of Public Health: Tulane Louisiana, 2000 (Occupational Health)
Positions and Work Experience
10-01-2020 - Health Commissioner, Lorain County Public Health, Elyria
05-01-2018 -10-01-2020 Health Commissioner, Henry County Health Department, Napoleon
03-01-1994 -05-01-2018 Director, Canton City Public Health, Canton
06-12-1987 -04-01-2012 Lieutenant, United States Coast Guard, Washington DC
Academic - Home
8557 Cherryridge Ave NW
Canal Fulton  Ohio, 44614
Phone: 330-412-1621
adams3m2@uc.edu