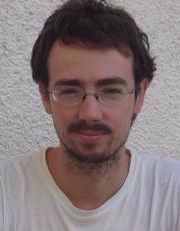 Simone Agrimonti
Graduate Assistant
Simone Agrimonti is a PhD candidate in Ancient History. He received his BA from the University of Genova (Italy) in 2011 and his MA from the University of Bologna in 2013.
His dissertation examines interstate arbitrations in the Hellenistic Peloponnese, with a particular attention to narrative construction, peer polity interaction, and the coming of Rome. His other research interests include 4th century B.C.E. historiography, and Greek political and military institutions.
During the academic year 2017/18 he was the Virginia Grace fellow at the American School of Classical Studies in Athens.
Peer Reviewed Conference/Workshop Proceedings
Bencivenni A., S. Agrimonti. "The IGCyr Project. Encoding Codes, Translating Rules, Communicating Stones in Ptolemaic Cyrene and in Contemporary Bologna," in Information Technologies for Epigraphy and Cultural Heritage. Proceedings of the First EAGLE International Conference, ed. S. Orlandi, R. Santucci, V. Casarosa, P.M. Liuzzo, Roma 2014, pp. 351-368.
Agrimonti, S. "Xenophon's Piety Within the Hipparchikos," in The Religious Aspects of War in the Ancient Near East, Greece, and Rome, ed. K. Ulanowski, Leiden 2016, pp. 194-205.
Peer Reviewed Publications
Agrimonti, S. "Decreto di Cleonimo sulla raccolta del tributo," Axon. Iscrizioni storiche greche, 2 (2018), pp. 53-64.
Review
Review of M. Bettalli, Mercenari. Il mestiere delle armi nel mondo greco antico, Roma 2013, in Revue Internationale d'Histoire Militaire Ancienne 2 (2015), pp. 148-150.
Paper Presentations
(01-2016. )Xenophon and the unequal phalanx: a 4th century view on political egalitarianism .San Francisco, CA.
(07-2014. )The right wing as the centre of gravity of the hoplite phalanx .Aberystwyth, UK.
(05-2014. )Xenophon's piety within the Hipparchikos .Gdansk, Poland.
(02-2014. )The egalitarianism of the hoplite phalanx .Edinburgh, Scotland.
(04-2019. )Athens and Warfare in Menander .Lincoln, NE.
Event Organized
Ricerche a Confronto 2014

Ricerche a Confronto 2014 Conference 03-2014 04-2014 Bologna, Italy