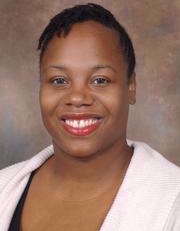 Nicole Avant
Nicole Avant, Pharm.D., BCACP is a clinical assistant professor and chief diversity officer for the University of Cincinnati College of Pharmacy. 
 
Dr. Avant earned a Bachelor of Science in Finance with Honors from the University of Illinois at Urbana-Champaign in 2001 and her Doctor of Pharmacy Magna Cum Laude from the University of Illinois at Chicago in 2012. She completed Community PGY1 and Ambulatory Care PGY2 residencies from the University of Oklahoma.
 
She has several years of experience teaching pre-kindergartners through professional students. She has enriched those experiences with obtaining foundational and advanced teaching certificates from the University of Oklahoma where she earned 4.8/5 on student evaluations for didactic lectures. She also has preceptor experience managing many disease states in an ambulatory care setting. 
 
She has acquired varied clinical experiences in different models of care. She plans to become a certified diabetes educator.  In addition to her clinical experiences, she possesses leadership experience. The most recent roles involve sitting on ASHP's Commission on Affiliate Relations, APhA's Preceptor SIG Coordinator-Elect, and PQA's Measure Development Team. 
 
In addition to teaching, leadership, and clinical accomplishments, Dr. Avant has research experience in hypertension adherence and medication non-adherence. Her additional research interests include diversity in health, preceptor development, scholarly teaching, underserved communities, cultural competency, diabetes mellitus, inter-professionalism, active learning strategies, and anti-coagulation.  She recently had a paper delivering effective presentations published in AJHP and is currently writing a paper on a tool that community pharmacists could use to develop and maintain pharmacy services.