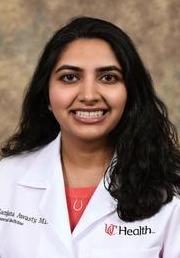 Sanjana Shubhani Awasty
Personal Statement
My favorite part of medicine is history taking. It is a very vulnerable and even emotional moment for patients, when they must chose to trust and let a stranger into their private world. I feel deeply humbled to part of a profession that engenders such trust. To see the body language of a patient change from uncertain and uncomfortable to being relaxed and at ease, or to see someone shift from being guarded and suspicious to tearful and open, is a truly satisfying experience. I know that to be heard and understood is therapeutic in itself, and observing and listening to a human story unfold draws me to Internal Medicine.

Why I Chose Cincinnati
As a medical student at the University of Cincinnati I knew first‐hand that the IM residency program at UC is an extremely supportive environment. When I had my interview, I was reminded of that camaraderie and was filled with a sense of pride at being part of this organization. The focus on medical education is important to me and I know that my training here will push me to be a better physician. These were a few reasons that Cincinnati was my top choice. When I matched to UC that decision was validated from the relief I felt and the messages of congratulations I received from residents I had worked with previously.