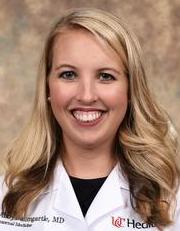 Abby Baumgartle
Clinical Instructor
Personal Statement
A good internist is a strong communicator, compassionate, efficient, and truly cares about overall health and happiness of patients. Chronic condition management may not be a glamorous aspect of patient care, but I get great satisfaction of being involved with it. I find it rewarding to be a part of a patient's small steps towards better health, whether it be celebrating a drop in Hemoglobin A1c or encouraging new exercise routines. I am honored that I get to use my skills to train in this high demand field so that I will one day become the physician I have envisioned and provide the care I would expect for myself and my loved ones.

Why I Chose Cincinnati
The University of Cincinnati felt like the perfect fit! The program stood out for its focus on education and making resident learning a priority throughout all years of residency. The long block schedule is an innovative approach to clinic time that will give a true experience as a primary care provider, which I felt would give me the best possible outpatient training. And most importantly the people I met in Cincinnati were genuine, intelligent and fun to be around! Throughout my interview day I consistently got the feeling that UC truly cared about their residents, their learning, and the patients they serve. These qualities combined made for a residency program that I could not wait to be a part of!