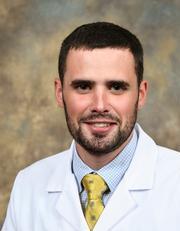 Matthew Brown
Clinical Instructor
Personal Statement
Earlier in the rotation, my attending introduced himself as rounds were about to begin, and took a moment to highlight why he enjoyed practicing Internal Medicine. More often than not, he met people during the most trying times of their lives. For that reason, he considered the opportunity to serve them through these moments to be an incredibly gratifying and humbling experience. I think about that statement often as I reflect on my training and patients I have met, including Mrs. C. Certainly, it would be naive to think that this opportunity is somehow unique to Internal Medicine. However, each day I went into work on that rotation, I felt a special connection with my patients that I have not quite captured elsewhere. I learned that I enjoy the opportunity to serve an adolescent and adult population with varied and complex disease processes for the duration of their care, and am humbled by the unique and intimate relationships formed with these patients while partnering in their care.

Why I Chose Cincinnati
I had a great time on my interview at Cincinnati. I enjoyed the time I spent with the residents and faculty, as everyone seemed at home. I think the program is very innovative, and I appreciate the emphasis on delivering patient‐centered care to a largely underserved population.