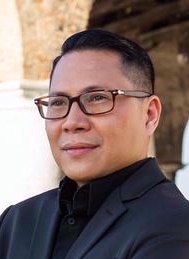 Edson G Cabalfin , Ph.D.
Interior Design Program Coordinator, Associate Professor
Edson G. Cabalfin is Associate Professor and currently Coordinator of the undergraduate and graduate Interior Design program in the School of Architecture and Interior Design at the University of Cincinnati.  He is the curator of the Philippine Pavilion at the 16th Venice Architecture Biennale 2018. He received his Ph.D. in Architecture (Major in History of Architecture, Minors in Historic Preservation and Southeast Asian Studies) in 2012 from Cornell University.  Under a Fulbright Fellowship from 2001 to 2003, he received his Master of Science degree in Architecture (Major in History, Theory, Criticism) from the University of Cincinnati.  Prior to coming to the United States, he had received his professional B.S. Architecture (cum laude) and Master of Architecture degrees from the University of the Philippines in 1996 and 2001 respectively.  He has previously taught in various capacities at Cornell University, University of the Philippines, University of Santo Tomas, Far Eastern University and De la Salle University – College of Saint Benilde.    
 
Edson's design research in the last decade had focused on the interdisciplinary and transnational intersections of architecture history and theory, cultural studies, gender and sexuality studies, and multi-disciplinary design.  His research interests revolve around issues such as identity politics, colonialism and post-colonialism in architecture, gender and sexuality, power dynamics in the built environment, socio-cultural dimensions in design, human-centered design, humanitarian design/public interest design, and heritage conservation, among others.  He has published articles in various journals, book anthologies, and conference proceedings on queer spaces in the city, Art Deco architecture in the Philippines, colonialism and post-colonialism in modern architecture, informal settlements and the capital city, alternative modernities and national identity in Philippine vernacular architecture, architectural photography and American colonialism, architectural historiography, architectural education, and Philippine pavilions in international expositions.  He published the children's book "What Kids Should Know about Filipino Architecture" published by Adarna House in 2015 and was nominated for the National Children's Book Awards and National Book Award in the Philippines in 2016. He is currently working on two book manuscripts: one on Postcolonial architecture in the Philippines and another on an anthology of essays on discourse of Filipino architecture in the last century.
 
A licensed architect in the Philippines, Edson previously worked under D.A. Silvestre + Associates in Manila and Cadiz International in Dubai and Manila.  Under D.A. Silvestre, he was involved in residential, commercial and educational projects in Manila, Cebu, Batangas, and Davao in the Philippines.  Between 2007 to 2009 as Senior Design Architect with Cadiz International, he was responsible for conceptual, schematic and design development of commercial, mixed-use, residential, and institutional projects in different parts of the world including Dubai and Ras al Khaimah in the United Arab Emirates, Muscat and Salalah in Oman, Bishkek in Kyrgyzstan, Tbilisi in Georgia, Penang in Malaysia, Jakarta and Surabaya in Indonesia, and Manila, Cebu, and Laguna in the Philippines.   
 
Edson also runs his freelance multi-disciplinary design consultancy under Talyer Kayumanggi / Brown Workshop, which is involved in architecture, interior, graphic design, exhibition design, fashion, costume design, set design, design strategy and design research with projects in North America, Middle East, Europe, and Southeast Asia in the last 25 years.
Ph.D. in Architecture: Cornell University Ithaca, NY, 2012 (Major in History of Architecture, Minors in Southeast Asian Studies and Historic Preservation)
Master of Science in Architecture: University of Cincinnati Cincinnati, OH, 2003
Master of Architecture: University of the Philippines Philippines, 2001
Bachelor of Science in Architecture: University of the Philippines Philippines, 1996
Research and Practice Interests
History and theory of architecture; Socio-cultural aspects of the built environment; Colonialism/Post-colonialism and architecture; Power and politics in architecture; Gender and architecture; Southeast Asian architectures; Philippine studies; Heritage Conservation; Human-centered Design; Multi/trans/cross-disciplinary design including architecture, interior design, graphic design, fashion design.
Positions and Work Experience
2011 -To Present Designer/Co-Principal, Investigative design studio in collaboration with Nazanin Khodadad, Workshop Collaborative, Cincinnati
2007 -2009 Senior Design Architect, Cadiz International, Dubai, UAE and Manila, Philippines
1998 -1998 Associate Architect, D.A. Silvestre + Associates, Manila, Philippines
1996 -1998 Design Associate, D.A. Silvestre + Associates, Manila, Philippines
1990 -To Present Designer/Principal, Multi-disciplinary design consultancy exploring architecture, interiors, graphic, fashion, costume, set, branding, and design research, Brown Workshop, Cincinnati, USA and Manila, Philippines
2007 -2008 Visiting Lecturer, University of the Philippines - College of Architecture, Quezon City, Philippines
2007 -2007 Instructor, Cornell University - Department of Design and Environmental Analysis, Ithaca, NY
2004 -2006 Teaching Assistant, Cornell University - Department of Architecture, Ithaca, NY
2006 -2006 Teaching Assistant, Cornell University - Department of Asian Studies, Ithaca, NY
1999 -2001 Instructor, University of the Philippines - College of Architecture, Quezon City, Philippines
1998 -1999 Instructor, University of Santo Tomas - College of Architecture and Fine Arts, Manila, Philippines
1998 -1999 Instructor, Far Eastern University, Manila, Philippines
2000 -2000 Instructor, De La Salle University - College of Saint Benilde, Manila, Philippines
2016 -2018 Project Leader/Consultant, Live Well Collaborative, Cincinnati, OH
2017 -2017 Visiting Instructor, Cornell University, Ithaca, NY
2017 -2018 Curator, Philippine Pavilion, 16th Venice Architecture Biennale, Venice, Italy
2009 -2015 Assistant Professor, University of Cincinnati, Cincinnati, OH
2015 -To Present Associate Professor, University of Cincinnati, Cincinnati, OH
Peer Reviewed Publications
Edson Cabalfin (2015. ) "Condensing the Country: Identity Politics in the Design of Nayong Pilipino (Philippine Village) and the 1998 Expo Pilipino" .Espasyo: Journal of Philippine Architecture and Allied Arts, , 1 (6 ) ,
Edson Cabalfin and Nazanin Khodadad (2014. ) "Baila! Dancing Columns" .Center, , 19 ,
Edson Cabalfin (2010. ) "Building Imperfection: Concept, Theory and Discourse in the Design of the SDA Building" .Espasyo: Journal of Philippine Architecture and Allied Arts, , 1 (2 ) ,
Edson Cabalfin (2016. ) "Conquest and Resistance: Intersections of Colonialism and Modernity in Twentieth-Century Philippine Modern Architecture" .Journal of Southeast Asian Architecture, , 13 ,
Edson Cabalfin (2010. ) "The Other's Other: Self-Exoticism and National Identity in Postcolonial Philippine Architectures, 1946-1998" .Espasyo: Journal of Philippine Architecture and Allied Arts, , 1 (1 ) ,
Edson Cabalfin (2006. ) "Modernizing the Native: The Vernacular and the Nation in Philippine Modern Architectures" .DOCOMOMO Journal, , (43 ) ,
Edson Cabalfin (2003. ) "Intersections, Representations, and Exoticism: Reconfiguring the Historiography of Philippine Art Deco Architecture" .Bulawan: Journal on Philippine Culture and the Arts, , (8 ) ,
Edson Cabalfin (2001. ) "Usaping Nasyonalismo at Postkolonyal sa Filipinong Historyograpiyang Arkitektural: Ibayong Pagtuklas at Paggalugad" (Nationalism and Postcolonial Discourse in Filipino Architectural Historiography: Further Framing and Discovering) .Bulawan: Journal on Philippine Culture and the Arts, , (3 ) ,
Edson Cabalfin (2001. ) "Pagbalangkas sa Arkitekturang Filipino: Alternatibong Kritikal na Kategorya sa Filipinong Historyograpiyang Arkitektural" (Reframing Filipino Architecture: Alternative Critical Categories in Filipino Architectural Historiography) .Humanities Diliman, , 1 (2 ) ,
Edson Cabalfin (2020. ) "Bahay Kubo as Iconography: Representing the Vernacular and the Nation in Philippine Postwar Architectures".Fabrications: Journal of the Society of Architectural Historians, , 30 (1 ) ,44-67 More Information
Other Publications
Edson Cabalfin (2012. ) "Native as Modern: Appropriating the Vernacular in Philippine Modern Architecture" .BluPrint Magazine, Mega Publishing
Edson Cabalfin (2008. ) "Drama Unfolding: The CSB-SDA Building" .Tsuper Magazine, 1 (1 ) , October 80
Edson Cabalfin (2007. ) "Space and Place in a Livable City" ."You are Not a Tourist" Exhibition Catalogue, Curating Lab
Edson Cabalfin (2002. ) "Contextualizing Culture and Identity in Architecture: Postcolonial Development of Filipino Architecture .Arkitekturang Filipino: Spaces and Places in History (CD-ROM Multimedia Edition), National Commission for Culture and the Arts
Edson Cabalfin (2008. ) "Nation as Spectacle: Identity Politics of Philippine Pavilions at International Expositions, 1958-1998" .Building Modernity: A Century of Philippine Architecture and Allied Arts, CD-ROM Edition, National Commission for Culture and the Arts
Edson Cabalfin (2013. ) "World Meets Pinoy: Cadiz International, Filipino Creativity Abroad" .BluPrint Magazine, 6 , Mega Publishing
Edson Cabalfin (2015. ) "Revitalizing a Historic District" .BluPrint Magazine: Architecture and Design Sourcebook, (Special Issue 3 ) , Mega Publishing
Edson Cabalfin (2015. ) "Paradigm Shift: A Manifesto Towards Architecture that is Inclusive, Humane and Empowering" .BluPrint Magazine: Architecture and Design Sourcebook, (Special Issue 2 ) , Mega Publishing
Edson Cabalfin (2018. ) "The City Who Had Two Navels" .Domus Magazine, (1030 ) , Domus
Published Books
Edson Cabalfin (2015. ) "What Kids Should Know About Philippine Architecture" .Manila, Philippines , Adarna House (Author)
Edson Cabalfin (2018. ) The City Who Had Two Navels - Catalogue of the Philippine Pavilion, 16th Venice Architecture Biennale .Manila , National Commission for Culture and the Arts (Editor)
Book Chapter
Edson Cabalfin (2015 ) "Rampa: Dynamics of Queer Space and Sex Work in Quezon Memorial Circle, Philippines" Ways of Queering, Ways of Seeing .Oxford, UK, Inter-disciplinary Press (Author)
Edson Cabalfin (2014 ) "The Politics of Urban Form of Slum Settlements in Quezon City, Philippines" Reading the Architecture of Underprivileged Classes .London, UK, Ashgate Press (Author)
Edson Cabalfin (2003 ) "Mala-Baklang Espasyo sa Arkitekturang Filipino: Estetika, Morpolohiya, Konteksto" (Bakla-like Spaces in Filipino Architecture: Aesthetics, Morphology, Context" Tabi-Tabi sa Pagsasantabi: Critical Notes by Lesbians and Gays on Arts, Culture and Language .Quezon City, University of the Philippines Press (Author)
Edson Cabalfin (2015 ) "Nasyonalismo at Arkitekturang Filipino" ("Nationalism and Filipino Architecture") Kritikal na Espasyo sa Kulturang Popular (Critical Spaces in Popular Culture) .Quezon City, Ateneo de Manila University Press (Author)
Edson Cabalfin (2017 ) "Postcolonial Identity Politics and Philippine Pavilions in International Expositions, 1958-1992" Asia, Expos and Human History .Kyoto, Japan, International Research Center for Japanese Studies
Edson Cabalfin (2018 ) "The City Who Had Two Navels" The City Who Had Two Navels - Catalogue of the Philippine Pavilion, 16th Venice Architecture Biennale .Manila, National Commission for Culture and the Arts (Author)
Edson Cabalfin (2020 ) "Skywalk-Metro Manila" Interior Urbanism Theory Reader .London, UK, Routledge (Author)
Encyclopedia Article
Edson Cabalfin (2020. ) Encyclopedia of Vernacular Architecture of the World, 2nd Ed. London, UK, Bloomsbury Press (Author)
Edson Cabalfin (2020. ) Grove Encyclopedia of Asian Art .Oxford and London, Oxford University Press
Invited Presentations
Edson Cabalfin (04-14-2018. ) Neoliberalism and Filipino Architecture: Prospects in the 21st Century .United Architects of the Philippines 43rd Annual National Convention, Manila, Philippines. Level:National
Edson Cabalfin (02-13-2020. ) "The City Who Had Two Navels: Curating the Philippine Pavilion at the 16th Venice Architecture Biennale 2018" .Cornell Southeast Asia Program - Gatty Lecture Series, Cornell University. Level:National
Edson Cabalfin (03-12-2018. ) "Designing with a Conscience: Alternative Practices of Architecture" .University of San Carlos - School of Architecture and Fine Arts, Cebu City, Philippines. Level:Regional
Edson Cabalfin (11-20-2019. ) "Curating and Designing The Philippine Pavilion, 16th Venice Architecture Biennale" .UCLA Southeast Asian Studies, Los Angeles, CA. Level:National
Edson Cabalfin (10-10-2017. ) "Uncle Sam in the Orient: American-Colonial Influence on Early Twentieth-Century Architecture and Urbanism in the Philippines" .Northern Illinois University, School of Art and Design, De Kalb, Illinois. Level:Regional
Edson Cabalfin (11-20-2019. ) "Displaying the Philippines: 100 Years of Philippine Pavilions in International Expositions" .Philippine Consulate General - Los Angeles. Level:State
Edson Cabalfin (10-05-2017. ) "Designing and Questioning" .University of Kentucky, College of Design, School of Interiors, Lexington, Kentucky. Level:Regional
Edson Cabalfin (02-03-2017. ) "Designing for Post-Typhoon Haiyan Recovery in Leyte, Philippines" .Cornell University, College of Human Ecology, Department of Design and Environmental Analysis, Ithaca, New York. Level:Regional
Edson Cabalfin (02-21-2016. ) "Art Deco Filipino: Rediscovering Philippine Art Deco Architecture" .Cincinnati Art Museum, Cincinnati Asian Art Society, Cincinnati, Ohio. Level:Regional
Edson Cabalfin (08-27-2015. ) "Queering Urban Dynamics: Sex Workers and the Quezon Memorial Circle, Philippines" .University of the Philippines - Diliman, Quezon City, Philippines. Level:International
Edson Cabalfin (02-13-2019. ) "Neoliberalism and Filipino Architecture: Challenges and Prospects in the 21st Century" .Anthology Festival, Manila, Philippines. Level:International
Edson Cabalfin (07-02-2019. ) "Curating and Designing The Philippine Pavilion, 16th Venice Architecture Biennale" .Metropolitan Museum of Manila, Manila, Philippines. Level:International
Edson Cabalfin (01-27-2019. ) "The City Who Had Two Navels: Philippine Pavilion at the 16th Venice Architecture Biennale 2018" .Cincinnati Art Museum, Cincinnati. OH. Level:Local
Edson Cabalfin (07-17-2019. ) "Global View of Art Practice through Biennales" .Museum of Contemporary Art and Design - De la Salle - College of Saint Benilde, Manila, Philippines. Other Institution. . Level:National
Edson Cabalfin (10-12-2019. ) "Neoliberalism and Filipino Architecture: Challenges and Prospects in the 21st Century" .Metropolitan Museum of Manila, Manila, Philippines. Level:National
Edson Cabalfin (10-17-2019. ) "Displaying the Philippines: 100 Years of Philippine Pavilions in International Expositions" .Metropolitan Museum of Manila, Manila, Philippines. Level:National
Edson Cabalfin (03-25-2019. ) "Rampa: Sex Work, Surveillance and Spectacle at the Quezon Memorial Circle, Philippines .National Organization of Minority Architecture Students - OSU Chapter, Ohio State University, Columbus, OH. Level:State
Paper Presentations
Edson Cabalfin (06-2013. ) "Condensing the Country: Identity Politics in the Design of the Nayong Pilipino (Philippine Village) and the 1998 Expo Pilipino .Rome, Italy. Conference. Level:International
Edson Cabalfin (02-2013. ) "Rampa: Sex, Surveillance and Spectacle at the Quezon Memorial Circle, Philippines" .Sydney, Australia. Conference. Level:International
Edson Cabalfin (04-2011. ) "Exotic Spectacles: Philippine Villages and Pavilions in American World's Fairs, 1901-1915" .Honolulu, Hawaii. Conference. Level:International
Edson Cabalfin (07-2010. ) "Nation as Spectacle: Politics of Identity in the Architectures of Philippine Pavilions at International Expositions, 1887-1998" .International Institute of Asian Studies, Leiden, the Netherlands. Conference. Level:International
Edson Cabalfin (07-2008. ) "Bahay Kubo as Iconography: The Vernacular and the Nation in Postwar Philippine Architectures" .University of the Philippines, Manila, Philippines. Conference. Level:International
Edson Cabalfin (07-2007. ) "Nation as Spectacle: Identity Politics of Philippine Pavilions at International Expositions, 1958-1992" .Kuala Lumpur, Malaysia. Conference. Level:International
Edson Cabalfin (09-2006. ) "The Other's Other: Self-Exoticism and National Identity in Postcolonial Philippine Architectures, 1946-1998" .Ankara, Turkey. Conference. Level:International
Edson Cabalfin (07-2006. ) "Constructing the Filipino Abroad: Politics of National Identity in the Architecture of Philippine Pavilions at International Expositions, 1946-1998" .Melbourne, Australia. Conference. Level:International
Edson Cabalfin (04-2006. ) "Racializing Architecture: Photographs of Dean C. Worcester and Discourse of Race in the Philippines" .Savannah, Georgia. Conference. Level:International
Edson Cabalfin (07-2005. ) "Conquest and Resistance: Intersections of Colonialism and Modernity in Twentieth Century Philippine Architectures" .Istanbul, Turkey. Conference. Level:International
Edson Cabalfin (05-2005. ) "Domesticating the Modern/Modernizing the Domestic: Translating Modernity in Post-Independence Residential Architecture in the Philippines" .Cornell University, Ithaca, New York. Conference. Level:International
Edson Cabalfin (06-2004. ) "Romancing the Native: Discourses of Vernacular and Nationalism in Twentieth Century Philippine Architectures" .Leiden University, Leiden, the Netherlands. Conference. Level:International
Edson Cabalfin (04-2004. ) "Colonial Imaginings of Late 19th Century Philippine Architectures: The Architectural Photography of Dean C. Worcester as Modes of Transmitting Modernity and Colonialism" .Cornell University, Ithaca, New York. Conference. Level:International
Edson Cabalfin (02-2003. ) "Encounters, Mediations, Transformations: Identity Politics in Philippine Art Deco Architectures" .University of Hawaii-Manoa, Honolulu, Hawaii. Conference. Level:International
Edson Cabalfin (12-2014. ) "Allure of the Native: The Politics of Representing Philippine Vernacular Architecture in International Expositions, 1887-1998" .Kuala Lumpur, Malaysia. Other Institution. Level:International
Edson Cabalfin (12-2015. ) "Postcolonial Identity Politics and Philippine Pavilions at International Expositions, 1958-1992" .International Research Center on Japanese Studies, Kyoto, Japan. Conference. Level:International
Edson Cabalfin (04-2015. ) "Replica as Nation: Philippine Villages in World's Fairs and Theme Parks" .Chicago, IL. Level:International
Edson Cabalfin (07-2019. ) "Shifting Definition of the Vernacular in Twentieth-Century Philippine Architecture" .Sydney, Australia. Conference. Level:International
Edson Cabalfin (04-2020. ) "Transpacific Architectural Representations of the Philippines in 20th Century Expositions" .Seattle, WA. Conference. Level:International
2014 -2014 DAAP Outstanding Junior Faculty Award DAAP Status:Recipient Level:College Type:Recognition
2001 -2003 Fulbright Fellowship U.S. Department of State Status:Recipient Level:International Type:Fellowship
2003 -2007 Sage Graduate Fellowship Cornell University Status:Recipient Level:University Type:Fellowship
2013 -2013 Awardee, 55 Design Heroes and Mentors of the Philippines BluPrint Magazine Status:Recipient Level:National Type:Recognition
2013 -2013 Finalist, Curtains International Design Competition Center for American Architecture and Design Status:Recipient Level:International Type:Recognition
2013 -2013 Finalist, Humanities Category, Ph.D. Thesis Prize International Convention of Asia Scholars Status:Recipient Level:International Type:Recognition
2006 -2006 Junior Annual Meeting Fellowship Society of Architectural Historians Status:Recipient Level:International Type:Grant
2018 -2018 Faculty Excellence Award Office of the Provost, University of Cincinnati Status:Recipient Level:University Type:Recognition