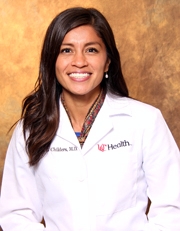 Betzaira Childers , MD
Clinical Instructor
Medical Sciences Building
231 Albert Sabin Way
Cincinnati, Ohio 45267-0558
Phone 513-558-4206
Email betzaira.childers@uc.edu
Bachelor's Degree: University of Texas Austin, TX, 2010 (Biology)
Medical Degree: University of Texas San Antonio, TX, 2016
Fellowship: University of Cincinnati Cincinnati, OH, 2018 (Department of Surgery)
Peer Reviewed Publications
Babicky, Michele L; Harper, Megan M; Chakedis, Jeffery; Cazes, Alex; Mose, Evangeline S; Jaquish, Dawn V; French, Randall P; Childers, Betzaira; Alakus, Hakan; Schmid, Michael C; Foubert, Phillippe; Miyamoto, Jaclyn; Holman, Patrick J; Walterscheid, Zakkary J; Tang, Chih-Min; Varki, Nissi; Sicklick, Jason K; Messer, Karen; Varner, Judith A; Waltz, Susan E; Lowy, Andrew M (2019. ) MST1R kinase accelerates pancreatic cancer progression via effects on both epithelial cells and macrophages.Oncogene, , 38 (28 ) ,5599-5611 More Information
Childers, Betzaira G; Valasek, Mark A; Patel, Hitendra; Lowy, Andrew M (2021. ) Neoadjuvant Checkpoint Blockade in Lynch Syndrome-Related Pancreatic Adenocarcinoma.Pancreas, , 50 (2 ) ,e22-e24 More Information
Poster Presentations
Childers BG, Seifi A (2014. ) Diseases and disorders of the eye: incidence and demographics in United States from 1997 to 2012 .merican Medical Association Research Symposium, Dallas, TX. .
Childers BG (09-06-2019. ) Mst1r inhibition with LY2801653 increases survival in mice bearing aggressive pancreatic adenocarcinoma organoid model .American Association for Cancer Research: Pancreatic Cancer: Advances in Science and Clinical Care, Boston, MA. .
Paper Presentations
Lenhan B, Childers BG, Savu MK, et al (2015. ) Medical student mid-rotation self-assessment disparities .Southwestern Surgical Congress, Coronado, CA.
Dhar VK, Wima K, Winer LK, Lee TC, Morris MC, Childers BG, Shah SA, Patel SH, Ahmad SA (03-2018. ) Is adjuvant therapy needed for surgically resected ampullary tumors? .Society of Surgical Oncology Annual Cancer Symposium, Chicago IL.
2006 -2010 Full track and field scholarship recipient, University of Texas at Austin
2013 University of Texas Health Science Center at San Antonio, MSI Merit Award
2016 Pruitt Award for Outstanding Surgery Research Project
2016 Virginia H. Johnson MD Memorial Scholarship
2019 Minority Scholar in Cancer Research Award, American Association for Cancer Research
Member, Association of Women Surgeons
Resident Member, American College of Surgeons
Academic - Medical Sciences Building
231 Albert Sabin Way
Cincinnati  Ohio, 45267-0558
Phone: 513-558-4206
betzaira.childers@uc.edu