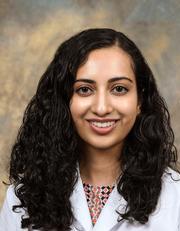 Anum Choudhry
Clinical Instructor
Personal Statement
"Thank you" she says. "You're welcome", I say letting go of her hand gently. I never thought I would hold so many hands in medical school. But it is something that people appreciate. Another biopsy, laceration repair, delivery, or injection. I've seen that face before. Her face twists in apprehension. "Here, you can squeeze my hand." After the last stitch is complete, she looks up and thanks me. After years of sitting in a classroom, studying, preparing, researching, reading. I thought that nailing a mystery diagnosis, putting together the puzzle pieces, would be the most rewarding. But it is not. Holding someone's hand wins the gold. Something about the human touch. Shaking someone's hand to passing tissues. I never knew how it could mean so much.

Why I Chose Cincinnati
At my interview I found there were so many aspects of the program that truly resonated with me. Having the patient at the center of care, a curriculum based on learning theory, and specific individualized feedback for residents were just some of the many points that drew me to the program and made me feel that I found the right fit for me.