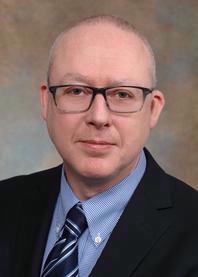 Andrew M. Crean , BSc BM MRCP MSc FRCR MPhil
Sanghvi Endowed Chair in Cardiovascular Imaging
Medical Sciences Building
231 Albert Sabin Way
Cincinnati, Ohio 45267-0542
Phone (513) 558-4271
Email creanam@ucmail.uc.edu
I was appointed to UC as the inaugural Sanghvi Endowed Chair in Cardiac Imaging and Director of the Advanced Cardiac Imaging Center. I also hold a cross-appointment at Cincinnati Children's Hospital Medical Center.

By training I am both a Cardiologist and Radiologist with particular training and expertise in cardiac MRI and CT. As a Cardiologist I also have a special interest in patients with Inherited and Congenital Cardiac Conditions.

I received training in Radiology at the Universities of Edinburgh and Cambridge, UK. My Cardiology training was at the University of Leeds, UK. I undertook a 2 year fellowship in all modalities of cardiac imaging at Papworth Hospital, UK. I then did a further year in Cardiac CT and MRI at Toronto General Hospital, Canada. My Adult Congenital Heart Disease training was at Leeds General Infirmary, Royal Brompton Hospital and St Thomas Hospital - all in the UK.

In 2008 I took up a Staff position in both Radiology & Cardiology at Toronto General Hospital where I worked until 2016.
BSc: University of Southampton UK, 1990 (Molecular biology)
Batchelor of Medicine (BM): University of Southampton Medical School UK, 1992
MSc: University of Edinburgh UK, 1999 (Neurovascular imaging)
MPhil: University of Cambridge UK, 2003 (Cardiovascular MRI)
Research and Practice Interests
I am interested in the application of advanced cardiovascular imaging modalities to disease of the heart and circulatory system. I have a focus on cardiac MR and CT, particularly as these techniques may be used to investigate Inherited and Congenital Cardiac Conditions.

I am particularly interested in using imaging to better understand cardiomyopathy - Inherited (HCM, ARVC); Inflammatory (Sarcoid); Infiltrative (Amyloid, Fabry); Iatrogenic (Drug-related); and Idiopathic (Takotsubo)
Peer Reviewed Publications
Noiseux, Nicolas; Mansour, Samer; Weisel, Richard; Stevens, Louis-Mathieu; Der Sarkissian, Shant; Tsang, Katherine; Crean, Andrew M; Larose, Eric; Li, Shu-Hong; Wintersperger, Bernd; Vu, Minh Quan; Prieto, Ignacio; Li, Ren-Ke; Roy, Denis Claude; Yau, Terrence M (2016. ) The IMPACT-CABG trial: A multicenter, randomized clinical trial of CD133(+) stem cell therapy during coronary artery bypass grafting for ischemic cardiomyopathy.The Journal of thoracic and cardiovascular surgery, , 152 (6 ) ,1582-1588.e2 More Information
Shah, Ashish; Keir, Michelle; Ducas, Robin; Crean, Andrew M (2016. ) Uric acid bladder stones in congenital cyanotic heart disease.Lancet (London, England), , 388 (10054 ) ,1921 More Information
Keir, Michelle; Spears, Danna; Caldarone, Christopher; Crean, Andrew M (2016. ) Proving the innocence of a "malignant" coronary artery: Calling dobutamine stress CT for the defence!.Journal of cardiovascular computed tomography, , More Information
Chih, Sharon; Ross, Heather J; Alba, A Carolina; Fan, Chun-Po S; Manlhiot, Cedric; Crean, Andrew M (2016. ) Perfusion Cardiac Magnetic Resonance Imaging as a Rule-Out Test for Cardiac Allograft Vasculopathy.American journal of transplantation : official journal of the American Society of Transplantation and the American Society of Transplant Surgeons, , More Information
Deva, Djeven Parameshvara; Hanneman, Kate; Li, Qin; Ng, Ming Yen; Wasim, Syed; Morel, Chantal; Iwanochko, Robert M; Thavendiranathan, Paaladinesh; Crean, Andrew Michael (2016. ) Cardiovascular magnetic resonance demonstration of the spectrum of morphological phenotypes and patterns of myocardial scarring in Anderson-Fabry disease.Journal of cardiovascular magnetic resonance : official journal of the Society for Cardiovascular Magnetic Resonance, , 18 ,14 More Information
McCarthy, Carol A; Ahern, Robert J; Dontireddy, Rakesh; Ryan, Katie B; Crean, Abina M (2016. ) Mesoporous silica formulation strategies for drug dissolution enhancement: a review.Expert opinion on drug delivery, , 13 (1 ) ,93-108 More Information
Weissler-Snir, Adaya; Crean, Andrew; Rakowski, Harry (2016. ) The role of imaging in the diagnosis and management of hypertrophic cardiomyopathy.Expert review of cardiovascular therapy, , 14 (1 ) ,51-74 More Information
Leventhal, Andrew R; Shah, Ashish H; Crean, Andrew M; Osten, Mark; Horlick, Eric; Benson, Lee (2015. ) Percutaneous Correction of Right Superior Vena Cava to Left Atrium.JACC. Cardiovascular interventions, , 8 (13 ) ,e221-2 More Information
Manisty, Charlotte; Crean, Andrew; Moon, James C (2015. ) Response. Radiology, , 277 (2 ) ,614
Al-Turki, Mohammad A; Patton, Daniel; Crean, Andrew M; Horlick, Eric; Dhillon, Rob; Johri, Amer M (2015. ) Spontaneous Thrombosis of a Left Circumflex Artery Fistula Draining Into the Coronary Sinus.World journal for pediatric & congenital heart surgery, , 6 (4 ) ,640-2 More Information
David, Tirone E; David, Carolyn M; Manlhiot, Cedric; Colman, Jack; Crean, Andrew M; Bradley, Timothy (2015. ) Outcomes of Aortic Valve-Sparing Operations in Marfan Syndrome.Journal of the American College of Cardiology, , 66 (13 ) ,1445-53 More Information
Chan, Raymond H; Maron, Barry J; Olivotto, Iacopo; Assenza, Gabriele E; Haas, Tammy S; Lesser, John R; Gruner, Christiane; Crean, Andrew M; Rakowski, Harry; Rowin, Ethan; Udelson, James; Lombardi, Massimo; Tomberli, Benedetta; Spirito, Paolo; Formisano, Francesco; Marra, Martina P; Biagini, Elena; Autore, Camillo; Manning, Warren J; Appelbaum, Evan; Roberts, William C; Basso, Cristina; Maron, Martin S (2015. ) Significance of Late Gadolinium Enhancement at Right Ventricular Attachment to Ventricular Septum in Patients With Hypertrophic Cardiomyopathy.The American journal of cardiology, , 116 (3 ) ,436-41 More Information
Hanneman, Kate; Thavendiranathan, Paaladinesh; Nguyen, Elsie T; Moshonov, Hadas; Wald, Rachel; Connelly, Kim A; Paul, Narinder S; Wintersperger, Bernd J; Crean, Andrew M (2015. ) Use of Cardiac Magnetic Resonance Imaging Based Measurements of Inferior Vena Cava Cross-Sectional Area in the Diagnosis of Pericardial Constriction.Canadian Association of Radiologists journal = Journal l'Association canadienne des radiologistes, , 66 (3 ) ,231-7 More Information
Sheth, Tej; Chan, Matthew; Butler, Craig; Chow, Benjamin; Tandon, Vikas; Nagele, Peter; Mitha, Ayesha; Mrkobrada, Marko; Szczeklik, Wojciech; Faridah, Yang; Biccard, Bruce; Stewart, Lori K; Heels-Ansdell, Diane; Devereaux, P J (2015. ) Prognostic capabilities of coronary computed tomographic angiography before non-cardiac surgery: prospective cohort study. BMJ (Clinical research ed.), , 350 ,h1907
Jimenez Juan, Laura; Crean, Andrew M; Wintersperger, Bernd J (2015. ) Late gadolinium enhancement imaging in assessment of myocardial viability: techniques and clinical applications.Radiologic clinics of North America, , 53 (2 ) ,397-411 More Information
Borik, Sharon; Crean, Andrew; Horlick, Eric; Osten, Mark; Lee, Kyong-Jin; Chaturvedi, Rajiv; Friedberg, Mark K; McCrindle, Brian W; Manlhiot, Cedric; Benson, Lee (2015. ) Percutaneous pulmonary valve implantation: 5 years of follow-up: does age influence outcomes?.Circulation. Cardiovascular interventions, , 8 (2 ) ,e001745 More Information
Williams, Lynne K; Chan, Raymond H; Carasso, Shemy; Durand, Miranda; Misurka, Jimmy; Crean, Andrew M; Ralph-Edwards, Anthony; Gruner, Christiane; Woo, Anna; Lesser, John R; Maron, Barry J; Maron, Martin S; Rakowski, Harry (2015. ) Effect of Left Ventricular Outflow Tract Obstruction on Left Atrial Mechanics in Hypertrophic Cardiomyopathy.BioMed research international, , 2015 ,481245 More Information
Han, B Kelly; Rigsby, Cynthia K; Leipsic, Jonathon; Bardo, Dianna; Abbara, Suhny; Ghoshhajra, Brian; Lesser, John R; Raman, Subha V; Crean, Andrew M; Nicol, Edward D; Siegel, Marilyn J; Hlavacek, Anthony Computed Tomography Imaging in Patients with Congenital Heart Disease, Part 2: Technical Recommendations. An Expert Consensus Document of the Society of Cardiovascular Computed Tomography (SCCT): Endorsed by the Society of Pediatric Radiology (SPR) and the North American Society of Cardiac Imaging (NASCI).Journal of cardiovascular computed tomography, , 9 (6 ) ,493-513 More Information
Han, B Kelly; Rigsby, Cynthia K; Hlavacek, Anthony; Leipsic, Jonathon; Nicol, Edward D; Siegel, Marilyn J; Bardo, Dianna; Abbara, Suhny; Ghoshhajra, Brian; Lesser, John R; Raman, Subha; Crean, Andrew M Computed Tomography Imaging in Patients with Congenital Heart Disease Part I: Rationale and Utility. An Expert Consensus Document of the Society of Cardiovascular Computed Tomography (SCCT): Endorsed by the Society of Pediatric Radiology (SPR) and the North American Society of Cardiac Imaging (NASCI).Journal of cardiovascular computed tomography, , 9 (6 ) ,475-92 More Information
Tobler, Daniel; Motwani, Manish; Wald, Rachel M; Roche, Susan L; Verocai, Flavia; Iwanochko, Robert M; Greenwood, John P; Oechslin, Erwin N; Crean, Andrew M (2014. ) Evaluation of a comprehensive cardiovascular magnetic resonance protocol in young adults late after the arterial switch operation for d-transposition of the great arteries.Journal of cardiovascular magnetic resonance : official journal of the Society for Cardiovascular Magnetic Resonance, , 16 ,98 More Information
Hanneman, Kate; Crean, Andrew M; Williams, Lynne; Moshonov, Hadas; James, Susan; Jiménez-Juan, Laura; Gruner, Christiane; Sparrow, Patrick; Rakowski, Harry; Nguyen, Elsie T (2014. ) Cardiac magnetic resonance imaging findings predict major adverse events in apical hypertrophic cardiomyopathy.Journal of thoracic imaging, , 29 (6 ) ,331-9 More Information
Gruner, Christiane; Chan, Raymond H; Crean, Andrew; Rakowski, Harry; Rowin, Ethan J; Care, Melanie; Deva, Djeven; Williams, Lynne; Appelbaum, Evan; Gibson, C Michael; Lesser, John R; Haas, Tammy S; Udelson, James E; Manning, Warren J; Siminovitch, Katherine; Ralph-Edwards, Anthony C; Rastegar, Hassan; Maron, Barry J; Maron, Martin S (2014. ) Significance of left ventricular apical-basal muscle bundle identified by cardiovascular magnetic resonance imaging in patients with hypertrophic cardiomyopathy.European heart journal, , 35 (39 ) ,2706-13 More Information
Deva, Djeven P; Torres, Felipe S; Wald, Rachel M; Roche, S Lucy; Jimenez-Juan, Laura; Oechslin, Erwin N; Crean, Andrew M (2014. ) The value of stress perfusion cardiovascular magnetic resonance imaging for patients referred from the adult congenital heart disease clinic: 5-year experience at the Toronto General Hospital.Cardiology in the young, , 24 (5 ) ,822-30 More Information
Chen, Yingming Amy; Nguyen, Elsie T; Dennie, Carole; Wald, Rachel M; Crean, Andrew M; Yoo, Shi-Joon; Jimenez-Juan, Laura (2014. ) Computed tomography and magnetic resonance imaging of the coronary sinus: anatomic variants and congenital anomalies.Insights into imaging, , 5 (5 ) ,547-57 More Information
Barfett, Joseph John; Velauthapillai, Nivethan; Fierstra, Jorn; Crawley, Adrian; Coolens, Catherine; Crean, Andrew; Jaskolka, Jeff; Dufort, Paul; Krings, Timo; Mikulis, David (2014. ) Intra-vascular blood velocity and volumetric flow rate calculated from dynamic 4D CT angiography using a time of flight technique.The international journal of cardiovascular imaging, , 30 (7 ) ,1383-92 More Information
Chan, Raymond H; Maron, Barry J; Olivotto, Iacopo; Pencina, Michael J; Assenza, Gabriele Egidy; Haas, Tammy; Lesser, John R; Gruner, Christiane; Crean, Andrew M; Rakowski, Harry; Udelson, James E; Rowin, Ethan; Lombardi, Massimo; Cecchi, Franco; Tomberli, Benedetta; Spirito, Paolo; Formisano, Francesco; Biagini, Elena; Rapezzi, Claudio; De Cecco, Carlo Nicola; Autore, Camillo; Cook, E Francis; Hong, Susie N; Gibson, C Michael; Manning, Warren J; Appelbaum, Evan; Maron, Martin S (2014. ) Prognostic value of quantitative contrast-enhanced cardiovascular magnetic resonance for the evaluation of sudden death risk in patients with hypertrophic cardiomyopathy.Circulation, , 130 (6 ) ,484-95 More Information
Hanneman, Kate; Sivagnanam, Milani; Nguyen, Elsie T; Wald, Rachel; Greiser, Andreas; Crean, Andrew M; Ley, Sebastian; Wintersperger, Bernd J (2014. ) Magnetic resonance assessment of pulmonary (QP) to systemic (QS) flows using 4D phase-contrast imaging: pilot study comparison with standard through-plane 2D phase-contrast imaging.Academic radiology, , 21 (8 ) ,1002-8 More Information
Thom, Howard; West, Nicholas E J; Hughes, Vikki; Dyer, Matthew; Buxton, Martin; Sharples, Linda D; Jackson, Christopher H; Crean, Andrew M (2014. ) Cost-effectiveness of initial stress cardiovascular MR, stress SPECT or stress echocardiography as a gate-keeper test, compared with upfront invasive coronary angiography in the investigation and management of patients with stable chest pain: mid-term outcomes from the CECaT randomised controlled trial.BMJ open, , 4 (2 ) ,e003419 More Information
Ng, Ming-Yen; Thavendiranathan, Paaladinesh; Crean, Andrew Michael; Li, Qin; Deva, Djeven Parameshvara (2014. ) Left-sided patent ductus arteriosus in a right-sided aortic arch.Case reports in radiology, , 2014 ,896071 More Information
Urbano-Moral, Jose Angel; Rowin, Ethan J; Maron, Martin S; Crean, Andrew; Pandian, Natesa G (2014. ) Investigation of global and regional myocardial mechanics with 3-dimensional speckle tracking echocardiography and relations to hypertrophy and fibrosis in hypertrophic cardiomyopathy.Circulation. Cardiovascular imaging, , 7 (1 ) ,11-9 More Information
Shariat, Masoud; Thavendiranathan, Paaladinesh; Nguyen, Elsie; Wintersperger, Bernd; Paul, Narinder; Rakowski, Harry; Crean, Andrew M Utility of coronary CT angiography in outpatients with hypertrophic cardiomyopathy presenting with angina symptoms.Journal of cardiovascular computed tomography, , 8 (6 ) ,429-37 More Information
Hanneman, Kate; Thavendiranathan, Paaladinesh; Nguyen, Elsie T; Moshonov, Hadas; Paul, Narinder S; Wintersperger, Bernd J; Crean, Andrew M Cardiovascular CT in the diagnosis of pericardial constriction: predictive value of inferior vena cava cross-sectional area.Journal of cardiovascular computed tomography, , 8 (2 ) ,149-57 More Information
Torres, Felipe S; Windram, Jonathan D; Bradley, Timothy J; Wintersperger, Bernd J; Menezes, Ravi; Crean, Andrew M; Colman, Jack M; Silversides, Candice K; Wald, Rachel M (2013. ) Impact of asymmetry on measurements of the aortic root using cardiovascular magnetic resonance imaging in patients with a bicuspid aortic valve.The international journal of cardiovascular imaging, , 29 (8 ) ,1769-77 More Information
Roifman, Idan; Paul, Gideon A; Zia, Mohammad I; Williams, Lynne K; Watkins, Stuart; Wijeysundera, Harindra C; Crean, Andrew M; Strauss, Bradley H; Dick, Alexander J; Wright, Graham A; Connelly, Kim A (2013. ) The effect of percutaneous coronary intervention of chronically totally occluded coronary arteries on left ventricular global and regional systolic function.The Canadian journal of cardiology, , 29 (11 ) ,1436-42 More Information
Hanneman, Kate; Raju, Vikram M; Moshonov, Hadas; Ward, Richard; Wintersperger, Bernd J; Crean, Andrew M; Ross, Heather; Nguyen, Elsie T (2013. ) Heterogeneity of myocardial iron distribution in response to chelation therapy in patients with transfusion-dependent anemias.The international journal of cardiovascular imaging, , 29 (7 ) ,1517-26 More Information
Deva, Djeven Parameshvara; Williams, Lynne K; Care, Melanie; Siminovitch, Katherine A; Moshonov, Hadas; Wintersperger, Bernd Juergen; Rakowski, Harry; Crean, Andrew Michael (2013. ) Deep basal inferoseptal crypts occur more commonly in patients with hypertrophic cardiomyopathy due to disease-causing myofilament mutations.Radiology, , 269 (1 ) ,68-76 More Information
Kulikowski, Julia D; Colman, Jack M; Silversides, Candice K; Crean, Andrew M; Burchill, Luke J (2013. ) Postpartum type B aortic dissection in Marfan syndrome.The Annals of thoracic surgery, , 96 (2 ) ,705 More Information
James, Susan H; Wald, Rachel; Wintersperger, Bernd J; Jimenez-Juan, Laura; Deva, Djeven; Crean, Andrew M; Nguyen, Elsie; Paul, Narinder S; Ley, Sebastian (2013. ) Accuracy of right and left ventricular functional assessment by short-axis vs axial cine steady-state free-precession magnetic resonance imaging: intrapatient correlation with main pulmonary artery and ascending aorta phase-contrast flow measurements.Canadian Association of Radiologists journal = Journal l'Association canadienne des radiologistes, , 64 (3 ) ,213-9 More Information
Chen, Yingming Amy; Calderone, Christopher; de Perrot, Marc; Butany, Jagdish; Crean, Andrew M (2013. ) Calcified pulmonary emboli as a late complication of the arterial switch operation.European heart journal cardiovascular Imaging, , 14 (7 ) ,710 More Information
Crean, Andrew M; Spears, Danna A; Suszko, Adrian M; Chauhan, Vijay S (2013. ) High-resolution 3D scar imaging using a novel late iodine enhancement multidetector CT protocol to guide ventricular tachycardia catheter ablation.Journal of cardiovascular electrophysiology, , 24 (6 ) ,708-10 More Information
Moravsky, Gil; Ofek, Efrat; Rakowski, Harry; Butany, Jagdish; Williams, Lynne; Ralph-Edwards, Anthony; Wintersperger, Bernd J; Crean, Andrew (2013. ) Myocardial fibrosis in hypertrophic cardiomyopathy: accurate reflection of histopathological findings by CMR.JACC. Cardiovascular imaging, , 6 (5 ) ,587-96 More Information
Tobler, Daniel; Yalonetsky, Sergey; Crean, Andrew M; Granton, John T; Burchill, Luke; Silversides, Candice K; Wald, Rachel M (2013. ) Right heart characteristics and exercise parameters in adults with Ebstein anomaly: new perspectives from cardiac magnetic resonance imaging studies.International journal of cardiology, , 165 (1 ) ,146-50 More Information
Jimenez-Juan, Laura; Joshi, Subodh B; Wintersperger, Bernd J; Yan, Andrew T; Ley, Sebastian; Crean, Andrew M; Nguyen, Elsie T; Deva, Djeven P; Paul, Narinder S; Wald, Rachel M (2013. ) Assessment of right ventricular volumes and function using cardiovascular magnetic resonance cine imaging after atrial redirection surgery for complete transposition of the great arteries.The international journal of cardiovascular imaging, , 29 (2 ) ,335-42 More Information
Torres, Felipe S; Venkatesh, Vikram; Nguyen, Elsie T; Jimenez-Juan, Laura; Crean, Andrew M (2013. ) Coronary calcium scan acquisition before coronary CT angiography: limited benefit or useful addition?.AJR. American journal of roentgenology, , 200 (1 ) ,66-73 More Information
Hanneman, Kate; Nguyen, Elsie T; Crean, Andrew M (2013. ) Hypertrophic cardiomyopathy complicated by pulmonary edema in the postpartum period.Case reports in radiology, , 2013 ,802352 More Information
Jiménez-Juan, Laura; Nguyen, Elsie T; Wintersperger, Bernd J; Moshonov, Hadas; Crean, Andrew M; Deva, Djeven P; Paul, Narinder S; Torres, Felipe S (2013. ) Failed heart rate control with oral metoprolol prior to coronary CT angiography: effect of additional intravenous metoprolol on heart rate, image quality and radiation dose.The international journal of cardiovascular imaging, , 29 (1 ) ,199-206 More Information
Spears, Danna A; Suszko, Adrian M; Dalvi, Rupin; Crean, Andrew M; Ivanov, Joan; Nanthakumar, Kumaraswamy; Downar, Eugene; Chauhan, Vijay S (2012. ) Relationship of bipolar and unipolar electrogram voltage to scar transmurality and composition derived by magnetic resonance imaging in patients with nonischemic cardiomyopathy undergoing VT ablation.Heart rhythm, , 9 (11 ) ,1837-46 More Information
Grewal, Jasmine; Crean, Andrew; Garceau, Patrick; Wald, Rachel; Woo, Anna; Rakowski, Harry; Silversides, Candice K (2012. ) Subaortic right ventricular characteristics and relationship to exercise capacity in congenitally corrected transposition of the great arteries.Journal of the American Society of Echocardiography : official publication of the American Society of Echocardiography, , 25 (11 ) ,1215-21 More Information
Tobler, Daniel; Crean, Andrew M; Redington, Andrew N; Van Arsdell, Glen S; Caldarone, Christopher A; Nanthakumar, Kumar; Stambach, Dominik; Dos, Laura; Wintersperger, Bernd J; Oechslin, Erwin N; Silversides, Candice K; Wald, Rachel M (2012. ) The left heart after pulmonary valve replacement in adults late after tetralogy of Fallot repair.International journal of cardiology, , 160 (3 ) ,165-70 More Information
Joshi, Subodh B; Connelly, Kim A; Jimenez-Juan, Laura; Hansen, Mark; Kirpalani, Anish; Dorian, Paul; Mangat, Iqwal; Al-Hesayen, Abdul; Crean, Andrew M; Wright, Graham A; Yan, Andrew T; Leong-Poi, Howard (2012. ) Potential clinical impact of cardiovascular magnetic resonance assessment of ejection fraction on eligibility for cardioverter defibrillator implantation.Journal of cardiovascular magnetic resonance : official journal of the Society for Cardiovascular Magnetic Resonance, , 14 ,69 More Information
Durand, M; Nguyen, E T; Crean, A M (2012. ) Anomalous left coronary artery arising from the pulmonary artery.Cardiovascular journal of Africa, , 23 (8 ) ,e9-e10 More Information
Sheth, Tej; Butler, Craig; Chow, Benjamin; Chan, M T V; Mitha, Ayesha; Nagele, Peter; Tandon, Vikas; Stewart, Lori; Graham, Michelle; Choi, G Y S; Kisten, T; Woodard, P K; Crean, Andrew; Abdul Aziz, Y F; Karthikeyan, G; Chow, C K; Szczeklik, W; Markobrada, M; Mastracci, T; Devereaux, P J (2012. ) The coronary CT angiography vision protocol: a prospective observational imaging cohort study in patients undergoing non-cardiac surgery.BMJ open, , 2 (4 ) , More Information
Jacques, Frederic; Kotani, Yasuhiro; Deva, Djeven P; Moller, Thomas; Oechslin, Erwin; Horlick, Eric; Osten, Mark; Crean, Andrew; Benson, Lee N; Wintersperger, Bernd J; Caldarone, Christopher A (2012. ) Left main coronary artery compression long term after repair of conotruncal lesions: the bow string conduit.The Annals of thoracic surgery, , 94 (1 ) ,283-5 More Information
Greutmann, Matthias; Tobler, Daniel; Biaggi, Patric; Mah, May Ling; Crean, Andrew; Wald, Rachel M; Silversides, Candice K; Oechslin, Erwin N (2012. ) Echocardiography for assessment of regional and global right ventricular systolic function in adults with repaired tetralogy of Fallot.International journal of cardiology, , 157 (1 ) ,53-8 More Information
Glover, Benedict M; Downar, Eugene; Hameedullah, Imad; Crean, Andrew; Chauhan, Vijay S (2012. ) Dual epicardial ventricular tachycardia: a tale of two VTs.Pacing and clinical electrophysiology : PACE, , 35 (1 ) ,e1-5 More Information
Dhanoa, D; Jiménez-Juan, L; Ross, J R; Crean, A M [Diagnosis of atresia of the main left coronary artery using 320-detector volumetric cardiac computed tomography [corrected]].Radiologia, , 54 (1 ) ,85-7 More Information
Crean, Andrew M; Maredia, Neil; Ballard, George; Menezes, Ravi; Wharton, Gill; Forster, Jan; Greenwood, John P; Thomson, John D (2011. ) 3D Echo systematically underestimates right ventricular volumes compared to cardiovascular magnetic resonance in adult congenital heart disease patients with moderate or severe RV dilatation.Journal of cardiovascular magnetic resonance : official journal of the Society for Cardiovascular Magnetic Resonance, , 13 ,78 More Information
Butts, Ryan J; Crean, Andrew M; Hlavacek, Anthony M; Spicer, Diane E; Cook, Andrew C; Oechslin, Erwin N; Anderson, Robert H (2011. ) Veno-venous bridges: the forerunners of the sinus venosus defect.Cardiology in the young, , 21 (6 ) ,623-30 More Information
Chen, Yingming A; Joshi, Subodh B; Crean, Andrew M; Yan, Andrew T; Latter, David A; Jimenez-Juan, Laura; Kirpalani, Anish (2011. ) Persistent left superior vena cava with retrograde drainage from the left atrium into the left brachiocephalic vein.Journal of the American College of Cardiology, , 58 (20 ) ,2141 More Information
Newton, Tom D; Mehrez, Hatem; Wong, Kelly; Menezes, Ravi; Wintersperger, Bernd J; Crean, Andrew; Nguyen, Elsie; Paul, Narinder (2011. ) Radiation dose threshold for coronary artery calcium score with MDCT: how low can you go?.European radiology, , 21 (10 ) ,2121-9 More Information
Jiménez-Juan, Laura; Leen, Jessica; Wald, Rachel M; Nguyen, Elsie T; Yan, Andrew T; Kirpalani, Anish; Wintersperger, Bernd J; Crean, Andrew M (2011. ) Multimodality imaging in the evaluation of cardiovascular manifestations of malignancy.Cardiology research and practice, , 2011 ,378041 More Information
Sá, Maria Isabel; Nicol, Edward D; Stirrup, James; Crean, Andrew; Roughton, Michael; Padley, Simon P G; Rubens, Michael B (2011. ) Implications for single phase prospective CT coronary angiography for the diagnosis of significant coronary stenoses in clinical practice.International journal of cardiology, , 147 (3 ) ,393-7 More Information
Yalonetsky, Sergey; Tobler, Daniel; Greutmann, Matthias; Crean, Andrew M; Wintersperger, Bernd J; Nguyen, Elsie T; Oechslin, Erwin N; Silversides, Candice K; Wald, Rachel M (2011. ) Cardiac magnetic resonance imaging and the assessment of ebstein anomaly in adults.The American journal of cardiology, , 107 (5 ) ,767-73 More Information
Spiliotopoulos, Konstantinos; Yanagawa, Bobby; Crean, Andrew; Overgaard, Christopher; Brister, Stephanie J (2011. ) Surgical management of a left anterior descending pseudoaneurysm related to Behcet's disease.The Annals of thoracic surgery, , 91 (3 ) ,912-4 More Information
Torres, Felipe S; Crean, Andrew M; Nguyen, Elsie T; Paul, Narinder (2010. ) Strategies for radiation-dose reduction and image-quality optimization in multidetector computed tomographic coronary angiography.Canadian Association of Radiologists journal = Journal l'Association canadienne des radiologistes, , 61 (5 ) ,271-9 More Information
Yalonetsky, Sergey P; Wald, Rachel M; Crean, Andrew M (2010. ) Layered left pulmonary artery thrombus in a patient with Potts shunt findings from cardiac magnetic resonance and cardiac computed tomographic imaging. Cardiology in the young, , 20 (6 ) ,699-700
Mather, Adam N; Crean, Andrew; Abidin, Nik; Worthy, Gillian; Ball, Stephen G; Plein, Sven; Greenwood, John P (2010. ) Relationship of dysglycemia to acute myocardial infarct size and cardiovascular outcome as determined by cardiovascular magnetic resonance.Journal of cardiovascular magnetic resonance : official journal of the Society for Cardiovascular Magnetic Resonance, , 12 ,61 More Information
Biaggi, Patric; Greutmann, Matthias; Crean, Andrew (2010. ) Utility of three-dimensional transesophageal echocardiography: anatomy, mechanism, and severity of regurgitation in a patient with an isolated cleft posterior mitral valve.Journal of the American Society of Echocardiography : official publication of the American Society of Echocardiography, , 23 (10 ) ,1114.e1-4 More Information
Greutmann, Matthias; Tobler, Daniel; Biaggi, Patric; Mah, May Ling; Crean, Andrew; Oechslin, Erwin N; Silversides, Candice K (2010. ) Echocardiography for assessment of right ventricular volumes revisited: a cardiac magnetic resonance comparison study in adults with repaired tetralogy of Fallot.Journal of the American Society of Echocardiography : official publication of the American Society of Echocardiography, , 23 (9 ) ,905-11 More Information
Wald, Rachel; Crean, Andrew (2010. ) Differential clubbing and cyanosis in a patient with pulmonary hypertension.CMAJ : Canadian Medical Association journal = journal de l'Association medicale canadienne, , 182 (9 ) ,E380 More Information
Shelton, Rhidian J; Crean, Andrew M; Somers, Kathryn; Priestley, Claire; Hague, Carol; Blaxill, Jonathan M; Wheatcroft, Stephen B; McLenachan, James M; Greenwood, John P; Blackman, Daniel J (2010. ) Real-world outcome from ST elevation myocardial infarction in the very elderly before and after the introduction of a 24/7 primary percutaneous coronary intervention service.American heart journal, , 159 (6 ) ,956-63 More Information
Biaggi, Patric; Greutmann, Matthias; Crean, Andrew; Mezody, Melitta; Rakowski, Harry (2010. ) A diagnostic odyssey: detection of an unusual anterior papillary muscle of the tricuspid valve.European journal of echocardiography : the journal of the Working Group on Echocardiography of the European Society of Cardiology, , 11 (5 ) ,E19 More Information
Yan, Andrew T; Connelly, Kim A; Graham, John J; Kirpalani, Anish; Crean, Andrew (2010. ) Cardiac magnetic resonance imaging of a large prolapsing left atrial myxoma causing pulmonary hypertension and syncope. The Canadian journal of cardiology, , 26 (4 ) ,134-5
Torres, Felipe S; Crean, Andrew M; Nguyen, Elsie T; Menezes, Ravi; Doyle, Deirdre; Ayyappan, Anoop P; Abadi, Sobhi; Paul, Narinder (2010. ) Abolition of respiratory-motion artifact in computed tomography coronary angiography with ultrafast examinations: a comparison between 64-row and 320-row multidetector scanners.Canadian Association of Radiologists journal = Journal l'Association canadienne des radiologistes, , 61 (1 ) ,5-12 More Information
Torres, Felipe S; Nguyen, Elsie T; Dennie, Carole J; Crean, Andrew M; Horlick, Eric; Osten, Mark D; Paul, Narinder Role of MDCT coronary angiography in the evaluation of septal vs interarterial course of anomalous left coronary arteries.Journal of cardiovascular computed tomography, , 4 (4 ) ,246-54 More Information
Torres, Felipe S; Crean, Andrew M; Paul, Narinder (2009. ) Letter to the Editor: re: Body physique and heart rate variability determine the occurrence of stair-step artefacts in 64-slice CT coronary angiography with prospective ECG-triggering.European radiology, , 19 (12 ) ,2955; author reply 2 More Information
Greutmann, Matthias; Tobler, Daniel; Grewal, Jasmine; Biaggi, Patric; Oechslin, Erwin; Crean, Andrew; Silversides, Candice (2009. ) A reminder from the past: a 49-year-old patient with transposition of the great arteries palliated with Dr. Thomas Baffes' and Dr. William Mustard's original operations.Journal of the American Society of Echocardiography : official publication of the American Society of Echocardiography, , 22 (11 ) ,1310.e1-4 More Information
Torres, Felipe S; Crean, Andrew M; Paul, Narinder (2009. ) Radiation dose-reduction program for cardiac computed tomography angiography.JAMA, , 302 (16 ) ,1753; author reply 1 More Information
Crean, Andrew M; Abdel-Rahman, Saif-El-Dean T; Greenwood, John Pierre (2009. ) A sweet tooth as the root cause of cardiac arrest. The Canadian journal of cardiology, , 25 (10 ) ,e357-8
Younger, John F; Plein, Sven; Crean, Andrew; Ball, Stephen G; Greenwood, John P (2009. ) Visualization of coronary venous anatomy by cardiovascular magnetic resonance.Journal of cardiovascular magnetic resonance : official journal of the Society for Cardiovascular Magnetic Resonance, , 11 ,26 More Information
Crean, Andrew; Khan, Sadia N; Davies, L Ceri; Coulden, Richard; Dutka, David P (2009. ) Assessment of Myocardial Scar; Comparison Between F-FDG PET, CMR and Tc-Sestamibi. Clinical medicine. Cardiology, , 3 ,69-76
Crean, Andrew; Greenwood, John P; Plein, Sven (2009. ) Contribution of noninvasive imaging to the diagnosis and follow-up of Takotsubo cardiomyopathy.JACC. Cardiovascular imaging, , 2 (4 ) ,519-21 More Information
Nijjer, Sukhjinder; Crean, Andrew; Li, Wei; Swan, Lorna (2009. ) Uvular ulceration following transoesophageal echocardiography.BMJ case reports, , 2009 , More Information
Crean, Andrew; Paul, Narinder; Merchant, Naeem; Singer, Lianne; Provost, Yves (2008. ) Diagnosis of paracardiac castleman disease by dynamic gadolinium-enhanced first pass perfusion magnetic resonance imaging. Clinical medicine. Case reports, , 1 ,127-31
Crean, Andrew M; Kilcullen, Niamh; Younger, John F (2008. ) Arrhythmic acute coronary syndrome and anomalous left main stem artery: culprit or innocent bystander.Acute cardiac care, , 10 (1 ) ,60-1 More Information
Sharples, L; Hughes, V; Crean, A; Dyer, M; Buxton, M; Goldsmith, K; Stone, D (2007. ) Cost-effectiveness of functional cardiac testing in the diagnosis and management of coronary artery disease: a randomised controlled trial. The CECaT trial. Health technology assessment (Winchester, England), , 11 (49 ) ,iii-iv, ix-115
Crean, Andrew (2007. ) Cardiovascular MR and CT in congenital heart disease.Heart (British Cardiac Society), , 93 (12 ) ,1637-47 More Information
Crean, Andrew Michael; Provost, Yves; Paul, Narinder (2007. ) Biventricular non-compaction and giant left atrial appendage.European heart journal, , 28 (11 ) ,1318 More Information
Crean, Andrew Michael; Juli, Christoph Diagnosis of metastatic melanoma to the heart with an intrinsic contrast approach using melanin inversion recovery imaging.Journal of computer assisted tomography, , 31 (6 ) ,924-30 More Information
Crean, A; Merchant, N (2006. ) MR perfusion and delayed enhancement imaging in the heart.Clinical radiology, , 61 (3 ) ,225-36 More Information
Crean, Andrew; Provost, Yves; Paul, Narinder; Merchant, Naeem (2005. ) Simultaneous occurrence of two different primary cardiac tumors in an 84-year-old woman characterized by cardiovascular magnetic resonance imaging. Journal of cardiovascular magnetic resonance : official journal of the Society for Cardiovascular Magnetic Resonance, , 7 (2 ) ,517-9
Crean, A M; Pohl, J E F (2004. ) 'Ally McBeal heart?'-- drug induced cardiomyopathy in a young woman.British journal of clinical pharmacology, , 58 (5 ) ,558-9 More Information
Crean, Andrew; Dutka, David; Coulden, Richard (2004. ) Cardiac imaging using nuclear medicine and positron emission tomography.Radiologic clinics of North America, , 42 (3 ) ,619-34, vii More Information
Crean, Andrew; Merchant, Naeem Role of cardiac magnetic resonance imaging in identification of amyloid cardiomyopathy. Indian heart journal, , 56 (6 ) ,682-3
Ross, J D; Crean, A; McMillan, A Efficacy of anti-chlamydial therapy with oxytetracycline and erythromycin. International journal of STD & AIDS, , 7 (5 ) ,373-4
ACHD, Adult Congenital Heart DIsease, HCM, Hypertrophic cardiomyopathy, cardiac CT, cardiac MRI, CMR, Nuclear cardiology, PET, coronary anomalies, Kawasaki disease
Academic - Medical Sciences Building
231 Albert Sabin Way
Cincinnati  Ohio, 45267-0542
Phone: (513) 558-4271
creanam@ucmail.uc.edu