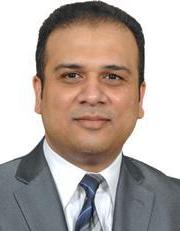 Deeptankar DeMazumder , MD,PhD
Physician
Office
231 Albert Sabin Way, CVC 3923
PO Box 670542, ML 0542
Cincinnati, Ohio 45267-0542
Phone 513-558-2307
Fax 513-558-6899
Email Deeptankar.DeMazumder@uc.edu
     Dr. DeMazumder is a physician-scientist in cardiac electrophysiology (EP). His clinical expertise includes the diagnosis, treatment and prevention of cardiac arrhythmias using cutting-edge approaches, with a particular emphasis on the potentially lethal ventricular arrhythmias and conduction disorders responsible for sudden death. This has remained the focus of Dr. DeMazumder's studies since high school.

     More people continue to die suddenly each year (as many as 7 million worldwide) than all other disease-related causes of death combined. The link between the autonomic nervous system, oxidative stress, heart failure and sudden cardiac death is quite strong. The underlying mechanisms remain unclear, hampering development of new, more effective therapies. Using innovative approaches, Dr. DeMazumder's research is aimed at understanding this link in the context of patho/physiological mechanisms, clinically-relevant animal models, novel biosensors, "big data" predictive analytics, and clinical trials.

     In this context, Dr. DeMazumder's wet lab employs a variety of in vitro (e.g. patch clamping, fluorescence microscopy, biochemical), ex vivo (e.g., Langendorff-based EP studies), in vivo (e.g., catheter-based EP studies), genetic (e.g., CRISPR/Cas9, in vivo gene transfer), and systemic (e.g., nonlinear dynamics, numerical analysis) approaches to study nerve-myocyte signaling, subcellular oxidative stress, intracellular calcium handling, and ion channel biophysics. His dry lab uses a combination of high performance computing and novel machine and "deep" learning algorithms (some of which were developed by Dr. DeMazumder) to identify "hidden" signatures of brewing critical illness in patients with moderate or advanced disease, as well as in asymptomatic community-based individuals with little or no known disease. These subclinical signatures may be indistinguishable in conventional clinical diagnostics but can be detected using readily available methods in clinical (e.g., ICU, hospital wards, sleep studies) and ambulatory (e.g., implantable devices, "smart" wearables, home) settings.

     As a practicing cardiac EP physician, basic scientist and clinical trialist, Dr. DeMazumder's efforts are aimed at coming "full circle" from bench to the bedside, i.e., by transforming clinical observations into testable research hypotheses, translating basic research findings into medical advances, and designing and evaluating patient treatment protocols in rigorous clinical trials. His curricula vitae are aimed at advancing the quality of life for many, while still being able to care for individuals.
Bachelor's Degree: Suny Medical Center Stony Brook Syracuse, NY, (Biochemistry Cybernetics)
Doctoral Degree: Suny Stony Brook Syracuse, NY, (Biophysics (Synaptic Electrophysiology))
Master's Degree: Virginia Commonwealth University Richmond, VA, (Doctor of Medicine)
High School Scholars: New York University School of Medicine New York City, NY, (Clinical research in Neurocardiac Electrophysiology)
Fellowship: University of Pennsylvania Philadelphia, PA, (Translational research in Cardiac Electrophysiology)
Internship: Mount Sinai School of Medicine New York, NY, 2007 (Internal Medicine)
Residency: University of Virginia Charlottesville, VA, 2009 (Internal Medicine)
Fellowship: Johns Hopkins University Baltimore, MD, 2013 (Cardiology)
Fellowship: John Hopkins University Baltimore, MD, 2016 (Cardiac Electrophysiology)
American Board of Internal Medicine (Certification Date: 08-22-2011 ) - (Recertification Date: to 12-31-2021 )
Cardiac Electrophysiology
Cardiology
Atrioventricular Nodal Reentry Tachycardia (AVNRT)
Cardiomyopathy
Grant: #R00HL130662 Investigators:DeMazumder, Deeptankar 02-01-2017 -01-31-2020 National Heart, Lung and Blood Institute Autonomic remodeling and modulation therapy in heart failure and sudden death Role:PI $249,000.00 Active Level:Federal
Grant: #AHA 17UNPG33860002 Investigators:DeMazumder, Deeptankar 04-02-2018 -04-01-2019 American Heart Association - National Chapter Critical Health Assessment & Outcomes Study/Score during sleep (CHAOS-sleep) Role:PI $150,000.00 Awarded Level:Private Non-Profit
Grant: #18IFUNP33990024 Investigators:DeMazumder, Deeptankar; Lin, Tracie 04-02-2018 -04-01-2020 American Heart Association - National Chapter Critical Health Assessment & Outcomes Study for predicting acute sleep-disordered breathing (CHAOS SBD) Role:PI $150,000.00 Awarded Level:Private Non-Profit
Grant: #AHA 18AMTG34280046 Investigators:DeMazumder, Deeptankar; Sanagala, Neha Reddy 07-01-2018 -06-30-2020 American Heart Association - National Chapter Critical Health Assessment and Outcomes Study/Score in the cardiovascular ICU (CHAOS-ICU) Role:Collaborator $50,000.00 Active Level:Private Non-Profit
Grant: #NCAI-18-10-APP-UC-DeMazumder / UH54HL119810 Investigators:DeMazumder, Deeptankar 08-01-2018 -07-31-2019 National Heart, Lung and Blood Institute Critical Health Assessment & Outcomes Study/Score (CHAOS) for improved personalized prediction of impending adverse events before clinical presentation Role:PI $122,061.00 Active Level:Federal
Grant: #19AIML34930039 Investigators:DeMazumder, Deeptankar 07-01-2019 -06-30-2021 American Heart Association - National Chapter Critical Health Assessment & Outcomes Study/Score in the cardiovascular ICU (CHAOS-ICU) Role:PI $100,000.00 Awarded Level:Private Non-Profit
Grant: #VUMC 77450_W81XWH1910640 Investigators:DeMazumder, Deeptankar 09-01-2019 -08-31-2020 Department of the Army Medical Research Acquisition Activity Genetic Autonomic Modulation In Vivo to Protect Against Oxidative Stress and Sudden Cardiac Death (SCD) Role:PI $91,153.00 Awarded Level:Federal
Grant: #F31HL1511 Investigators:Crocker, Jeffrey; DeMazumder, Deeptankar 02-01-2020 -01-31-2023 National Heart, Lung and Blood Institute Autonomic remodeling and modulation as mechanism and therapy for sudden cardiac death in heart failure Role:Collaborator $37,697.00 Awarded Level:Federal
Grant: #VUMC 79743 / AHA 19TPA34850151 Investigators:DeMazumder, Deeptankar 07-01-2019 -06-30-2022 American Heart Association - National Chapter Transforming sympathetic nerves to parasympathetic in vivo prevents sudden death in males and females with heart failure Role:PI $49,816.27 Awarded Level:Private Non-Profit
Grant: #VUMC80557 / PR191442 Investigators:DeMazumder, Deeptankar 08-01-2020 -07-31-2021 Department of the Army Medical Research Acquisition Activity Novel sex-specific strategy for tuning the fight or flight reflex to reduce oxidative stress, reduce ventricular tachyarrhythmias and prevent sudden cardiac death Role:PI $197,567.00 Awarded Level:Federal
Grant: #DP2HL157941 Investigators:DeMazumder, Deeptankar 08-19-2020 -04-30-2025 National Heart, Lung and Blood Institute Eavesdropping on heart-brain conversations during sleep for early detection and prevention of fatal cardiovascular disease Role:PI $2,407,500.00 Awarded Level:Federal
Peer Reviewed Publications
Keramati, Ali R; DeMazumder, Deeptankar; Misra, Satish; Chrispin, Jonathan; Assis, Fabrizio R; Raghuram, Chava; Dey, Swati; Calkins, Hugh; Tandri, Harikrishna (2017. ) Anterior pericardial access to facilitate electrophysiology study and catheter ablation of ventricular arrhythmias: A single tertiary center experience.Journal of cardiovascular electrophysiology, , 28 (10 ) ,1189-1195 More Information
DeMazumder, Deeptankar (2018. ) The Path of an Early Career Physician and Scientist in Cardiac Electrophysiology.Circulation research, , 123 (12 ) ,1269-1271 More Information
Dey, Swati; DeMazumder, Deeptankar; Sidor, Agnieszka; Foster, D Brian; O'Rourke, Brian (2018. ) Mitochondrial ROS Drive Sudden Cardiac Death and Chronic Proteome Remodeling in Heart Failure.Circulation research, , 123 (3 ) ,356-371 More Information
Haghighi, Kobra; Gardner, George; Vafiadaki, Elizabeth; Kumar, Mohit; Green, Lisa C; Ma, Jianyong; Crocker, Jeffrey S; Koch, Sheryl; Arvanitis, Demetrios A; Bidwell, Phillip; Rubinstein, Jack; van de Leur, Rutger; Doevendans, Pieter A; Akar, Fadi G; Tranter, Michael; Wang, Hong-Sheng; Sadayappan, Sakthivel; DeMazumder, Deeptankar; Sanoudou, Despina; Hajjar, Roger J; Stillitano, Francesca; Kranias, Evangelia G (2021. ) Impaired Right Ventricular Calcium Cycling Is an Early Risk Factor in R14del-Phospholamban Arrhythmias.Journal of personalized medicine, , 11 (6 ) , More Information
Academic - Office
231 Albert Sabin Way, CVC 3923
Cincinnati  Ohio, 45267-0542
Phone: 513-558-2307
Fax: 513-558-6899
Deeptankar.DeMazumder@uc.edu