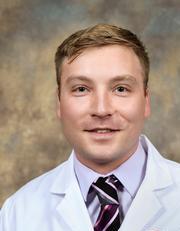 Luke Domaleski
Personal Statement
Since becoming a medical student I have glimpsed those profound moments of care and love that medicine can give a patient and their family. While on my medicine rotation, I was privileged to be at the bedside of a patient with metastatic prostate cancer on the day he passed away while his family prayed and shared with him their favorite things about him. I have been fortunate enough to see the joy of a couple when I told them on Father's Day that they were expecting a child, and lucky enough to contribute to the relief of a woman when she was finally given the correct diagnosis of Stiff Person Syndrome after two years of being mistakenly treated for conversion disorder. These are the moments I love about medicine because they reveal the authentic humanity of patients and doctors.

Why I Chose Cincinnati
The purposefulness of Dr. Warm's curriculum sold me on Cincinnati. At a lot of my interviews it felt like learning and the didactic curriculum was done the way it was because It had always been done that way, and then there was some bland resident input that was sporadically incorporated. Dr. Warm's curriculum was very evidenced based though and featured a lot of components of adult learning theory. I thought that I would get superior education at Cincinnati that would best prepare me to provide excellent care to patients and would help me to achieve my professional goals.