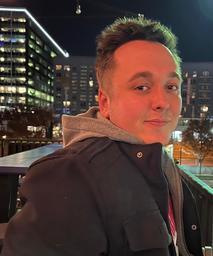 Jacob Russell Edwards
Born and raised in a suburb just outside of Cincinnati, Jacob graduated from the University of Cincinnati with a Bachelor of Arts in Communication with a Certificate of Public Relations in 2020.

During undergrad, Jacob paid his way through college one table at a time throughout his endeavors as a server as well as a bartender. He interned at the Key West Business Guild in 2017 as a Public Relations Coordinator, while also helping the organization plan Key West PRIDE and other events on the Island. Jacob found a passion for equity and inclusion when he worked for Ellequate, formerly known as Queen City Certified, an award-winning employer certification and cohort-based leadership program for intersectional workplace equity. 

When Jacob is not working, you can find him exploring Cincinnati, spending time with his friends, or hanging out with his cats -- Shadow and Sylvester.

Jacob is an avid conversationalist, empath, and is excited to build relationships and guide undergraduate students on a pathway to success.

 
Bachelor of Arts: University of Cincinnati 2600 Clifton Ave, Cincinnati, OH 45221, 2020 (Communication, Public Relations Certificate)