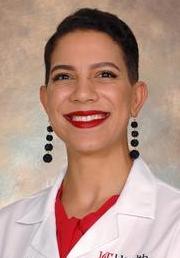 Eliana Figueredo Zamora
Clinical Instructor
Personal Statement
As an immigrant from Cuba, and the first in my family to take on the school system in a new country, I was repeatedly encouraged by my parents to remain committed to my plans and dedicate myself to work harder than my peers. My parents made the decision to immigrate to the United States for a life without restrictions and endless opportunities to grow into the people we aspired to be. Even though we were surrounded by these endless opportunities, they were not all created equal for immigrants like us. Throughout our years in the United States, my family encountered difficulties rooted in our social status, ethnicity, and ability to understand English. We each had our own obstacles to overcome, but as medical school introduced new hurdles in my life, I gained a special appreciation for my mom's journey. I chose the world of medicine to become an advocate for patients, to improve their quality of life, and to help treat the diseases that betray their bodies. As I completed my rotations during my third year, I realized that dermatology would provide me with the platform to achieve these goals but also reach beyond that and have the opportunity to remove the dangerous, the malignant, the uncomfortable, and even the cosmetically embarrassing. Removing the bad would be rewarding, but the gratification after comforting and reassuring patients, even with a simple touch, would be an added gift. Interacting with and caring for patients of all ages while getting the opportunity to decipher the intricate blueprints of the pathologies that lie beneath their skin is the aspect of dermatology that has stoked my personal fire for this career.
 
Why I Chose Cincinnati
I appreciate that the Internal Medicine program at UC is committed to training hard-working residents that are equipped to caring for a diverse patient population.  During my interview, I was immediately impressed with how the program is structured and the evolution of its educational initiatives.  The commitment to residents is undeniable and I look forward to learning and working with such an outstanding program. 
 
MD: University of Louisville School of Medicine