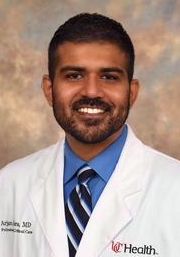 Arjan Singh Flora
231 Albert Sabin Way
PO Box 670564
Cincinnati, Ohio 45267
Phone (513) 558-4831
Fax (513) 55804858

Dr. Flora completed his Interventional Pulmonology fellowship at the University of Cincinnati in 2019. Prior to that, he completed his fellowship in pulmonary and critical care medicine in 2018 from the University of Toledo, and his internal medicine residency at Mercy St. Vincent Medical Center (Toledo, OH) in 2015.

Dr. Flora has several publications and over two dozen oral and poster presentations at regional, national, and international meetings. Dr. Flora serves on committees for the Ohio Thoracic Society and the American Thoracic Society. In addition to being a member of these organizations, he is also a member of the American College of Chest Physicians and the American College of Physicians. He also participated in the 2017 CHEST Challenge, a pulmonary and critical care medical knowledge tournament, on one of the top 3 finalist teams.

Currently, Dr. Flora serves a dual role as the brigade surgeon for the 4th Civil Support & Sustainment Brigade (Ohio Military Reserve), under the Ohio Adjutant General's Department, as well as the senior medical officer of its medical detachment.

 
BA: Brandeis University Waltham, MA, 2007 (Biology)
BS: Brandeis University Waltham, MA, 2007 (Health: Science, Society, and Policy )
MD: St. George's University Grenada, West Indies, 2011
American Board of Internal Medicine (Certification Date: 08-07-2015 )
American Board of Internal Medicine (Pulmonary Disease) (Certification Date: 10-19-2017 )
Critical Care Medicine
Pulmonary Disease
Research and Practice Interests
Dr. Flora's clinical focus lies in advanced bronchoscopy and interventional pulmonary procedures. He is well versed in medical thoracoscopy and transbronchial cryobiopsy, having performed the most cases of any interventional pulmonary fellow in his year.

Dr. Flora is active in clinical research, with plans to advance the field of Interventional Pulmonology by incorporating fluid dynamics and engineering research in assessing current interventional techniques and creating new therapeutic options for airway diseases. He continues to pursue his interests from fellowship involving Histoplasmosis and its effects on lung cancer diagnostic accuracy, as well as expanding treatment of airway diseases resulting from broncholithiasis and fibrosing mediastinitis.
Positions and Work Experience
2019 - Brigade Surgeon, 4th Civil Support and Sustainment Brigade, Ohio Military Reserve (Ohio Adjutant General's Department), Columbus, Ohio
Peer Reviewed Publications
Flora, Arjan S; Benzaquen, Sadia (2019. ) Rituximab to Treat Fibrosing Mediastinitis-Associated Recurrent Hemoptysis.American journal of therapeutics, , More Information
Rader, Theodore; Bailey, Kyle; Flora, Arjan S Iatrogenic Takotsubo Cardiomyopathy.American journal of therapeutics, , 25 (6 ) ,e695-e698 More Information
Haraf, Rebecca; Flora, Arjan S; Assaly, Ragheb Thalidomide as a Cough Suppressant in Idiopathic Pulmonary Fibrosis.American journal of therapeutics, , 25 (6 ) ,e687-e688 More Information
Flora, Arjan S; Simo, Hermann; Assaly, Ragheb Increasing Role of Macrolide Anti-inflammatory Therapy in Secondary Organizing Pneumonia.American journal of therapeutics, , 24 (4 ) ,e495 More Information
Flora, Arjan S; Assaly, Ragheb Small-Particle Inhaled Corticosteroids Succesfully Supressing Resistant Chronic Cough Due to Sjogren's Related Airway Involvement.American journal of therapeutics, , 24 (4 ) ,e486 More Information
Flora, Arjan; Pipoly, Daniel (2018. ) Desvenlafaxine-Induced Interstitial Pneumonitis: A Case Report.Drug safety - case reports, , 5 (1 ) ,5 More Information
Volkmann ER, Saggar R, Khanna D, Torres B, Flora A, Yoder L, Clements PJ, Elashoff RM, Ross DJ, Agrawal H, Borazan N, Furst DE, Saggar R. (2014. ) Improved transplant-free survival in patients with systemic sclerosis-associated pulmonary hypertension and interstitial lung disease.Arthritis & Rheumatology, , 66 (7 ) ,1900 More Information
Post Graduate Training and Education
2018-2019 Interventional Pulmonary Fellow, University of Cincinnati, , Cincinnati, OH
2015-2018 Pulmonary/Critical Care Fellow, University of Toledo, , Toledo, OH
2012-2015 Internal Medicine Resident, Mercy St. Vincent Medical Center, , Toledo, OH
Academic - 231 Albert Sabin Way
Cincinnati  Ohio, 45267
Phone: (513) 558-4831
Fax: (513) 55804858