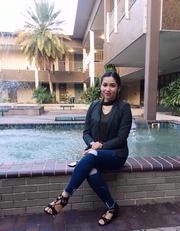 Fnu Gulimirerouzi
UC College of Pharmacy
231 Albert Sabin Way, MSB
Cincinnati, Ohio 45267
Email fnugi@mail.uc.edu
MS : University of South Florida Tampa, Fl, (Pharmaceutical Nanotechnology)
Peer Reviewed Publications
Priya Narvekar, Priyanka Bhatt, Gulimirerouzi Fnu, and Vijaykumar Sutariya (2019. ) Axitinib-Loaded Poly(Lactic-Co-Glycolic Acid) Nanoparticles for Age-Related Macular Degeneration: Formulation Development and In Vitro Characterization .ASSAY and Drug Development Technologies, , Vol. 17, No. 4 ,
Priyanka Bhatt, Gulimirerouzi Fnu, Deepak Bhatia, Amna Shahid, Vijaykumar Sutariya (2020. ) Nanodelivery of resveratrol-loaded PLGA nanoparticles for age-related macular degeneration .21 (8 ) ,1-9
Gulimirerouzi Fnu, Palak Agrawal, Gopal C Kundu, Georg F Weber (2021. ) Structural Constraint of Osteopontin Facilitates Efficient Binding to CD44 .Biomolecules, , 11 (6 ) ,813
Fnu, Gulimirerouzi; Weber, Georg F (2021. ) Alterations of Ion Homeostasis in Cancer Metastasis: Implications for Treatment.Frontiers in oncology, , 11 ,765329 More Information
Book Chapter
Bhatt, Priyanka. Narvekar, Priya. Fnu, Gulimirerouzi AU - Hariyadi, Dewi AU - Athiyah, Umi, Pathak, Yashwant (2019 ) Legislation for Natural and Synthetic Flavors Used in Functional Foods and Nutraceuticals Flavor Development for Functional Foods and Nutraceuticals .
Poster Presentations
Gulimirerouzi Fnu (2018. ) T1230-08-060 - Pazopanib Loaded PLGA Nanoparticles for Sustained Drug Delivery to Eye in Diabetic Retinopathy .AAPS, Washington DC. . Conference. . Level:National
Priya Narvekar, Priyanka Bhatt, Gulimirerouzi Fnu, and Vijaykumar Sutariya (2018. ) Formulation Development and In Vitro Characterization of Axitinib Loaded Polylactic-co-Glycolic Acid (PLGA) Nanoparticles .Washington DC. . Conference. . Level:National
Yasmin Azad, Gulimirerouzi Fnu, Priyanka Bhatt, Vijaykumar Sutariya (2019. ) T1430-01-01 - Combinatorial Approach for the Treatment of Neovascular Age-Related Macular Degeneration Using Anti-HIF and Anti-VEGF Agents .AAPS, San Antonio. . Conference. . Level:National
2018 -2019 The Florida High Tech Corridor Council's Matching Grants Research Program for excellence in student research on the project titled:"Formulation Development and Characterization of Ayurvedic Herb Based Neutraceuticals" Level:State Type:Recognition
Academic - UC College of Pharmacy
231 Albert Sabin Way, MSB
Cincinnati  Ohio, 45267
fnugi@mail.uc.edu