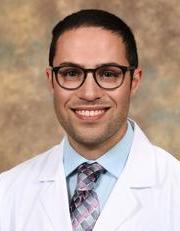 Jared Friedman
Clinical Instructor
Personal Statement
The most defining experience of my third‐year internal medicine rotation wasn't the experience that I expected to be sharing with you. Rather than one that confirmed my knowledge and confidence, the most defining experience for me was one that made me keenly aware of my vulnerability as a future provider. The patient in this encounter was a middleaged woman who was brought to the hospital in a catatonic state. She had a longstanding history of recreational drug abuse. Her medication compliance was frustratingly poor. As my medical team assumed care for this patient on the hospital floor, we had to uncover the mystery of how she got to this state. In caring for this patient, the internal medicine physician that I aspire to be would meet this patient where she is, acknowledge that her issues are multifactorial, and empathize with the patient about her life struggle. However, as I worked up the patient, I couldn't shake the feeling that her current "situation" was due to her poor life choices. Deep down, I knew that I was being judgmental and it made me feel frustrated and vulnerable. As the patient started to become responsive, she initially couldn't vocalize anything. I grabbed a picture board with letters, sat down next to her, and had her respond to my questions—not just about her current symptoms and medical history but also questions about her life, her family, and her concerns. While I had expected my patient to be rude and uncooperative, this was not the case. I could tell that deep down she was a good person and simply needed care just like any other patient. I would continue to spend extra time talking with this patient every morning as she made a slow but steady recovery. As I hugged this patient and her family goodbye after the discharge orders were entered, I felt a sense of accomplishment knowing that I helped in providing good patient care. As I think back to my earlier patient experience, it still bothers me that I made assumptions before giving her a chance to tell me her story. I will always carry forth the lessons learned and the sense of satisfaction that I had knowing that I had positively affected her care.

Why I Chose Cincinnati
I felt a powerful connection to UC on my interview day as I learned about the program's commitment to compassionate, patient‐centered care through bedside rounds and its innovative long block curriculum. In addition, my conversations with the residents, faculty interviewers, and Dr. Warm made me feel confident that I would be entering an environment where I would be supported and best able to achieve my personal and professional goals for the next three years in a thriving city that I've always admired.