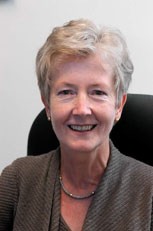 Sara L Friedrichsmeyer
Emeritus Faculty
Old Chemistry Building
730
A&S German Emeriti - 0372
Sara Friedrichsmeyer, Professor German, has won awards for both her teaching and research, including the UC Dolly Cohen Award for Excellence in Teaching, the Distinguished Faculty Award from UC's Association of Women Faculty, and the Ohio Foreign Language Association's Publications Award.  Most recently she taught  courses including "German Romanticisms," "Literary Nationalism," "W.G. Sebald," and "Nature's Authority" in the graduate program, and also teaches courses dealing with German literature and culture to undergraduates.  She has served on a number of national committees for the GSA, the AATG, and WIG; after membership on the MLA's Division of 19th- and Early 20th- Century German Literature and the MLA's Delegate Assembly, she was a member of the MLA Publication Committee.
PhD, University of Cincinnati
Research and Practice Interests
Sara Friedrichsmeyer is author of The Androgyne in Early German Romanticism and the coedited volumes The Enlightenment and its Legacy (with Barbara Becker-Cantarino) and The Imperialist Imagination (with Sara Lennox and Susanne Zantop). She is also a past editor of The Women in German Yearbook. With a research and teaching focus on Romanticism and 20th-century literature and culture, she has written on figures such as Friedrich Schlegel, Novalis, Annette von Droste-Hülshoff, Paula Modersohn-Becker, Käthe Kollwitz, Christa Wolf, Christoph Hein, and W. G. Sebald as well as on a variety of professional issues. Her current research project involves the relationship between humans and animals in German literature and culture.
A&S (A&S RPT Committee ) Committee Member Type:University/College Service Level:College 09-01-2011 -05-31-2011
Taft Committee (Taft Executive Board ) Member Type:University/College Service Level:College 11-01-2011 -05-31-2011
Focus on German Literature (Reviewer of article ) Type:Departmental Service Level:National 04-15-2100 -05-15-2011
Romanticism, Literature and Culture after 1945, Professional Issues
Posthumanism and German Literature I and II Level:Graduate
15-GRMN-280 GERMAN FAIRY TALES Level:Undergraduate
15-GRMN-171 SURVEY GERM CULT I Level:Undergraduate
15-GRMN-173 SURVEY GER CULT III Level:Undergraduate
15-GRMN-503 SURVEY GRMN LIT III Level:Both