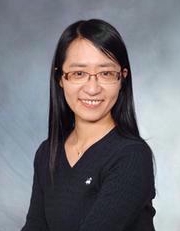 Yao Fu
Assistant Professor
Assistant Professor
Room 745 Baldwin hall ML0070
2850 campus way
Cincinnati, Ohio 45221
Email yao.fu@uc.edu
Environmental assisted fracture and fatigue behavior; Computationally guided innovative materials design; Corrosion and electrochemistry; Molecular dynamics modeling; Phase-field modeling; First-principles based computation

Lab webpage: Materials and Manufacturing Design Lab  (https://clmmd.wordpress.com)

We are hiring highly-motivated undergraduate and graduate students who have strong math/physics background, programing skills and are interested in the interdisciplinary research field of mechanical engineering and materials science. Preferred graduate students should have a master's degree or equivalent research experience. Interested students please send your resume and transcript to my email address at yao.fu@uc.edu.
PhD: University of Pittsburgh Pittsburgh, PA, (Mechanical Engineering)
M.S.: Institute of Metal Research, Chinese Academy of Sciences Shenyang, China, (Materials Science and Engineering)
Grant: #R45075 Investigators:Fu, Yao 04-01-2019 -03-31-2020 UC's URC Faculty Research Cost Support Awards Program Tuning Anisotropy in Materials Properties by Controlling External Field Induced Microstructure Role:PI $7,500.00 Active Level:Internal UC
Grant: #N00014-20-1-2284 Investigators:Fu, Yao 04-01-2020 -03-31-2021 Office of Naval Research Integrated Simulation & Experimental Approach for Advancing Fundamental Understanding of Passive Film Formation and Stability in Multi-Principal Element Alloys Role:PI $277,079.00 Awarded Level:Federal
Grant: #CMMI-2044972 Investigators:Fu, Yao 10-01-2021 -09-30-2026 National Science Foundation CAREER: Understanding the Corrosion Fatigue Behavior of Additively Processed Metallic Alloys through an Integrated Experimental and Computational Approach Role:PI $594,948.00 Awarded Level:Federal
Peer Reviewed Publications
Yang X.;Wan Y.;Wang X.;Fu Y.;Huang Z.;Xie Q. (05-01-2019. ) Molecular dynamics studies of the mechanical behaviors and thermal conductivity of the DGEBA/MTHPA/C.Composites Part B: Engineering, , 164 ,659-666 More Information
Song J.;Field R.;Clarke A.;Fu Y.;Kaufman M. (02-15-2019. ) Variant selection of intragranular Ni2(Mo,Cr) precipitates (??) in the Ni-Mo-.Acta Materialia, , 165 ,362-372 More Information
Ma M.;Fu Y. (01-01-2019. ) Investigation of the mechanical behavior of ionic diblock copolymer via molecular dynamics simulatio.Materials Science and Technology 2018, MS and T 2018, , 1365-1372 More Information
Fu Y.;Michopoulos J.;Gnanasekaran B. (12-01-2018. ) Microstructure evolution under isothermal and continuous cooling conditions via a combined multiphas.Computational Materials Science, , 155 ,457-465 More Information
Song J.;Fu Y.;Kim T.;Yoon Y.;Michopoulos J.;Rabczuk T. (12-01-2018. ) Phase field simulations of coupled microstructure solidification problems via the strong form partic.International Journal of Mechanics and Materials in Design, , 14 (4 ) ,491-509 More Information
Bocharova V.;Wojnarowska Z.;Cao P.F.;Fu Y.;Kumar R.;Li B.;Novikov V.N.;Zhao S.;Kisliuk A.;Saito T.;Mays J.W.;Sumpter B.G.;Sokolov A.P. (12-28-2017. ) Influence of Chain Rigidity and Dielectric Constant on the Glass Transition Temperature in Polymeriz.Journal of Physical Chemistry B, , 121 (51 ) ,11511-11519 More Information
Wojnarowska Z.;Feng H.;Fu Y.;Cheng S.;Carroll B.;Kumar R.;Novikov V.;Kisliuk A.;Saito T.;Kang N.;Mays J.;Sokolov A.;Bocharova V. (09-12-2017. ) Effect of Chain Rigidity on the Decoupling of Ion Motion from Segmental Relaxation in Polymerized Io.Macromolecules, , 50 (17 ) ,6710-6721 More Information
Fu Y.;Michopoulos J.;Song J. (05-01-2017. ) Bridging the multi phase-field and molecular dynamics models for the solidification of nano-crystals.Journal of Computational Science, , 20 ,187-197 More Information
Fu Y.;Michopoulos J.;Song J. (01-02-2017. ) On Investigating the Thermomechanical Properties of Cross-linked Epoxy Via Molecular Dynamics Analys.Nanoscale and Microscale Thermophysical Engineering, , 21 (1 ) ,8-25 More Information
Fu Y.;Bocharova V.;Ma M.;Sokolov A.P.;Sumpter B.G.;Kumar R. (01-01-2017. ) Effects of counterion size and backbone rigidity on the dynamics of ionic polymer melts and glasses.Physical Chemistry Chemical Physics, , 19 (40 ) ,27442-27451 More Information
Michopoulos J.;Iliopoulos A.;Steuben J.;Birnbaum A.;Fu Y.;Song J. (01-01-2017. ) Towards computational synthesis of microstructural crystalline morphologies for additive manufacturi.Proceedings of the ASME Design Engineering Technical Conference, , 1 , More Information
Wu X.;Fu Y.;Ke W.;Xu S.;Feng B.;Hu B.;Lu J. (06-01-2016. ) Corrosion behavior of high nitrogen austenitic stainless steels.Journal of the Chinese Society of Corrosion and Protection, , 36 (3 ) ,198-204 More Information
Hoang K.;Fu Y.;Song J. (01-01-2016. ) An hp-proper orthogonal decomposition-moving least squares approach for molecular dynamics simulatio.Computer Methods in Applied Mechanics and Engineering, , 298 ,548-575 More Information
Wu X.;Fu Y.;Ke W.;Xu S.;Feng B.;Hu B. (09-22-2015. ) Effects of Nitrogen on Passivity of Nickel-Free Stainless Steels by Electrochemical Impedance Spectr.Journal of Materials Engineering and Performance, , 24 (9 ) ,3607-3614 More Information
Fu Y.;Michopoulos J.;Song J. (09-15-2015. ) Dynamics response of polyethylene polymer nanocomposites to shock wave loading.Journal of Polymer Science, Part B: Polymer Physics, , 53 (18 ) ,1292-1302 More Information
Fu Y.;Song J. (08-01-2015. ) Heat flux expressions that satisfy the conservation laws in atomistic system involving multibody pot.Journal of Computational Physics, , 294 ,191-207 More Information
Fu Y.;Michopoulos J.;Song J. (06-01-2015. ) Coarse-grained molecular dynamics simulations of epoxy resin during the curing process.Computational Materials Science, , 107 ,24-32 More Information
Fu Y.;Song J. (01-01-2015. ) Large deformation mechanism of glassy polyethylene polymer nanocomposites: Coarse grain molecular dy.Computational Materials Science, , 96 (PB ) ,485-494 More Information
Fu Y.;Song J. (08-07-2014. ) On computing stress in polymer systems involving multi-body potentials from molecular dynamics simul.Journal of Chemical Physics, , 141 (5 ) , More Information
Fu Y.;To A. (01-01-2014. ) A modification to Hardy's thermomechanical theory for conserving fundamental properties more accurat.Modelling and Simulation in Materials Science and Engineering, , 22 (1 ) , More Information
Fu Y.;To A. (07-01-2013. ) On the evaluation of Hardy's thermomechanical quantities using ensemble and time averaging.Modelling and Simulation in Materials Science and Engineering, , 21 (5 ) , More Information
Fu Y.;To A. (06-21-2013. ) A modification to Hardy's thermomechanical theory that conserves fundamental properties more accurat.Journal of Applied Physics, , 113 (23 ) , More Information
Fu Y.;To A. (03-21-2013. ) Application of Many-Realization Molecular Dynamics Method to Understand the Physics of Nonequilibriu.Multiscale Simulations and Mechanics of Biological Materials, , 59-76 More Information
Stormer B.;Piper N.;Yang X.;Tao J.;Fu Y.;Kirca M.;To A. (08-01-2012. ) Mechanical properties of SWNT X-Junctions through molecular dynamics simulation.International Journal of Smart and Nano Materials, , 3 (1 ) ,33-46 More Information
To A.;Fu Y.;Kam Liu W. (06-01-2011. ) Denoising methods for thermomechanical decomposition for quasi-equilibrium molecular dynamics simula.Computer Methods in Applied Mechanics and Engineering, , 200 (23-24 ) ,1979-1992 More Information
Fu Y.;Kirca M.;To A. (04-20-2011. ) On determining the thermal state of individual atoms in molecular dynamics simulations of nonequilib.Chemical Physics Letters, , 506 (4-6 ) ,290-297 More Information
Datta A.;Kirca M.;Fu Y.;To A. (02-11-2011. ) Surface structure and properties of functionalized nanodiamonds: A first-principles study.Nanotechnology, , 22 (6 ) , More Information
Piper N.M.;Fu Y.;Tao J.;Yang X.;To A.C. (01-27-2011. ) Vibration promotes heat welding of single-walled carbon nanotubes.Chemical Physics Letters, , 502 (4-6 ) ,231-234 More Information
Datta A.;Fu Y.;Kirca M.;To A. (08-04-2010. ) Structure and surface properties of nanodiamonds: A first-principles multiscale approach .Proceedings of the ASME 1st Global Congress on NanoEngineering for Medicine and Biology 2010, NEMB2010, , 233-235
Fu Y.;Wu X.;Han E.H.;Ke W.;Yang K.;Jiang Z. (06-30-2009. ) Effects of nitrogen on the passivation of nickel-free high nitrogen and manganese stainless steels i.Electrochimica Acta, , 54 (16 ) ,4005-4014 More Information
Wu X.;Fu Y.;Huang J.;Han E.;Ke W.;Yang K.;Jiang Z. (04-01-2009. ) Investigation on pitting corrosion of nickel-free and manganese-alloyed high-nitrogen stainless stee.Journal of Materials Engineering and Performance, , 18 (3 ) ,287-298 More Information
Fu Y.;Wu X.;Han E.H.;Ke W.;Yang K.;Jiang Z. (02-01-2009. ) Effects of cold work and sensitization treatment on the corrosion resistance of high nitrogen stainl.Electrochimica Acta, , 54 (5 ) ,1618-1629 More Information
Fu Y.;Wu X.;Han E.;Ke W.;Yang K.;Jiang Z. (07-14-2008. ) Influence of cold work on pitting corrosion behavior of a high nitrogen stainless steel.Journal of the Electrochemical Society, , 155 (8 ) , More Information
2010 NSF summer institute fellowship on nano-mechanics, nano-materials and micro/nano manufactoring for attending NEMB2010 (NanoEngineering for Medicine and Biology), Houston, TX (2010)
2009 1st degree Shichangxu research prize for graduate students Institute of Metal Research, Chinese Academy of Science
Academic - Room 745 Baldwin hall ML0070
2850 campus way
Cincinnati  Ohio, 45221
yao.fu@uc.edu