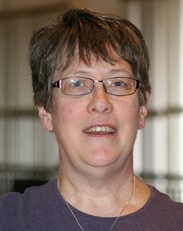 Marie E Garrison
Educational Specialist; Assistant Director of Co-op U.H.
BSN: St. John College of Cleveland Cleveland, OH, 1975
MSN: University of Cincinnati College of Nursing Cincinnati, OH, 1981
Positions and Work Experience
11-2007 -To Present Clinical Educator/EMS Coordinator Emergency Department, A dual role on the department leadership team, focused on educational programming for the Emergency department staff and EMS community, performance improvement and emergency preparedness. Coordinate clinical experience in the Emergency Department for Nursing and EMS students from six programs Ongoing restructure of the departmental orientation program implementing the ENA online orientation program Represented Jewish Hospital on the Health Alliance Emergency Department Information System selection and implementation committee. Committee participation regarding hospital initiatives including emergency preparedness, research, performance improvement, accreditation and regulatory agency compliance. Collaborated with other educators in the revision of the annual mandatory educational process Designed and implemented an ED specific mandatory education day spring 2009, Health Alliance The Jewish Hospital,
08-2003 -11-2007 Quality Management, Multifocal position with performance improvement, risk management, and revenue cycle responsibilities reporting to the Director of Quality and Risk Management and indirect reporting to the Chief Financial Officer Quality Management responsibilities Initiate, organize, analyze, and report on performance improvement projects, regulatory agency requests and system wide/ local and national benchmarks. Assist the facility in maintaining continual readiness for regulatory surveys. Participate on the Hospital research committee including the completion of the IRB application for participation in a national research study and consultation to the hospital for C-Port Protocol IRB application. Site coordinator for the ENA LUNAR lll research program. Revenue cycle responsibilities: Participation in payer relations meetings with commercial insurance companies and managed Medicaid organizations. Collaborated in an alliance wide performance improvement project for the management of medical necessity denials., Fort Hamilton Hospital,
1999 -2001 Faculty Appointments, Nursing Division course responsibilities include: Clinical supervision in the acute care, lecture and skill lab instruction. Lectures on ethical and legal issues for first year students., Cincinnati State Community and Technical College,
1996 -1999 Visiting Assistant Professor of Nursing, Responsible for course coordination, lecture and clinical practicum Academic and career advising for current and prospective student Development of courses implemented as part of the new curriculum in collaboration with the Middletown campus. Participate on faculty committees at department, regional campus and university level. Clinical practicum included acute medical-surgical nursing, and long-term care for the geriatric patient., Miami University,
- Adjunct Faculty ` Course responsibilities include: clinical supervision in the acute care Setting, skills lab, didactic and seminar facilitation in the baccalaureate program Joint appointment between University of Cincinnati Hospital and College of Nursing Complex Health Care course clinical and lecture responsibilities Graduate student preceptor, University of Cincinnati, College of Nursing,
07-1981 -02-1985 Faculty, Clinical and didactic instruction in both first and second level freshmen and senior nursing students. Clinical areas included ambulatory, medical, surgical, obstetrics, psychiatry, long-term care and rehabilitation. Class advisor Clinical practice in the hospital., The Jewish Hospital School of Nursing,
1999 -2002 Nurse, Emergency Department, Clinical practice in emergency care and departmental quality improvement projects, TriHealth Inc., Bethesda North Hospital,
02-1985 -08-1996 Staff Development Educator, Central and unit based educational support to assigned clinical departments including medicalsurgical nursing, ambulatory care, and emergency department, through in-services, clinical practice and consultation Co-developed the hospital's first PCA program. Co chair with the Greater Cincinnati ENA chapter in the development of the annual Emergency Care Conference for nurses and prehospital care providers Participated in the multi-hospital PCA course a precursor to the development of an inhouse program. Served on the hospital Cardiac Arrest Review Committee Off shift supervisor responsibilities, University of Cincinnati Hospital,
06-1980 -01-1981 Staff Nurse: Emergency Department, Clinical practice providing care for patients with emergent and nonemergent injuries and illnesses, Saint Alexis Hospital, Cleveland, OH
01-1976 -09-1979 Nurse Staff Development, Program coordinator for orientation for new hospital and nursing personnel; in-services and basic life support class Course coordination, didactic and clinical instruction hospital liaison to area fire departments. Staff Nurse, Medical - Surgical Nursing Clinical practice and charge responsibilities on a 28 bed general medical-surgical unit., Brentwood Hospital, Cleveland, OH
06-1975 -12-1975 Staff nurse, surgical nursing, Perioperative and noncritical care postoperative patients, Deaconess Hospital, Cleveland, OH
10-2000 -2003 Occupational Health Nurse, SHARE, serving Ford-ZF; Xomax and Avon Corporations, providing occupational health and safety services, TriHealth Inc., Bethesda North Hospital,
LUNAR III: Emergency Nurses Understanding and Practice of Selected National Patient Safety Goals
Patterns of Patient Entry into the Emergency Medical Service System
Impact of Paramedic Response Units on Transports to Area Hospitals
Peer Reviewed Publications
Witter-Garrison, M., Glendon, K. and Ulrich D. (2000. ) Multiple Trauma Case Study in Unfolding Case Studies .Prentiss-Hall ,
Steinmann, R., Dishon, C., Witter-Garrison, M. (06-1999. ) "State ENA and ACEP Collaborate on the Development of Stimuli Boards for Nursing" .Journal of Emergency Nursing, ,
Witter-Garrison, M., Miller, G., and Rohan, E. (1990. ) "Cincinnati's Collaborative Response to Mass Casualty Incidents" .Journal of Emergency Nursing, ,
Witter, M. (09-1981. ) "Priorities in Trauma Management" .Journal of Occupational Health Nursing, , 29 (9 ) ,
Other Publications
Dishon, C.; Witter-Garrison, M.; Steinman, R.; Solis, D. Self-Study: Patient Stimuli Program .
Invited Presentations
(05-2008. ) Role of the Educator in the Emergency Department .
(03-09-2000. ) Facilitating a Return to Practice: Orientation for the Experienced Nurse .Emergency Nursing 2000 Focus on the Future, Columbus, Ohio.
(03-11-1998. ) Self-Study Stimuli Program for Emergency Nurses .Emergency Nursing 98: Focus on the Future, Columbus, Oho.
(02-09-1998. ) Mass Casualty Incident Management .Miami University.
(11-1996. ) Collaborative Response to Mass Casualty Incidents .Ohio State Council, Emergency Nurses Assn Conference,
(06-1994. ) Disaster Scene Adjuncts .Medical Assistance Team Training, American Red Cross Disaster Services,
(05-1992. ) Prehospital Nursing: A Balance of Roles .University of Cincinnati, College of Nursing and Health,
(11-1991. ) Restraining for Transport .SIXTH ANNUAL EMERGENCY CARE CONFERENCE,
(1981. ) Patterns of Patient Entry into the Emergency Medical Service System .Irwin Army Community Hospital, Fort Riley, Kansas.
Excellence in Teaching Miami University 1999
Sigma Theta Tau, Beta Iota Chapter University of Cincinnati College of Nursing and Health
1979 -1980 University Graduate Scholarship University of Cincinnati
1980 Nurse Traineeship
1980 -To Present: Medical Assistance Team, Disaster Services American Red Cross Disaster Services,
Greater Cincinnati Chapter - Director at large - Delegate to Ohio State Council, 1996 - present Ohio State Council - Secretary - Past –chair: Nursing Practice Committee, Membership - Developed reimbursement program for ENA members to receive reimbursement for obtaining their certification - Council Board member, 1998-present - Delegate to National Assembly, 1999- present Emergency Nurses Association,
1984 -To Present: Advisory board Great Oaks Career Center: Licensed Practical Nursing Program,