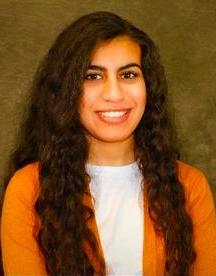 Joy Raafat Girgis
Email girgisjr@mail.uc.edu
My professional experience and interests include politics, social justice, voter engagement, and community activism. I earned by undergraduate degree in Political Science from Eastern Kentucky University with minors in Sociology and African/African American studies. While earning my undergraduate degree, I completed an honors thesis about the negative attitudes of white Evangelicals toward immigrants and refugees, and how these attitudes are contradictory to their faith. Towards the end of my undergradauate and beginning of my graduate career, I became a Voter Empowerment Staff for a social justice organization called Kentuckians for the Commonwealth. I am currently employed as a Graduate Assistant with the Dept of Political Science at the University of Cincinnati while receiving my Masters degree in Public Administration/Social Justice. After graduating, I hope to continue a career in social justice through community-based organizations. 
Bachelor of Arts in Political Science: Eastern Kentucky University Richmond, KY, 2020 (Political Science, Sociology, African and African-American Studies)
Master of Arts in Public Administration, Social Justice: University of Cincinnati Cincinnati, OH, 2022 (Public Administration, Social Justice)
Research and Practice Interests
My research interests include the intersection of religion and politics, as well as systemic racial inequities; including unjust policing, the criminal legal system, and gentrification. I'm interested in using this research to explore the abolition and reconstruction of our current systems in order to achieve true equity and liberation. My practice interests include nonprofit organizations that promote social justice through community activism and care.
Positions and Work Experience
03-2020 -11-2020 Voter Empowerment Staff, Reaching out to marginalized voters through phone banks, literature drops, and canvassing. Registering new eligible voters with felonies in their past. Meeting with and training volunteers., Kentuckians for the Commonwealth, Louisville, Richmond, & Covington, KY
08-2020 -To Present Graduate Assistant, Assisting professors with grading, class discussions, and student engagement. Holding office hours and offering support for student questions and needs. Staying up to date with course content and readings., University of Cincinnati, Cincinnati, OH
Other Publications
Joy Girgis, Dr. Kerem Kalkan (Mentor) (2019. ) "For I Was a Stranger and You Welcomed Me In": Explaining White Evangelical Attitudes Toward Immigrants and Refugees" .Honors Theses, Encompass, Eastern Kentucky University Libraries
Academic - girgisjr@mail.uc.edu