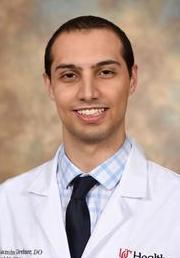 Benjamin Greiner
Clinical Instructor
Personal Statement
During the summer following my first year, I had the privilege to conduct radiation oncology research at MD Anderson which further strengthened my interest in the profession. I was given the responsibility of examining and sorting CT scans based on contrast status. Practicing the observation of each detail trained me to recognize structures quickly. Additionally, I interviewed patients regarding their side effects to treatment. This research opportunity was my first main exposure to radiology with respect to real-world practical use. My radiology elective in my third year gave me more insight into the specialty. I witnessed a private practice radiologist reading images and generating notes that speak to the management of the patient's conditions. It was an exciting challenge to make sense of the images while asking questions about the importance of findings in the patient's clinical context. The problem-solving aspect of radiology seen during the rotation further reinforced my interest in this specialty.

Why I Chose Cincinnati
Cincinnati always struck me as a fantastic academic program for conducting an internship. I had no doubt that I would have excellent preliminary medicine training before heading off to residency. Everyone was so friendly during the interview day as well, which made me want to join the crew. Cincinnati is a great city too! You can't beat Skyline Chili or Graeter's Ice Cream!