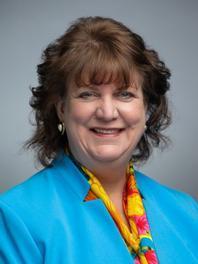 Pamela C Heaton
Interim Dean
Chair of Pharmacy Practice Division
Professor
Pamela C. Heaton is Interim Dean and Professor of Pharmacy Practice and Administrative Sciences at the Winkle College of Pharmacy at the University of Cincinnati. She teaches a required pharmacy ethics course in the Doctor of Pharmacy curriculum.  She also trains graduate students in the area of health outcomes.   
 
Her current research focus is on the use of secondary databases to evaluate clinical, humanistic and economic outcomes of drug therapy.  She has published over 80 manuscripts and presented over 100 poster presentations.  With Kroger pharmacy, along with the Cincinnati Health Council, Health Bridge and several hospitals, Dr. Heaton received a grant from NACDS Foundation to determine whether community pharmacists can reduce 30-day readmissions for patients with priority conditions. 
 
Dr. Heaton participates on many college committees at the University of Cincinnati and is faculty advisor for the graduate student association.  Dr. Heaton is also involved in other national organizations including the International Society for Pharmacoeconomic and Outcomes Research, American Society of Health-System Pharmacy and the American Pharmacists Association. Dr. Heaton is Editor in Chief of the Journal of the American Pharmacists Association.  Dr. Heaton is an active member of American Academy of Colleges of Pharmacy (AACP).  Her AACP service has included Chair of the Ethics Sig (2008-2009), college delegate (2008) and alternate (2007), speaker for AACP Special Session programming (2008), Mentor for WalMart Scholarship (2012), Section Programming Committee (2012-2013), Member of Rising Stars ad hoc committee (2013), Chair of the SAS Awards Committee (2013-2014), facilitator for SAS Section Roundtables (2014) and Chair Designee/Chair Elect, Chair and Immediate Past Chair of the SAS Section(2016-2020), Chair Elect of the Council Sections (2020) and AACP Board of Advisor Member (2020-2023). Working with a subgroup of the SAS section, she coauthored a publication titled "Characteristics of Social and Administrative Sciences Graduate Programs and Strategies for Student Recruitment and Future Faculty Development in the United States."  Additionally, in 2012-2013, she participated in the in the Academic Leadership Fellows Program. 
 
She earned her Bachelors of Pharmacy degree and Doctor of Philosophy degree from the University of Cincinnati.  
PhD: University of Cincinnati Cincinnati, Ohio, 2003 (Social and Administrative Sciences)
MS: University of Cincinnati Cincinnati, Ohio, 1998 (Social and Administrative Sciences)
BS: University of Cincinnati Cincinnati, Ohio, 1985 (Pharmacy)
Research and Practice Interests
Research interests include pharmacoeconomics, health outcomes, health policy, pharmacoepidemiology, drug utilization review
Investigators:Heaton, Pamela 01-01-2006 -12-31-2006 Cincinnati Children's Hospital Medical Center Stability and Cost of Public Insurance Programs Role:PI $27,072.00 Closed Level:Private Non-Profit
Investigators:Heaton, Pamela 07-01-2004 -06-30-2005 American College of Clinical Pharmacy Are Renal Transplant Recipients Provided Adequate Prophylaxisto Prevent Fractures Role:PI $15,000.00 Closed Level:Private Non-Profit
Grant: #104091/U18 HS16957 Investigators:Heaton, Pamela 09-01-2007 -08-31-2011 Agency for Healthcare Research and Quality CERTS Grant Role:PI $137,415.00 Closed Level:Federal
Grant: #MEDTAPP Investigators:Brewer, David; Cluxton, Robert; Guo, Junhai; Heaton, Pamela; Witzke, Robert 07-01-2008 -06-30-2011 Centers for Medicare & Medicaid Services Evaluation of Medicaid Prescription Drug Use Role:PI $898,065.00 Closed Level:Federal
Grant: #SRS 005700 Investigators:Boone, Jill; Buring, Shauna; Guo, Jianfei; Heaton, Pamela; Hein, Bradley; Tran, Giao 07-10-2008 -05-10-2009 Eli Lilly and Company Heavy Drinking and Alcohol Dependence Role:PI $74,450.00 Closed Level:Industry
Grant: #SRS 006655 Investigators:Acosta, Daniel; Heaton, Pamela 09-01-2009 -08-31-2015 Kroger Company Kroger Limited Partnership Role:PI $600,000.00 Active Level:Industry
Grant: #MEDTAPPFY12 Investigators:Boone, Jill; Brewer, David; Cavanaugh, Teresa; Cluxton, Robert; Doherty, Michael; Draeger, Robert; Guo, Jianfei; Healy, Daniel; Heaton, Pamela; Hein, Bradley; Horner, Ronnie; Kelton, Christina; Kim, Karissa; Meganathan, Karthikeyan; Metzger, Anne; Wigle, Patricia 07-01-2011 -06-30-2013 Ohio Department of Jobs and Family Services Evaluation of Medicaid Prescription Drug Use Role:PI $292,660.00 Closed Level:State of Ohio
Grant: #Professional Services Agreement - Heaton Investigators:Heaton, Pamela 11-15-2012 -06-30-2013 Merck & Co., Inc. Predictors of Hospital Admissions Among Patients with Diabetes, Including the Role of Sulfonylureas Role:PI $29,496.00 Active Level:Industry
Grant: #A-1213-07-0343-UC-PH Investigators:Boone, Jill; Brown, Bethanne; Cavanaugh, Teresa; Cluxton, Robert; Doherty, Michael; Epplen, Kelly; Guo, Jianfei; Heaton, Pamela; Hein, Bradley; Kelton, Christina; Kim, Karissa; Metzger, Anne; Wigle, Patricia 07-01-2012 -06-30-2013 Department of Health and Human Services Evaluation of Medicaid Prescription Drug Use Role:PI $282,600.00 Active Level:Federal
Grant: #Scientific Deliverables... Investigators:Heaton, Pamela; Kelton, Christina 09-01-2013 -12-31-2013 Eli Lilly and Company Scientific Deliverables to Support Observational Research Methods with Existing Claims or EMR Database Role:PI $54,750.00 Active Level:Industry
Grant: #Letter of Agreement Investigators:Heaton, Pamela; Luder, Heidi 12-06-2013 -12-31-2015 Pfizer, Inc. Increasing Vaccination Rates with an Appointment-Based Pharmacy Model Role:Collaborator $374,819.00 Awarded Level:Industry
Grant: #MEDTAPP - FY14 Investigators:Boone, Jill; Brewer, David; Brown, Bethanne; Cavanaugh, Teresa; Cluxton, Robert; Doherty, Michael; Epplen, Kelly; Guo, Jianfei; Heaton, Pamela; Hein, Bradley; Kelton, Christina; Metzger, Anne; Wigle, Patricia; Witzke, Robert 07-01-2013 -06-30-2014 Department of Health and Human Services MEDTAPP - FY14 Role:PI $272,382.00 Active Level:Federal
Grant: #MEDTAPP FY15 Investigators:Boone, Jill; Brewer, David; Brown, Bethanne; Cavanaugh, Teresa; Cluxton, Robert; Doherty, Michael; Epplen, Kelly; Guo, Jianfei; Heaton, Pamela; Hein, Bradley; Kelton, Christina; Metzger, Anne; Wigle, Patricia 07-01-2014 -06-30-2015 Department of Health and Human Services MEDTAPP FY15 Role:PI $244,593.75 Active Level:Federal
Grant: #NACDS Foundation Investigators:Heaton, Pamela; Luder, Heidi 06-03-2014 -06-02-2015 National Association of Chain Drug Stores Impact of Community Pharmacist-Provided Medication Management on Hospital Readmissions Role:PI $171,244.88 Active
Grant: #PA 2013-552 Investigators:Heaton, Pamela; Hincapie Echeverri, Ana Lucia; Kelton, Christina 01-01-2016 -12-31-2016 Eli Lilly and Company Scientific Deliverables to Support Observational Research Methods with Existing Claims or EMR Databases Role:PI $80,000.00 Awarded Level:Industry
Grant: #ODHE sub MEDTAPP Investigators:Boone, Jill; Brewer, David; Brown, Bethanne; Cavanaugh, Teresa; Cluxton, Robert; Doherty, Michael; Epplen, Kelly; Guo, Jianfei; Heaton, Pamela; Hein, Bradley; Kelton, Christina; Luder, Heidi; Metzger, Anne; Wigle, Patricia 07-01-2015 -06-30-2016 Centers for Medicare & Medicaid Services MEDTAPP-FY16 Role:PI $251,010.00 Active Level:Federal
Grant: #ODHE sub MEDTAPP G-1617-05-0132 Investigators:Boone, Jill; Brewer, David; Brown, Bethanne; Cavanaugh, Teresa; Cluxton, Robert; Epplen, Kelly; Guo, Jianfei; Heaton, Pamela; Hein, Bradley; Hincapie Echeverri, Ana Lucia; Kelton, Christina; Luder, Heidi; Metzger, Anne; Wigle, Patricia 07-01-2016 -06-30-2017 Centers for Medicare & Medicaid Services MEDTAPP - FY17 Role:PI $253,217.00 Awarded Level:Federal
Grant: #PA 2016-1049 Investigators:Heaton, Pamela; Hincapie Echeverri, Ana Lucia; Kelton, Christina 01-01-2017 -12-31-2017 Eli Lilly and Company Scientific Deliverables to Support Observational Research Methods with Existing Claims or EMR Databases Role:PI $79,995.00 Active Level:Industry
Grant: #2017-6157 Contract Investigators:Heaton, Pamela; Hincapie Echeverri, Ana Lucia 01-01-2018 -12-31-2019 Eli Lilly and Company Scientific Deliverables to Support Observational Research Methods with Existing Claims or EMR Databases Role:PI $160,000.00 Awarded Level:Industry
Grant: #CSP906318 Investigators:Boone, Jill; Cuadros, Diego; Heaton, Pamela; Hegener, Michael; Hincapie Echeverri, Ana Lucia; MacKinnon, Neil; Weed, Elizabeth 11-28-2017 -08-31-2018 Ohio Department of Health Naloxone Access and Impact Evaluation Role:Collaborator $74,957.00 Awarded Level:State of Ohio
Grant: #Check 5626 Investigators:Epplen, Kelly; Heaton, Pamela; Hincapie Echeverri, Ana Lucia 10-01-2018 -04-30-2019 National Association of Chain Drug Stores Transitions of Care in COPD: Patients, community pharmacists, and Care Coordinators' Perspectives Role:Collaborator $2,500.00 Awarded Level:Private Non-Profit
Grant: #SPC-1000005973 (MMS) 2205OH5ADM Investigators:Heaton, Pamela; Hincapie Echeverri, Ana Lucia 01-01-2022 -06-30-2022 Ohio State University Episodes of Care -Code Sheets Review and Update Role:Collaborator 19543.00 Hold Level:Higher Education
Investigators:Heaton, Pamela; Hincapie Echeverri, Ana Lucia; Kumar, Arun 01-01-2022 -12-31-2025 Eli Lilly and Company Scientific Deliverables to Support Observational Research Methods with Existing Claims or EMR Databases Role:Collaborator 0.00 Hold Level:Industry
Peer Reviewed Publications
Tundia, Namita L; Kelton, Christina M L; Cavanaugh, Teresa M; Guo, Jeff J; Hanseman, Dennis J; Heaton, Pamela C (2012. ) The effect of electronic medical record system sophistication on preventive healthcare for women.Journal of the American Medical Informatics Association : JAMIA, , More Information
Desai, Vibha C A; Cavanaugh, Teresa M; Kelton, Christina M L; Guo, Jeff J; Heaton, Pamela C (2012. ) Trends in the Utilization of, Spending on, and Prices for Outpatient Antifungal Agents in US Medicaid Programs: 1991-2009.Clinical therapeutics, , 34 (10 ) ,2118-2131.e1 More Information
Anderson, Jeffrey B; Czosek, Richard J; Cnota, James; Meganathan, Karthikeyan; Knilans, Timothy K; Heaton, Pamela C (2012. ) Pediatric syncope: national hospital ambulatory medical care survey results.The Journal of emergency medicine, , 43 (4 ) ,575-83 More Information
Desai, Vibha C A; Heaton, Pamela C; Kelton, Christina M L (2012. ) Impact of the Food and Drug Administration's antipsychotic black box warning on psychotropic drug prescribing in elderly patients with dementia in outpatient and office-based settings.Alzheimer's & dementia : the journal of the Alzheimer's Association, , 8 (5 ) ,453-7 More Information
Fuller, Leah; Conrad, Wayne F; Heaton, Pamela C; Panos, Ralph; Eschenbacher, William; Frede, Stacey M (2012. ) Pharmacist-managed chronic obstructive pulmonary disease screening in a community setting.Journal of the American Pharmacists Association : JAPhA, , e59-e66 More Information
Berry, Edmund A; Kelton, Christina M L; Guo, Jeff J; Heaton, Pamela C (2012. ) Adaptation and application of the Agency for Healthcare Research and Quality's asthma admission rate pediatric quality indicator to Ohio Medicaid claims data.Research in social & administrative pharmacy : RSAP, , More Information
Heaton, Pamela C; Tundia, Namita L; Schmidt, Nicole; Wigle, Patricia R; Kelton, Christina M L (2012. ) National burden of pediatric hospitalizations for inflammatory bowel disease: results from the 2006 Kids' Inpatient Database.Journal of pediatric gastroenterology and nutrition, , 54 (4 ) ,477-85 More Information
Czosek, Richard J; Meganathan, Karthikeyan; Anderson, Jeffrey B; Knilans, Timothy K; Marino, Bradley S; Heaton, Pamela C (2012. ) Cardiac rhythm devices in the pediatric population: utilization and complications.Heart rhythm : the official journal of the Heart Rhythm Society, , 9 (2 ) ,199-208 More Information
Tundia, Namita L; Heaton, Pamela C; Kelton, Christina M L (2011. ) The national burden of E-code-identified adverse drug events among hospitalized children using a national discharge database.Pharmacoepidemiology and drug safety, , 20 (8 ) ,866-78 More Information
Heaton, Pamela C; Schuchter, Joseph; Lannon, Carole M; Kemper, Alex R (2011. ) Impact of drug label changes on propofol use in pediatrics for moderate conscious sedation.Clinical therapeutics, , 33 (7 ) ,886-95 More Information
Stevenson, Michelle D; Heaton, Pamela C; Moomaw, Charles J; Bean, Judy A; Ruddy, Richard M (2008. ) Inhaled corticosteroid use in asthmatic children receiving Ohio Medicaid: trend analysis, 1997-2001.Annals of allergy, asthma & immunology : official publication of the American College of Allergy, Asthma, & Immunology, , 100 (6 ) ,538-44 More Information
Kelton, Christina M L; Rebelein, Robert P; Heaton, Pamela C; Ferrand, Yann; Guo, Jeff J (2008. ) Differences in the cost of antidepressants across state Medicaid programs. The journal of mental health policy and economics, , 11 (1 ) ,33-47
Heaton, P C; Fenwick, S R; Brewer, D E (2007. ) Association between tetracycline or doxycycline and hepatotoxicity: a population based case-control study.Journal of clinical pharmacy and therapeutics, , 32 (5 ) ,483-7 More Information
Straight, Jeanette D; Heaton, Pamela C (2007. ) Emergency department care for victims of sexual offense.American journal of health-system pharmacy : AJHP : official journal of the American Society of Health-System Pharmacists, , 64 (17 ) ,1845-50 More Information
Brown, Bethanne; Heaton, Pamela C; Wall, Andrea (2007. ) A service-learning elective to promote enhanced understanding of civic, cultural, and social issues and health disparities in pharmacy. American journal of pharmaceutical education, , 71 (1 ) ,9
Benner-Davis, Shannon; Heaton, Pamela C (2007. ) Attention deficit and hyperactivity disorder: controversies of diagnosis and safety of pharmacological and nonpharmacological treatment. Current drug safety, , 2 (1 ) ,33-42
Heaton,P.C.; Fenwick,S.R.; Brewer,D.E. (2007. ) Association between tetracycline or doxycycline and hepatotoxicity: a population based case-control study .Journal of clinical pharmacy and therapeutics, , 32 (5 ) ,483 -487
Straight,J.D.; Heaton,P.C. (2007. ) Emergency department care for victims of sexual offense .American Journal of Health-System Pharmacy : AJHP : Official Journal of the American Society of Health-System Pharmacists, , 64 (17 ) ,1845 -1850
Tibbs,K.; Swensgard,K.; Conrad,W.; Heaton,P.C. (2007. ) Implementation of pharmacist training and counseling program on vitamins and minerals .Journal of the American Pharmacists Association : JAPhA, , 47 (4 ) ,502 -504
Brown,B.; Heaton,P.C.; Wall,A. (2007. ) A service-learning elective to promote enhanced understanding of civic, cultural, and social issues and health disparities in pharmacy .American Journal of Pharmaceutical Education, , 71 (1 ) ,9
Lindsay,S.E.; Gudelsky,G.A.; Heaton,P.C. (2006. ) Use of modafinil for the treatment of attention deficit/hyperactivity disorder .The Annals of Pharmacotherapy, , 40 (10 ) ,1829 -1833
Heaton,P.C. (2006. ) Cost effectiveness of leukotriene modifiers in adults with asthma .PharmacoEconomics, , 24 (8 ) ,727 -742
Heaton,P.C.; Frede,S.M. (2006. ) Patients' need for more counseling on diet, exercise, and smoking cessation: results from the national ambulatory medical care survey .Journal of the American Pharmacists Association : JAPhA, , 46 (3 ) ,364 -369
Heaton,P.C.; Guo,J.J.; Hornung,R.W.; Johnston,J.A.; Jang,R.; Moomaw,C.J.; Cluxton,R.J. (2006. ) Analysis of the effectiveness and cost benefit of leukotriene modifiers in adults with asthma in the ohio medicaid population .Journal of managed care pharmacy : JMCP, , 12 (1 ) ,33 -42
Lindsay, Shane E; Gudelsky, Gary A; Heaton, Pamela C (2006. ) Use of modafinil for the treatment of attention deficit/hyperactivity disorder.The Annals of pharmacotherapy, , 40 (10 ) ,1829-33 More Information
Heaton, Pamela C; Garlick, Colleen M; Tran, Doan (2006. ) Evaluating drug safety in children and adolescents with bipolar disorder. Current drug safety, , 1 (3 ) ,307-18
Heaton, Pamela C (2006. ) Cost effectiveness of leukotriene modifiers in adults with asthma. PharmacoEconomics, , 24 (8 ) ,727-42
Cluxton, Robert J; Li, Zili; Heaton, Pamela C; Weiss, Sheila R; Zuckerman, Ilene H; Moomaw, Charles J; Hsu, Van Doren; Rodriguez, Evelyn M (2005. ) Impact of regulatory labeling for troglitazone and rosiglitazone on hepatic enzyme monitoring compliance: findings from the state of Ohio medicaid program.Pharmacoepidemiology and drug safety, , 14 (1 ) ,1-9 More Information
Cluxton,R.J.,Jr; Li,Z.; Heaton,P.C.; Weiss,S.R.; Zuckerman,I.H.; Moomaw,C.J.; Hsu,V.D.; Rodriguez,E.M. (2005. ) Impact of regulatory labeling for troglitazone and rosiglitazone on hepatic enzyme monitoring compliance: findings from the state of ohio medicaid program .Pharmacoepidemiology and drug safety, , 14 (1 ) ,1 -9
Guo,J.J.; Ludke,R.L.; Heaton,P.C.; Moomaw,C.J.; Ho,M.; Cluxton,R.J.,Jr (2004. ) Characteristics and risk factors associated with high-cost medicaid recipients .Managed care interface, , 17 (10 ) ,20 -27
Everly,M.J.; Heaton,P.C.; Cluxton,R.J.,Jr (2004. ) Beta-blocker underuse in secondary prevention of myocardial infarction .The Annals of Pharmacotherapy, , 38 (2 ) ,286 -293
Guo, Jeff J; Ludke, Robert L; Heaton, Pamela C; Moomaw, Charles J; Ho, Mona; Cluxton, Robert J (2004. ) Characteristics and risk factors associated with high-cost Medicaid recipients. Managed care interface, , 17 (10 ) ,20-7
Everly, Matthew J; Heaton, Pamela C; Cluxton, Robert J (2004. ) Beta-blocker underuse in secondary prevention of myocardial infarction.The Annals of pharmacotherapy, , 38 (2 ) ,286-93 More Information
Johnston, Joseph A; Cluxton, Robert J; Heaton, Pamela C; Guo, Jeff J; Moomaw, Charles J; Eckman, Mark H (2003. ) Predictors of warfarin use among Ohio medicaid patients with new-onset nonvalvular atrial fibrillation.Archives of internal medicine, , 163 (14 ) ,1705-10 More Information
Heaton,P.C.; Cluxton,R.J.,Jr; Moomaw,C.J. (2003. ) Acetaminophen overuse in the ohio medicaid population .Journal of the American Pharmacists Association : JAPhA, , 43 (6 ) ,680 -684
Johnston,J.A.; Cluxton,R.J.,Jr; Heaton,P.C.; Guo,J.J.; Moomaw,C.J.; Eckman,M.H. (2003. ) Predictors of warfarin use among ohio medicaid patients with new-onset nonvalvular atrial fibrillation .Archives of Internal Medicine, , 163 (14 ) ,1705 -1710
Shireman,T.I.; Heaton,P.C.; Gay,W.E.; Cluxton,R.J.; Moomaw,C.J. (2002. ) Relationship between asthma drug therapy patterns and healthcare utilization .The Annals of Pharmacotherapy, , 36 (4 ) ,557 -564
Shireman, Theresa I; Heaton, Pamela C; Gay, Wendy E; Cluxton, Robert J; Moomaw, Charles J (2002. ) Relationship between asthma drug therapy patterns and healthcare utilization. The Annals of pharmacotherapy, , 36 (4 ) ,557-64
Heaton,P.C.; Lin,A.C.; Jang,R.; Worthen,D.B.; Barker,K. (2000. ) Time and cost analysis of repacking medications in unit-of-use containers .Journal of the American Pharmaceutical Association (Washington,D.C.: 1996), , 40 (5 ) ,631 -636
Knight, Dan E; Draeger, Robert W; Heaton, Pamela C; Patel, Nick C Pharmacist screening for depression among patients with diabetes in an urban primary care setting.Journal of the American Pharmacists Association : JAPhA, , 48 (4 ) ,518-21 More Information
Heaton, Pamela C; Frede, Stacey M Patients' need for more counseling on diet, exercise, and smoking cessation: results from the National Ambulatory Medical Care Survey. Journal of the American Pharmacists Association : JAPhA, , 46 (3 ) ,364-9
Heaton, Pamela C; Guo, Jeff J; Hornung, Richard W; Johnston, Joseph A; Jang, Raymond; Moomaw, Charles J; Cluxton, Robert J Analysis of the effectiveness and cost benefit of leukotriene modifiers in adults with asthma in the Ohio Medicaid population. Journal of managed care pharmacy : JMCP, , 12 (1 ) ,33-42
Tibbs, Katie; Swensgard, Kelly; Conrad, Wayne; Heaton, Pamela C Implementation of pharmacist training and counseling program on vitamins and minerals.Journal of the American Pharmacists Association : JAPhA, , 47 (4 ) ,502-4 More Information
Winfrey, Cameron; Wortman, Sara; Frede, Stacey; Kunze, Natalie; Conrad, Wayne F; Heaton, Pamela C Pharmacist-initiated peripheral arterial disease screening program in a community pharmacy setting.Journal of the American Pharmacists Association : JAPhA, , 51 (3 ) ,373-7 More Information
Heaton, P C; Lin, A C; Jang, R; Worthen, D B; Barker, K Time and cost analysis of repacking medications in unit-of-use containers. Journal of the American Pharmaceutical Association (Washington,D.C. : 1996), , 40 (5 ) ,631-6
Heaton, Pamela C; Cluxton, Robert J; Moomaw, Charles J Acetaminophen overuse in the Ohio Medicaid population. Journal of the American Pharmacists Association : JAPhA, , 43 (6 ) ,680-4
Czosek, Richard J; Anderson, Jeffrey B; Heaton, Pamela C; Cassedy, Amy; Schnell, Beverly; Cnota, James F (2013. ) Staged Palliation of Hypoplastic Left Heart Syndrome: Trends in Mortality, Cost, and Length of Stay Using a National Database from 2000 Through 2009.The American journal of cardiology, , More Information
Westrick, Salisa C; Kamal, Khalid M; Moczygemba, Leticia R; Breland, Michelle L; Heaton, Pamela C Characteristics of Social and Administrative Sciences graduate programs and strategies for student recruitment and future faculty development in the United States.Research in social & administrative pharmacy : RSAP, , 9 (1 ) ,101-7 More Information
Rajpathak, Swapnil N; Fu, Chunmay; Brodovicz, Kimberley; Engel, Samuel S; Heaton, Pamela C (2015. ) Sulfonylurea monotherapy and emergency room utilization among elderly patients with type 2 diabetes.Diabetes research and clinical practice, , 109 (3 ) ,507-12 More Information
Xia, Ying; Kelton, Christina M L; Guo, Jeff J; Bian, Boyang; Heaton, Pamela C (2015. ) Treatment of obesity: Pharmacotherapy trends in the United States from 1999 to 2010.Obesity (Silver Spring, Md.), , 23 (8 ) ,1721-8 More Information
Beck, Andrew F; Bradley, Courtney L; Huang, Bin; Simmons, Jeffrey M; Heaton, Pamela C; Kahn, Robert S (2015. ) The pharmacy-level asthma medication ratio and population health.Pediatrics, , 135 (6 ) ,1009-17 More Information
Luder, Heidi R; Frede, Stacey M; Kirby, James A; Epplen, Kelly; Cavanaugh, Teresa; Martin-Boone, Jill E; Conrad, Wayne F; Kuhlmann, Diane; Heaton, Pamela C TransitionRx: Impact of community pharmacy postdischarge medication therapy management on hospital readmission rate.Journal of the American Pharmacists Association : JAPhA, , 55 (3 ) ,246-54 More Information
Desai, Vibha C A; Kelton, Christina M L; Metzger, Anne H; Cavanaugh, Teresa M; Guo, Jeff J; Heaton, Pamela C (2014. ) Comparative persistence on ?-blockers versus calcium channel blockers for ventricular rate control in nonelderly patients with atrial fibrillation.The Annals of pharmacotherapy, , 48 (12 ) ,1570-9 More Information
Heaton, Pamela C Medicare Annual Wellness Visits: patient need and pharmacist patient care services intersect.Journal of the American Pharmacists Association : JAPhA, , 54 (4 ) ,336-7 More Information
Desai, Amarsinh M; Cavanaugh, Teresa M; Desai, Vibha C A; Heaton, Pamela C; Kelton, Christina M L (2014. ) Trends in the outpatient treatment of atrial fibrillation in the USA from 2001 to 2010.Pharmacoepidemiology and drug safety, , 23 (5 ) ,539-47 More Information
Kelton, Christina M L; Chang, Lenisa V; Guo, Jeff J; Yu, Yan; Berry, Edmund A; Bian, Boyang; Heaton, Pamela C (2014. ) Firm- and drug-specific patterns of generic drug payments by US medicaid programs: 1991-2008.Applied health economics and health policy, , 12 (2 ) ,165-77 More Information
Desai, Vibha C A; Kelton, Christina M L; Czosek, Richard J; Heaton, Pamela C (2013. ) Frequencies, costs, and complications of catheter ablation for tachyarrhythmias in children: 2000-2009.Pacing and clinical electrophysiology : PACE, , 36 (12 ) ,1468-80 More Information
Heaton, Pamela C; Tundia, Namita L; Luder, Heidi R U.S. emergency departments visits resulting from poor medication adherence: 2005-07.Journal of the American Pharmacists Association : JAPhA, , 53 (5 ) ,513-9 More Information
Rosser, Shelly; Frede, Stacey; Conrad, Wayne F; Heaton, Pamela C Development, implementation, and evaluation of a pharmacist-conducted screening program for depression.Journal of the American Pharmacists Association : JAPhA, , 53 (1 ) ,22-9 More Information
Desai, Vibha C A; Ferrand, Yann; Cavanaugh, Teresa M; Kelton, Christina M L; Caro, J Jaime; Goebel, Jens; Heaton, Pamela C (2017. ) Comparative Effectiveness of Tacrolimus-Based Steroid Sparing versus Steroid Maintenance Regimens in Kidney Transplantation: Results from Discrete Event Simulation.Medical decision making : an international journal of the Society for Medical Decision Making, , 272989X17700879 More Information
Thompson, Jeffrey A; Heaton, Pamela C; Kelton, Christina M L; Sitzman, Thomas J (2017. ) National Estimates of and Risk Factors for Inpatient Revision Surgeries for Orofacial Clefts.The Cleft palate-craniofacial journal : official publication of the American Cleft Palate-Craniofacial Association, , 54 (1 ) ,60-69 More Information
Xia, Ying; Kelton, Christina Ml; Wigle, Patricia R; Heaton, Pamela C; Guo, Jeff J (2016. ) Twenty years of triptans in the United States Medicaid programs: Utilization and reimbursement trends from 1993 to 2013.Cephalalgia : an international journal of headache, , 36 (14 ) ,1305-1315 More Information
Bradley, Courtney L; Luder, Heidi R; Beck, Andrew F; Bowen, Rachel; Heaton, Pamela C; Kahn, Robert S; Mansour, Mona; Obszarski, Stephen; Frede, Stacey M Pediatric asthma medication therapy management through community pharmacy and primary care collaboration.Journal of the American Pharmacists Association : JAPhA, , 56 (4 ) ,455-60 More Information
Desai, Vibha; Nau, David; Conklin, Mark; Heaton, Pamela C (2016. ) Impact of Environmental Factors on Differences in Quality of Medication Use: An Insight for the Medicare Star Rating System.Journal of managed care & specialty pharmacy, , 22 (7 ) ,779-86 More Information
Heaton, Pamela C; Desai, Vibha C A; Kelton, Christina M L; Rajpathak, Swapnil N (2016. ) Sulfonylurea use and the risk of hospital readmission in patients with type 2 diabetes.BMC endocrine disorders, , 16 ,4 More Information
Heaton, Pamela C Community-based pharmacy residents: Engaged at the intersection of health and medication needs.Journal of the American Pharmacists Association : JAPhA, , 57 (3S ) ,S189-S190 More Information
Curington, Russell; Espel, Mike; Heaton, Pamela C; Luder, Heidi; Brown, Bethanne Clinical outcomes of switching from insulin glargine to NPH insulin in indigent patients at a charitable pharmacy: The Charitable Insulin NPH: Care for the Indigent study.Journal of the American Pharmacists Association : JAPhA, , 57 (3S ) ,S229-S235 More Information
Sitzman, Thomas J; Carle, Adam C; Heaton, Pamela C; Helmrath, Michael A; Britto, Maria T (2019. ) Five-Fold Variation Among Surgeons and Hospitals in the Use of Secondary Palate Surgery.The Cleft palate-craniofacial journal : official publication of the American Cleft Palate-Craniofacial Association, , 56 (5 ) ,586-594 More Information
Lahrman, Rebecca; Johnson, Ashley; Heaton, Pamela C; Frede, Stacey M; Schwartz, Rowena Assessment of community pharmacists' confidence, foundational knowledge, and coordination of care activities in patients with cancer as a chronic condition.Journal of the American Pharmacists Association : JAPhA, , 59 (4S ) ,S106-S111.e2 More Information
Heaton, Pamela C; Frede, Stacey; Kordahi, Andrew; Lowery, Lauren; Moorhead, Brooke; Kirby, Jim; Kunze, Natalie; Luder, Heidi Improving care transitions through medication therapy management: A community partnership to reduce readmissions in multiple health-systems.Journal of the American Pharmacists Association : JAPhA, , 59 (3 ) ,319-328 More Information
Hensley, Caroline; Heaton, Pamela C; Kahn, Robert S; Luder, Heidi R; Frede, Stacey M; Beck, Andrew F (2018. ) Poverty, Transportation Access, and Medication Nonadherence.Pediatrics, , 141 (4 ) , More Information
Hackerson, Meghan L; Luder, Heidi R; Beck, Andrew F; Wedig, Joseph M; Heaton, Pamela C; Frede, Stacey M Addressing primary nonadherence: A collaboration between a community pharmacy and a large pediatric clinic.Journal of the American Pharmacists Association : JAPhA, , 58 (4S ) ,S101-S108.e1 More Information
Luder, Heidi R; Kunze, Natalie; Heaton, Pamela C; Frede, Stacey M An appointment-based model to systematically assess and administer vaccinations.Journal of the American Pharmacists Association : JAPhA, , 58 (3 ) ,290-295 More Information
Barnes, Brenda; Hincapie, Ana L; Luder, Heidi; Kirby, James; Frede, Stacey; Heaton, Pamela C Appointment-based models: A comparison of three model designs in a large chain community pharmacy setting.Journal of the American Pharmacists Association : JAPhA, , 58 (2 ) ,156-162.e1 More Information
Sitzman, Thomas J; Hossain, Monir; Carle, Adam C; Heaton, Pamela C; Britto, Maria T (2017. ) Variation among cleft centres in the use of secondary surgery for children with cleft palate: a retrospective cohort study.BMJ paediatrics open, , 1 (1 ) , More Information
Heaton, Pamela C (2020. ) 2021 - A year of hope.Journal of the American Pharmacists Association : JAPhA, , More Information
Sitzman, Thomas J; Carle, Adam C; Lundberg, Jaclyn N; Heaton, Pamela C; Helmrath, Michael A; Trotman, Carroll-Ann; Britto, Maria T (2020. ) Marked Variation Exists Among Surgeons and Hospitals in the Use of Secondary Cleft Lip Surgery.The Cleft palate-craniofacial journal : official publication of the American Cleft Palate-Craniofacial Association, , 57 (2 ) ,198-207 More Information
Gangal, Neha S; Hincapie, Ana L; Jandarov, Roman; Frede, Stacey M; Boone, Jill M; MacKinnon, Neil J; Koechlin, Kathleen; DeFiore-Hyrmer, Jolene; Holthusen, Amy; Heaton, Pamela C (2020. ) Association Between a State Law Allowing Pharmacists to Dispense Naloxone Without a Prescription and Naloxone Dispensing Rates.JAMA network open, , 3 (1 ) ,e1920310 More Information
Heaton, Pamela C Community-based residency programs: Practice without limits.Journal of the American Pharmacists Association : JAPhA, , 60 (3S ) ,S5-S6 More Information
Heaton, Pamela C Peer reviewers: Our hidden heroes.Journal of the American Pharmacists Association : JAPhA, , 60 (2 ) ,277-278 More Information
Heaton, Pamela C JAPhA-New beginnings 2020.Journal of the American Pharmacists Association : JAPhA, , 60 (1 ) ,7 More Information
Schroeder, Krista M; Gelwicks, Steve; Naegeli, April N; Heaton, Pamela C (2019. ) Comparison Of Methods To Estimate Disease-Related Cost And Healthcare Resource Utilization For Autoimmune Diseases In Administrative Claims Databases.ClinicoEconomics and outcomes research : CEOR, , 11 ,713-727 More Information
Heaton, Pamela C Authors and Peer-Reviewers: Our Foundation.Journal of the American Pharmacists Association : JAPhA, , 61 (2 ) ,126 More Information
Hincapie, Ana L; Hegener, Michael; Heaton, Pamela C; Fish, Gabrielle; Fetters, Kathryn; Sneed, Gregory T; Koechlin, Kathleen; DeFiore-Hyrmer, Jolene; Holthusen, Amy; MacKinnon, Neil J Challenges and Facilitators of Implementing a Physician-approved Naloxone Protocol: A Mixed-methods Study.Journal of addiction medicine, , 15 (1 ) ,40-48 More Information