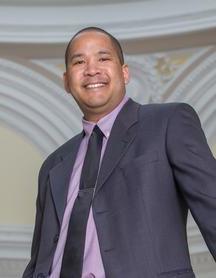 Marcus L Johnson
Co-Director, Coordinator, and Associate Professor, Developmental & Learning Sciences Research Laboratory
Dr. Marcus Johnson is the Graduate Coordinator of the Developmental and Learning Sciences (DLS), Co-Director of the DLS Research Laboratory, and Associate Professor of Educational Studies at the University of Cincinnati. He is also the proud recipient of the 2019 UC Faculty Exemplary Service Award, in recognition of his service and leadership on the Faculty Senate committees for Research & Scholarship and Human Relations, Faculty Enrichment Center, and the School of Education's PhD Council. 

Nationally, Dr. Johnson has held leadership roles in the American Psychological Association's Division [15] for Educational Psychology, and the American Educational Research Association's Division [C] for Learning and Instruction and "Motivation in Education" group; most recently as Division 15's representative on APA's Council of Representatives.

Dr. Johnson's research/scholarship concerning "motivation in education," has included investigations of traditional and nontraditional college students' motivations, the use of motivational strategies that enhance cognitive engagement and learning, the effect of policies and practices on both student and faculty motivation, and identifying motivating factors that contribute to students' school-life balance and achievement. His work assessing underrepresented high school students' motivations for STEM related college majors and careers, has been supported by the National Science Foundation.

Dr. Johnson earned his PhD in Educational Psychology at the University of Nevada, Las Vegas, and for over a decade he has enjoyed teaching various courses in higher education, from Human Development to Human Learning, and from Educational Assessment to Research Methods. Prior to his work in higher education, Dr. Johnson had taught high school science in diverse settings. Outside of academia, Dr. Johnson is a proud father and husband, foodie, and Olympic sports fanatic.
2150 Q Edwards Hall
PO Box 210105
Cincinnati  Ohio, 45221
Phone: (513)556-0555
Marcus.Johnson@uc.edu