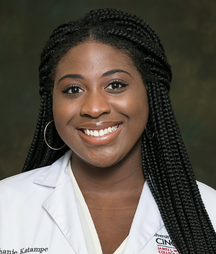 Stephanie Rebecca Katampe
Stephanie Katampe (2022-2023 Walgreens/University of Cincinnati PGY1 Pharmacy Resident)
 
Dr. Stephanie Katampe is a native of Kettering, Ohio. She pursued Pre-Pharmacy Studies at the University of Cincinnati in 2015, then went to earn her Doctor of Pharmacy degree from the University of Cincinnati's James L. Winkle College of Pharmacy in 2022. She is currently practicing in Walgreens retail and specialty pharmacies. Stephanie is passionate about providing equitable care to underserved communities. She hopes to become a strong advocate for her patients and is excited about the opportunity to mold her skills as a pharmacist.
Doctor of Pharmacy: University of Cincinnati Cincinnati, Ohio, 2022