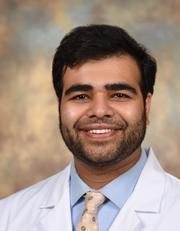 Tarush Khurana
Clinical Instructor
Personal Statement
It was a shared love of Coca-Cola that brought us together. My patient was a 54-year-old woman who had just been informed of her ALS diagnosis. Understandably, she had a difficult time accepting her prognosis and often refused to talk to other members of her care team. As a third-year medical student on my internal medicine rotation, I realized I had more time than anyone else to try to get to know her. Every day, I would bring her a Coca-Cola bottle from the vending machines. It was her favorite drink, but it was not available for patients on the hospital floor. She was too weak to walk to the vending machines herself, and she had no family or friends to help her. My casual approach involved sitting down at eye level and listening to and validating each of her complaints. I got to know her better by asking her to share stories of her life. Due to her worsening condition, she had significant difficulty speaking, but we supplemented where communication became difficult with picture boards and written notes. I took care of her for three weeks while we confirmed her diagnosis, adjusted medications, and approached multiple goals-of-care discussions. She and I developed a strong relationship as she began to trust me more and more. Eventually, she wanted me to be present with her during difficult and intense discussions with the team. On the last day of my rotation, she would choose to enroll in hospice care. Through this meaningful interaction and many more during my medical school career, I have learned firsthand the importance of empathy and connection with patients in order for them to trust me as their physician and advocate.

Why I Chose Cincinnati
I interviewed all over the country, but I knew early on that this program was different than most of the places I had seen. Starting at the pre-interview dinner, I observed how tight-knit the residents were while also being some of the most open and genuine individuals I have had the pleasure of meeting. During the interview day, this was reaffirmed for me by the residents and faculty. Dr. Warm's presentation about resident education and innovation sealed the deal because of his emphasis on self-growth and patient advocacy. Overall, this program and the city of Cincinnati created an incredibly warm and welcoming place. I thought it was the ideal location to grow as a physician but also enjoy my training for the next three years.
MD: Rush Medical College of Rush University
University of Cincinnati College of Medicine
231 Albert Sabin Way
Cincinnati  Ohio, 45267
KHURANTH@UCMAIL.UC.EDU