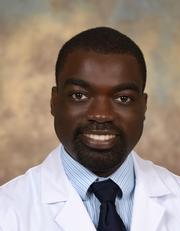 Derek Berkoh Kwakye
Clinical Instructor
Personal Statement
Growing up as a child of immigrants, Ghanaian culture as always played an important role in my life and has been a major part of my identity. Ever since I decided to enter medical school, it has always been my dream to go back and provide care in my family's home country. Diseases that are easily treatable here plague the country as globalization has brought conditions such as obesity and DM to Ghana. With the health problems the country already faces, compounding these metabolic conditions would devastating. As an internist, I hope to not only treat disease but to become an advocate for disease prevention and health promotion. While I cannot change the health system of an entire country, I believe I can make an impact in the improvement of healthcare in Ghana. With the Student National Medical Association chapter (SNMA), I have worked with underrepresented minority pre-med students to help mentor them on their path to medical school. I worked to not only create a pipeline for minority students at the University of Cincinnati, but students at Xavier University, Miami of Ohio, and Indiana University Bloomington. To accomplish this, I organized events such as medical school visits, sitting on panels, and maintaining appropriate communication with both our diversity and admissions offices. It was important that I took initiative into not only coming with new ways to engage these students, but consistently engaged with these two offices to develop an effective way for not only our diversity office to be a part of recruitment, but our entire school to be part of recruitment.

Why I Chose Cincinnati
I chose Cincinnati because of the residents! Having been here for medical school I have had amazing experiences working with all of the residents in the internal medicine department and have had amazing opportunities to learn as well. I also loved Cincinnati's commitment to diversity and inclusion and the strives that the program is making in order to make UC a welcoming place for people of color.
MD: University of Cincinnati College of Medicine
University of Cincinnati College of Medicine
231 Albert Sabin Way
Cincinnati  Ohio, 45267
KWAKYEDB@UCMAIL.UC.EDU