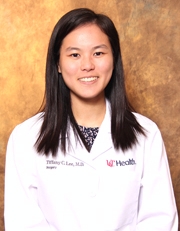 Tiffany C Lee , MD
Clinical Instructor
Medical Sciences Building
231 Albert Sabin Way
Cincinnati, Ohio 45267-0558
Phone 513-558-4206
Email tiffany.lee@uc.edu
Medical Degree: University of Rochester 2016
Bachelor's Degree: Swarthmore College 2012 (Chemistry)
Fellowship: University of Cincinnati Cincinnati, OH, (Research-Department of Surgery)
Published Abstracts
Fazili A, Lee T, Venigalla S, Eichel L (2013. ) Oncologic results of percutaneous renal cryoablation at a median follow-up of 24 months .[Abstract]J Endourol, 27 (S1 ) ,P15
Peer Reviewed Publications
Winer, Leah K; Dhar, Vikrom K; Wima, Koffi; Lee, Tiffany C; Morris, Mackenzie C; Shah, Shimul A; Ahmad, Syed A; Patel, Sameer H (2018. ) Perioperative Net Fluid Balance Predicts Pancreatic Fistula After Pancreaticoduodenectomy.Journal of gastrointestinal surgery, , June 4 [Epub ahead of print] , More Information
Lee, Tiffany C; Reyna, Chantal; Shaughnessy, Elizabeth; Lewis, Jaime D (2019. ) Screening of populations at high risk for breast cancer.Journal of surgical oncology, , 120 (5 ) ,820-830 More Information
Lee, Tiffany C; Kaiser, Tiffany E; Luckett, Keith; Wima, Koffi; Winer, Leah K; Morris, Mackenzie C; Kassam, Al-Faraaz; Safdar, Kamran; Bari, Khurram; Anwar, Nadeem; Quillin, R Cutler; Shah, Shimul A (2019. ) Use, Safety, and Effectiveness of Viremic Hepatitis B Virus Donor Livers: A Potential Opportunity to Expand the Donor Pool.Liver transplantation : official publication of the American Association for the Study of Liver Diseases and the International Liver Transplantation Society, , 25 (10 ) ,1581-1584 More Information
Lee, Tiffany C; Morris, Mackenzie C; Patel, Sameer H; Shah, Shimul A (2019. ) Expanding the Surgical Pool for Hepatic Resection to Treat Biliary and Primary Liver Tumors.Surgical oncology clinics of North America, , 28 (4 ) ,763-782 More Information
Morris, Mackenzie C; Jung, Andrew D; Kim, Young; Lee, Tiffany C; Kaiser, Tiffany E; Thompson, Jonathan R; Bari, Khurram; Shah, Shimul A; Cohen, Robert M; Schauer, Daniel P; Smith, Eric P; Diwan, Tayyab S (2019. ) Delayed Sleeve Gastrectomy Following Liver Transplantation: A Five-Year Experience.Liver transplantation : official publication of the American Association for the Study of Liver Diseases and the International Liver Transplantation Society, , More Information
Morris, Mackenzie C; Dhar, Vikrom K; Stevenson, Megan A; Winer, Leah K; Lee, Tiffany C; Wang, Jiang; Ahmad, Syed A; Patel, Sameer H; Sussman, Jeffrey J; Abbott, Daniel E (2019. ) Adjuvant Hyperthermic Intraperitoneal Chemotherapy (HIPEC) for patients at High-Risk of Peritoneal Metastases.Surgical oncology, , 31 ,33-37 More Information
Lee, Tiffany C; Kaiser, Tiffany E; Alloway, Rita; Woodle, Ervin Steve; Edwards, Michael J; Shah, Shimul A (2019. ) Telemedicine Based Remote Home Monitoring After Liver Transplantation: Results of a Randomized Prospective Trial.Annals of surgery, , 270 (3 ) ,564-572 More Information
Lee, Tiffany C; Dhar, Vikrom K; Hoehn, Richard S; Wima, Koffi; Kim, Young; Ertel, Audrey E; Patel, Sameer H; Shah, Shimul A (2019. ) Liver transplantation at safety net hospitals: Potentially vulnerable patients with noninferior outcomes.Surgery, , More Information
Lee, Tiffany C; Wima, Koffi; Morris, Mackenzie C; Winer, Leah K; Sussman, Jeffrey J; Ahmad, Syed A; Patel, Sameer H (2019. ) Incidence and Long-Term Outcomes of Patients Requiring Early Reoperation After HIPEC.The Journal of surgical research, , 244 ,395-401 More Information
Winer, Leah K; Dhar, Vikrom K; Wima, Koffi; Morris, Mackenzie C; Lee, Tiffany C; Shah, Shimul A; Ahmad, Syed A; Patel, Sameer H (2019. ) The Impact of Tumor Location on Resection and Survival for Pancreatic Ductal Adenocarcinoma.The Journal of surgical research, , 239 ,60-66 More Information
Dhar, Vikrom K; Wima, Koffi; Lee, Tiffany C; Morris, Mackenzie C; Winer, Leah K; Ahmad, Syed A; Shah, Shimul A; Patel, Sameer H (2019. ) Perioperative blood transfusions following hepatic lobectomy: A national analysis of academic medical centers in the modern era.HPB : the official journal of the International Hepato Pancreato Biliary Association, , 21 (6 ) ,748-756 More Information
Kim, Young; Morris, Mackenzie C; Lee, Tiffany C; Earnest, Ryan E (2019. ) Surgical management of compound skull fracture with exposed brain matter in a third-world country.Journal of surgical case reports, , 2019 (5 ) ,rjz147 More Information
Kim, Young; Morris, Mackenzie C; Lee, Tiffany C; Earnest, Ryan E (2019. ) Surgical management of fungating penile mass in a third-world country.Journal of surgical case reports, , 2019 (4 ) ,rjz104 More Information
Book Chapter
Lee TC, Kassam A, Shah SA (2018 ) Liver transplantation Scientific American Surgery, 8th edition .Decker
Paper Presentations
Dhar VK, Wima K, Winer LK, Lee TC, Morris MC, Childers BG, Shah SA, Patel SH, Ahmad SA (03-2018. ) Is adjuvant therapy needed for surgically resected ampullary tumors? .Society of Surgical Oncology Annual Cancer Symposium, Chicago IL.
Lee TC, Wima K, Sussman JJ, Ahmad SA, Cloyd JM, Ahmed A, Fournier K, Lee A, Dineen S, Powers B, Veerapong J, Baumgartner JM, Clarke C, Mogal H, Staley CA, Maithel SK, Leiting J, Grotz T, Lambert L, Hendrix RJ, Weber SM, Pokrzywa C, Blakely A, Lee B, Johnston FM, Greer J, Patel SH (05-2019. ) Indications for and factors associated with 30-day readmissions after cytoreductive surgery and hyperthermic intraperitoneal chemotherapy: a study from the US HIPEC collaborative .Society for Surgery of the Alimentary Tract (SSAT), San Diego, CA.
Morris MC, Dhar VK, Winer LK, Lee TC, Wang J, Ahmad SA, Patel SH, Sussman JJ, Abbott D (02-2019. ) Adjuvant hyperthermic intraperitoneal chemotherapy (HIPEC) for patients at high risk of peritoneal metastases .Society of Surgical Oncology (SSO) Regional Perfusion Meeting, Phoenix, AZ.
2011 Research grant, Howard Hughes Medical Institute, Swarthmore College
2013 Research grant, URSMD Office of Medical Education
Academic - Medical Sciences Building
231 Albert Sabin Way
Cincinnati  Ohio, 45267-0558
Phone: 513-558-4206
tiffany.lee@uc.edu