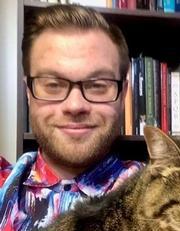 Andrew R. Lund
Graduate Assistant
Andrew Lund (he, him, his) is a Ph.D. candidate in Classics (Greek and Latin Philology) who received his B.A. ('13, Classical Languages and Classical Tradition) from Grand Valley State University, and his M.A. ('18, Classical Philology) from the University of Cincinnati. His dissertation, "Seneca Comicus: Comic Enrichment and the Reception of the seruus callidus in Senecan Tragedy" investigates how Seneca's tragedies engage with Roman comedy through the stock figure of the seruus callidus (the so-called "clever slave"). His research and teaching interests include: Greek and Roman drama; Greek and Latin poetry; reception studies; women's, gender, and sexuality studies; and the interactions between literary and material cultures.  

 
B.A., Grand Valley State University Allendale, MI, 2013 (Classics)
M.A., University of Cincinnati Cincinnati, OH, 2018 (Classical Philology)
Paper Presentations
Lund, Andrew R (11-01-2012. )"Power, Présages, and Portrayal: Suetonius' Representation of Livia" .Tallahassee, FL.
Lund, Andrew R (04-10-2013. )"Prometheus Stories: Promethean Myth and Mythopoeia for Adjudicated Students" .Grand Valley State University, Allendale, MI.
Lund, Andrew R (03-22-2014. )Terence's «Eunuchus Iudaeus»?: Iconography and Identities in a Gothic Illuminated Manuscript .University of Virginia, Charlottesville, VA.
Imagining the Edge: Peripheral Spaces and Marginal Voices in the Ancient World
-04-2013 Outstanding Senior Project Award (for "Prometheus Stories: Promethean Myth and Mythopoeia for Adjudicated Students") Frederik Meijer Honors College, Grand Valley State University
-04-2013 University Department Award for Outstanding Graduate in Classics Department of Classics, Grand Valley State University
-04-2010 Manson A. Stewart Scholarship Classical Association of the Middle West and South (CAMWS)
01-2013 -04-2013 Office of Undergraduate Research and Scholarship (OURS) Grant The OURS grant program is designed to encourage collaborative scholarly research and creative work between undergraduate students and faculty. An undergraduate student may propose a research, scholarly, or creative project to a faculty member, or a faculty member may actively recruit an undergraduate student for collaboration. These grants provide students with financial support for supplies and equipment. Office of Undergraduate Research and Scholarship (OURS), Grand Valley State University
Positions and Work Experience
08-2013 -04-2014 Latin Tutor, Department of Classics, University of Cincinnati, Cincinnati, OH
-LATN-1011 ELEMENTARY LATIN 1 Level:Undergraduate
-LATN-1012 ELEMENTARY LATIN 2 Level:Undergraduate
05/24/2013, Assistant translator, to Diane Rayor (Grand Valley State University), of excerpts from Aeschylus' Agamemnon for the play "Clytemnestra," written and directed by Kiara Pipino, Louis Armstrong Theatre, Allendale, MI.

,