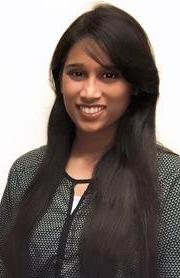 Chitrali Ramakant Mamlekar
Graduate Assistant
Peer Reviewed Publications
A Dietz, CR Mamlekar, KL Bakas, MJ McCarthy, D Harley, T Bakas (2020. ) A scoping review of PhotoVoice for people with post-stroke aphasia .Topics in Stroke Rehabilitation, , 1-17
Aimee Dietz, E Susan Duncan, Lauren Bislick, Sarah Stegman, Jenna Collins, Chitrali Mamlekar, Rachel Gleason, Michael J McCarthy Yoga as Therapy for People With Aphasia .Perspectives of the ASHA Special Interest Groups, , 5 (4 ) ,853-860
Book Chapter
Mamlekar, C.R., Dietz, A., Wendt, O. and Lloyd, L (2021 ) History of AAC. Principles and practices in augmentative and alternative communication .
Invited Presentations
Mamlekar, C.R. (2017. ) Improving morphology and vocabulary in children with hard of hearing using Technology Assisted Language Intervention (TALI) .
Mamlekar, C., Dietz, A., Wallace, S.E. and Raisor-Becker, L. (2017. ) Understanding perspectives of speech and language pathologists on using speech generating devices for person with aphasia in hospital settings. Pennsylvania State University, State College, PA. Level:Regional
Mamlekar, C., Spitz, S., Bakas, K., Dietz, A., Harley, D., McCarthy, M., Bakas,T. (2018. ) Why should PhotoVoice methods be adapted for people with aphasia? A scoping review. University of Cincinnati, Level:University
Symposium
Mamlekar, C., Flanigan, A., Dietz, A., & Russo, M. (2019. ) Overcoming barriers to improving patient-provider communication for people with communication challenges in medical settings. Orlando, FL.. Conference.
-2020 CAHS Excellence in Teaching Award
-2018 CAHS Excellence in Teaching Award