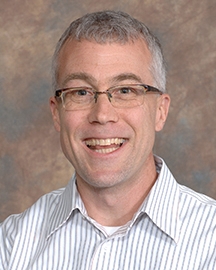 Michael McCarthy , PhD
Assoc Professor - Volunteer
Associate Professor
French Hall
2815 Commons Way
#1625
Cincinnati, Ohio 45221
Phone 513-556-3879
Email michael.mccarthy@uc.edu
The overarching goal of my research is to assist individuals and couples experiencing chronic illness and disability maintain positive physical and mental health. This includes the adoption of positive health behaviors. I am committed to viewing clients, family members, and other caregivers within their relational context and believe that relational factors such as interpersonal coping and communication patterns represent an unexplored but potentially powerful fulcrum point for improving outcomes.


Keywords: Chronic illness, stroke, disability, aging, coping, couples, dyads, psychosocial outcomes, depression, health behaviors

Now accepting PhD students.
Doctorate Degree: Portland State University Portland, OR, 2011 (Social Work and Social Research )
Master's Degree: Portland State University Portland, OR, 2004 (Social Work)
Bachelor's Degree: Lewis and Clark College Portland, OR, 1996 (Sociology / Anthropology )
Research and Practice Interests
Stroke, chronic illness, aging, disability, coping, couples, dyads, psychosocial outcomes, depression, health behavior
Investigators:McCarthy, Michael 09-30-2012 -09-29-2015 Substance Abuse & Mental Health Services Administration SAMHSA FAST TRAC System of Care Role:PI on subaward $598,479.00 Active
Investigators:McCarthy, Michael 11-01-2013 -10-31-2014 UC College of Allied Health Sciences Examining Stroke Survivors and Spouses Influence on One Another's Smoking Behaviors: A Pilot Study Role:Co-PI $3,994 Active
Investigators:McCarthy, Michael 08-01-2013 US Department of Health and Human Services University Center of Excellence on Disability and Development Role:Research and EvaluatioResearch and Program Evaluation Consultant Consultant $16,250 Active
Grant: #CCMHRB / 1 U79 SM059046-01 Investigators:Dick, Gary; Dziegielewski, Sophia; McCarthy, Michael 10-01-2009 -09-29-2015 Substance Abuse & Mental Health Services Administration Fast Track System of Care Role:PI $944,449.00 Active Level:Federal
Grant: #CCMHRB/1 U79 SM059046-01 Investigators:McCarthy, Michael 09-30-2014 -09-29-2015 Substance Abuse & Mental Health Services Administration SAMHSA FAST TRAC Role:PI $199,237.00 Active Level:Federal
Grant: #URC Interdisciplinary awards AY2014-15 Investigators:Kissela, Brett; McCarthy, Michael; Nelson, Erik 05-01-2015 -04-30-2016 UC's University Research Council Chronic Stress, Partner Incongruence, and HPA Axis Activity in Stroke Caregiver Depression Role:PI $25,000.00 Active Level:Internal UC
Grant: #135934/H84MC284430102 Investigators:McCarthy, Michael 06-01-2015 -05-31-2016 Health Resources and Services Administration Family to Family Health Information Centers Role:PI $4,911.00 Active Level:Federal
Grant: #17MCPRP33670674 Investigators:Bakas, Tamilyn; Kissela, Brett; Kleindorfer, Dawn; McCarthy, Michael; Whitton, Sarah 07-01-2017 -06-30-2019 American Heart Association - National Chapter Development and Validation of a Quality of Relationship Intervention to Prevent Depression in Stroke Survivors and Caregivers Role:PI $76,896.00 Active Level:Private Non-Profit
Grant: #90DDUC0013 Investigators:Ball, William; McCarthy, Michael; Riddle, Ilka 07-01-2017 -06-30-2022 Administration for Community Living University Centers for Excellence in Developmental Disabilities Education, Research and Service Role:Collaborator $547,000.00 Awarded Level:Federal
Grant: #1R21NR016992-01A1 Investigators:Bakas, Tamilyn; Brehm, Bonnie; Dunning, Kari; Kissela, Brett; McCarthy, Michael; Miller, Elaine; Rota, Matthew 07-20-2018 -06-30-2020 National Institute of Nursing Research Caregiver Self-Management Needs through Skill-Building Role:Collaborator $206,757.00 Active Level:Federal
Grant: #1R21NR016992-01A1 Investigators:Bakas, Tamilyn; Brehm, Bonnie; Dunning, Kari; Kissela, Brett; McCarthy, Michael; Miller, Elaine; Rota, Matthew 07-20-2018 -06-30-2020 National Institute of Nursing Research Caregiver Self-Management Needs through Skill-Building Role:Collaborator $455,388.00 Active Level:Federal
Peer Reviewed Publications
McCarthy, M.J., Huguet, N., Newsom, J.T., Kaplan, M.S., & McFarland, B.H. (2013. ) Predictors of smoking patterns after first stroke .Social Work in Health Care, , 52 (5 ) ,467-82
Newsom, J.T., Huguet, N., Ramage-Morin, P., McCarthy, M.J., Kaplan, M.S., Bernier, J., McFarland, B.H. (2012. ) Health behaviour changes after diagnosis of chronic illness among Canadians aged 50 or older .Health Reports, , 23 (4 ) ,1-6
Newsom, J.T., Huguet, N., McCarthy, M.J., Ramage-Morin, P., Kaplan, M.S., Bernier, J., McFarland, B.H. (2012. ) Health behavior change following chronic illness .Journal of Gerontology: Psychological Sciences, , 67 (3 ) ,279-88
McCarthy, M.J., Lyons, K.S., Powers, L.E. (2011. ) Expanding Post-stroke Depression Research: Movement toward a Dyadic Perspective .Topics in Stroke Rehabilitation, , 18 (5 ) ,450
McCarthy, M.J., Powers, L.E., Lyons, K.S. (2011. ) Post-Stroke Depression: Social Workers' Role in Addressing an Underrecognized Psychological Problem for Couples who have Experienced Stroke .Health and Social Work, , 36 (2 ) ,134
McCarthy M.J. (2011. ) Improving the United States airline industry's capacity to provide safe and dignified services to travelers with disabilities: focus group findings .Disability and Rehabilitation, , 33 (25/26 ) ,2612-2619
McCarthy, M.J. (2009. ) Online ethnography with vulnerable populations: A pilot test of data collection via a popular Instant Messaging service .Perspectives on Social Work, , 8 (1 ) ,13
Krahn, G., McCarthy M.J., Westwood, D., & Powers, L. (2008. ) Evaluation of an innovative methodology to recruit research participants with Spinal Cord Injury through Durable Medical Equipment Suppliers .Archives of Physical Medicine and Rehabilitation, , 89 ,1341
Suzuki, R., Krahn, G., McCarthy, M.J., & Adams, E. (2007. ) Understanding health outcomes: Physical secondary conditions in people with spinal cord injury .Rehabilitation Psychology, , 52 (3 ) ,338
McCarthy, M.J., Lyons, K.S., Powers, L.E. (2012. ) Relational Factors Associated with Depression among Stroke Survivor-Spouse Dyads .Journal of Family Social Work, , 15 ,303-320
McCarthy, M.J., Lyons, K.S., Powers, L.E., Bauer, E.A. (2013. ) Gender, health ambiguity, and depression among survivors of first stroke: A pilot study. Archives of Physical Medicine and Rehabilitation, , 94 (1 ) ,193-95
McCarthy, M.J. & Lyons, K.S. (2014. ) Incongruence between stroke survivor and spouse perceptions of survivor functioning and effects on spouse emotional health: A mixed-methods study. .Journal of Aging Studies, ,
McCarthy, M.J. & Bauer, E.A. (2015. ) In sickness and in health: Couples coping with stroke across the lifespan. .Disability and Rehabilitation, ,
McCarthy, M.J., Sucharew, H.J, Alwell, K., Moomaw, C.J., Woo, D., Flaherty, M.L., Khatri, P., Ferioli, S., Adeoye, O., Kleindorfer, D.O., Kissela, B.M. (2015. ) Age, subjective stress, and depression after ischemic stroke. Journal of Behavioral Medicine, ,
McCarthy, M.J., Schellinger, J., Smith, R. Behimer, G., Hargraves, D., Levin, L., Scherra, K. (2015. ) Comparison of service effectiveness for youth receiving care from depressed versus non-depressed caregivers .Research on Social Work Practice., ,
Academic - French Hall
2815 Commons Way
Cincinnati  Ohio, 45221
Phone: 513-556-3879
michael.mccarthy@uc.edu