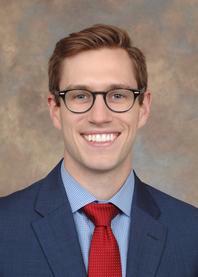 Bryan Menapace , MD,MBA
Clinical Instructor
Hometown: Grand Rapids, MI  
BS: University of Wisconsin 2013 (Biochemistry)
MD: Loyola University Chicago - Stritch School of Medicine 2018
MBA: Emory University - Goizueta Business School 2017 (Healthcare, Strategy Consulting, and Management Consulting)
Research and Practice Interests
I will be going into pediatric orthopaedics with a planned focus in spinal deformity, fracture care, and deformity correction.

Orthopaedic research projects: pediatric fractures, neuromuscular scoliosis  

Personal interests: I do lots of travelling and hiking. Since finishing medical school I've been to SE Asia, Peru, Ontario, Yucatan peninsula, Jordan, a number of national parks out west (Grand Canyon, Sedona, Zion, Joshua Tree, Death Valley, Mojave), central FL, Belize, Michigan UP, and Portugal. Covid shut down Japan and Iceland trips but hope to get those rebooked soon! Otherwise, I'm a big fan of craft beers, working out, biking, Detroit and University of Wisconsin sports, and recently photography.    
Peer Reviewed Publications
Jeske, Walter P; Walenga, Jeanine M; Menapace, Bryan; Schwartz, Jeffrey; Bakhos, Mamdouh (2016. ) Blood cell microparticles as biomarkers of hemostatic abnormalities in patients with implanted cardiac assist devices.Biomarkers in medicine, , 10 (10 ) ,1095-1104 More Information
Marino, Roberta; Baiu, Dana C; Bhattacharya, Saswati; Titz, Benjamin; Hebron, Ellen; Menapace, Bryan D; Singhal, Sorabh; Eickhoff, Jens C; Asimakopoulos, Fotis; Weichert, Jamey P; Otto, Mario (2015. ) Tumor-selective anti-cancer effects of the synthetic alkyl phosphocholine analog CLR1404 in neuroblastoma. American journal of cancer research, , 5 (11 ) ,3422-35
Baiu, Dana C; Artz, Nathan S; McElreath, Meghan R; Menapace, Bryan D; Hernando, Diego; Reeder, Scott B; Grüttner, Cordula; Otto, Mario (2015. ) High specificity targeting and detection of human neuroblastoma using multifunctional anti-GD2 iron-oxide nanoparticles.Nanomedicine (London, England), , 10 (19 ) ,2973-2988 More Information
Kaushal, Neil; Orland, Keith J; Schwartz, Andrew M; Wilson, Jacob M; Fletcher, Nicholas D; Patel, Anuj; Menapace, Bryan; Ramirez, Michelle; Wetzel, Martha; Devito, Dennis; Murphy, Joshua (2020. ) Effects of race on blood loss in spinal fusions for adolescent idiopathic scoliosis.Journal of neurosurgery. Pediatrics, , 1-5 More Information
Alpha Omega Alpha (AOA)
Donald J. & Audree M. Casey Medical Scholarship
Beta Gamma Sigma (BGS)
Student Training in Approaches to Research (STAR) Program and Scholarship
Goizueta Leadership Coaching Fellowship (LCF)
Goizueta Advanced Leadership Academy (GALA)