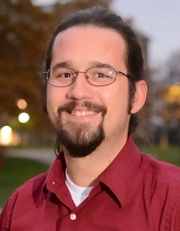 Benjamin J Merritt , B.S.
PhD Candidate
703A Rieveschl

My work focuses on how species interact with their environment, ranging from the physiological responses of individuals to the ecological responses of populations using statistical and spatial modeling, ecophyisology, and genetic tools. 
Advisors: Dr. Theresa Culley and Dr. Stephen Matter
Research and Practice Interests
I have focused on plant ecophysiology, genetic markers, and GIS, however more recently I have transitioned into studing phenotypic plasticity in floral morphology of violets. 
Peer Reviewed Publications
Merritt, B.J., J.B. Jones, N.A. Hardiman, and T.M. Culley (2014. ) Comparison of photosynthetic characteristics in cultivated and wild offspring of the invasive Callery pear (Pyrus calleryana Decne.) .Biological Invasions, , 16 (2 ) ,393 More Information
Culley, T.M., T.I. Stamper, R.L. Stokes, J.R. Brzyski, N.A. Hardiman, M.R. Klooster, and B.J. Merritt (2013. ) An Efficient Technique for Primer Development and Application that Integrates Fluorescent Labeling and Multiplex PCR .Applications in Plant Sciences, , 1 (10 ) ,1300027
Merritt, B.J., T.M. Culley, A. Avanesyan, R.L. Stokes, J.R. Brzyski (2015. ) An empirical review: Characteristics of plant microsatellite markers that confer higher levels of genetic variation .Applications in Plant Sciences, , 3 (8 ) ,1500025