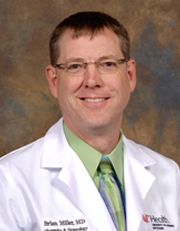 Brian Miller
Instructor of Clinical Medicine - PGY2
M.D., University of Maryland School of Medicine
B.S., Johns Hopkins University (Biomedical Engineering and Electrical Engineering)
2008 -2011 Professional School Scholarship University of Maryland School of Medicine
2008 AMSA Academy: Prof. & Patient Safety Inst. Chicago, IL
Post Graduate Training and Education
University of Maryland School of Medicine, ,
Biomedical Engineering with a second major in Electrical Engineering, Johns Hopkins University , ,
Research and Practice Interests
At the Department of Surgery at UMB SOM, I designed and assembled a snap-on digital sensor and embedded computer for measuring oxygen saturation and detecting air bubbles in a non-pulsatile blood circuit for use as a safety system for a para-corporeal artificial pump lung. Project concluded with a poster presentation and device demonstration at the 2009 Student Research Forum at the UM SOM.
 
For the  Department of Electrical Engineering at JHU, I was a project team member where I developed an open-source hardware design for a USB interface between an FPGA microchip and a PC. This project allows for more rapid prototyping of medical devices and other projects at JHU and elsewhere. The project was further advanced by my professor after graduation, and is now available online for download at the chip manufacturer's website.
 
As a research assistant for the Department of Biomedical Engineering at JHU, i designed and assembled a wireless temperature-sensing glove for use in a prosthetic hand for amputee patients. Project concluded with abstract and paper presented by the project's leader at the IEEE 10th International Conference on Rehabilitation Robotics.
 
For the Department of Biomedical Engineering I was one of the design team upperclassman.  We developed a patient and doctor tracking system for emergency department with RFID tags and readers interfaced with a computer to monitor patient-doctor interaction times. Our design was tested at a local emergency department, and the results were presented in poster form at the 2006 JHU BME Design Day.


Academic - Internal Medicine
Medical Sciences Building Room 6065
Cincinnati  Ohio, 45267
Phone: 513-558-2590
brian.miller@uc.edu