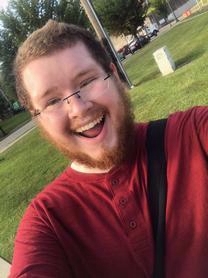 Daniel Raymond Moody
Graduate Assistant
Daniel Moody is currently pursuing a Master's Degree in Germanic Languages and Literatures at the University of Cincinnati. In addition to working on a Master's Degree, he is serving as a Graduate Teaching Assistant in the Department of German Studies.

Moody is a graduate of Wright State University with a Bachelor of Arts in German. While at Wright State University, he served as a Supplemental Instruction Leader and Tutor for German 1010-2020 (Beginning to Intermediate.)

His main areas of interests are second language acquisition and folk literature.
Bachelor of Arts: Wright State University Dayton, Ohio, 2016 (German)
-GRMN-1001 BASIC GERMAN 1 Level:Undergraduate