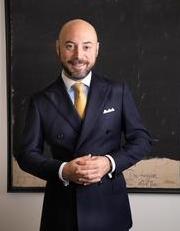 Gjoko Muratovski
Endowed Chair and Director: The Myron E. Ullman, Jr. School of Design
Daa Addition
6415E
DAAP School of Design - 0016
Dr Gjoko Muratovski has over twenty years of global, multidisciplinary design and branding experience. He holds a PhD in strategic design research with focus on branding and corporate communications. In addition to this, he is trained in a range of design fields such as graphic design, visual communications, industrial design, architectural design, interior design, and furniture design and manufacturing. His formal education and professional development spans across 11 countries. He is recipient of more than 25 scholarships, grants and awards, and has over 90 research publications.

Dr Muratovski is the Editor-in-Chief of the Journal of Design, Business and Society and Associate Editor of She Ji: The Journal of Design, Economics and Innovation. He has authored numerous studies that examine the fields of design, architecture, fashion, advertising, branding and sustainability, and edited books such as Consumer Culture (2015), Global Fashion Brands (2014), and Design for Business Vol.1 - Vol.3 (2012-2015). As an international keynote speaker he has delivered talks at prestigious events such as the cultural programme of the G20 Leaders Summit (Australia), the annual conference of the European Academy of Design (France), and Design for a Billion (India). He was the founding Chairman of the international research conference Design for Business, which was part of the Melbourne International Design Week and was run in partnership with the State Government of Victoria (Australia). In 2015 he was named Fellow of the Designers Institute of New Zealand for his distinguished service to the New Zealand design community and the Institute, and in 2016 he was recognized as a High-End Foreign Expert by the Chinese government.

Over the years Dr Muratovski has been working with a broad range of corporate, governmental and not-for-profit organizations from around the world, including NASA Johnson Space Center, UNESCO World Cultural Heritage, World Health Organization, UN Association of Australia, Department of the Premier and Cabinet of South Australia, Auckland Council of New Zealand, Deloitte, Toyota, Yahoo!, Greenpeace, and many others. He is regularly retained as an advisor by various international design firms and advertising agencies on issues ranging from strategic design to brand development strategies.

Gjoko Muratovski is Director of The Myron E. Ullman, Jr. School of Design at the University of Cincinnati (USA) and Guest Professor at the College of Design & Innovation at Tongji University (China).
Grant: #R40207 Investigators:Brandewie, Brooke; Fischer, Emily; Gerard, Daniel; Muratovski, Gjoko; Ozer, Mustafa; Said, Hazem 07-01-2019 -12-31-2020 UC's Collaborative Research Advancement Grant Program - Track 1: Pilot Teams Strategic Foresight — Utilizing Predictive Analytics Software (PAS) for Responsible Production and Consumption of Sustainable Apparel Role:Collaborator $24,648.00 Active Level:Internal UC
Positions and Work Experience
08-15-2016 - Director: The Myron E. Ullman, Jr. School of Design, College of Design, Art, Architecture and Planning (DAAP), University of Cincinnati
design, branding, strategic design, business, entrepreneurship, social innovation