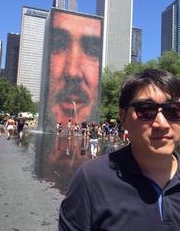 Seunghoon Oh
Graduate Assistant
I am a doctoral student in regional development planning whose specialization is in regional science and urban economics. I have backgrounds in architecture and urban planning. My professional experience includes working for an architectural firm and nonprofit affordable housing organization. My major academic interest is in economic development policies that catalyze urban and regional growth. Currently, I am focusing on economic effects of transportation infrastructure such as highway and public transit. Due to my special interest in urban and regional economics, I pursued a masters degree in economics while in the doctoral program in planning. 
Master of Urban and Regional Planning, University of Minnesota 2014
MS in Applied Economics, University of Cincinnati 2019
Research and Practice Interests
My research areas encompass regional planning, economic development, transportation planning and urban and regional employment issues. My current research interest is the impact of road infrastructure and public transit on agglomeration of economies and employment equity.
Peer Reviewed Publications
Seunghoon Oh and Xinhao Wang (2018. ) Urban Rail Transit Provides the Necessary Access to a Metropolitan Area: A Case Study of Portland, Oregon, USA .Urban Rail Transit, , 4 (4 ) ,234 -248
Wen Zhang, Seunghoon Oh, Rainer vom Hofe (2018. ) Transforming Abandoned Rail Corridors into Multi-purpose Trails: Applying a Spatial Hedonic Approach to Estimating the Economic Benefits of the Little Miami Scenic Trail in Cincinnati, Ohio, USA .Urban Rail Transit, , 4 (4 ) ,274 -287
Invited Presentations
Rainer vom Hofe, Xinhao Wang, and Seunghoon Oh (07-2018. ) The Plan-­‐making Process in Selected Belt and Road Countries .International Association for China Planning (IACP), Xi'an, China. Conference. . Level:International
Paper Presentations
Seunghoon Oh (10-2018. ) Study on Accessibility to Urban Rail Transit in Portland, Oregon .Buffalo, NY. Conference. Level:National
Statistic for Urban Settings Level:Undergraduate
Academic - ohs2@mail.uc.edu