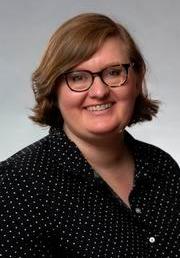 Katherine Hope Paul
Katherine earned her Bachelor of Arts in Spanish and German from Northern Kentucky University in December 2011. After completing her Master's at UC in Spring 2014, she accepted a scholarship from the Verband der Deutsch-Amerikanischen Clubs, e.V. (VDAC) and studied at the Universität Bielefeld under Prof. Dr. Walter Erhart. She returned to UC in Fall 2015 as a Ph.D. student, achieving candidacy in April 2016. She received a Charles Phelps Taft Research Center Dissertation Fellowship for the year of 2017-18 and was awarded a Fulbright Graduate Research Fellowship for 2018-2019, where she researched in Berlin at the Bertolt-Brecht-Archiv. Her dissertation project examines Robert Wilson's Faust I+II and the Faust legend.

During her tenure at UC, she has served as President (2016-2018), Secretary (2015-2016), and Vice President (2013-2014) of the German Graduate Student Association (GGSA). She coordinated in 2014 as well co-coordinated the annual German Day event in 2013, 2017, and 2018. She co-coordinated the 20th (2015) and coordinated the 21st (2016) Focus on German Studies Conference, and served as Co-Editor of the Focus on German Studies graduate student journal for its 23rd volume (Fall 2018) and as Editor-in-Chief of the 24th volume (Fall 2018). 

Her academic interests include German literature and drama since the 16th century, Theatre Studies, German-American Studies, Spanish Language and Cultural Studies, Music History and Theory, and Film and Media Studies.
Bachelor of Arts: Northern Kentucky University Highland Heights, Kentucky, 12-2011 (German and Spanish)
Master of Arts: University of Cincinnati Cincinnati, Ohio, 04-2014 (German Studies)
Positions and Work Experience
08-2012 -To Present Graduate Teaching Assistant, University of Cincinnati, Cincinnati, OH
2012 -2013 Max Kade Fellowship Max Kade Foundation Status:Recipient Type:Fellowship
2012 -2013 Graduate Teaching Assistantship Status:Recipient
2013 -2014 Graduate Teaching Assistantship Status:Recipient
2014 -2015 Verband der Deutsch-Amerikanischen Clubs Stipend Status:Recipient Level:International
2015 -2016 Graduate Teaching Assistantship Status:Recipient
2016 -2017 Graduate Teaching Assistantship Status:Recipient
2017 -2018 Charles Phelps Taft Disseration Fellowship Status:Recipient Level:University Type:Fellowship
Outstanding Teaching Award Status:Recipient Level:Department Type:Recognition
2018 -2019 Fulbright Research Grant Status:Recipient
2019 -2020 Graduate Teaching Assistantship Status:Recipient
paulkn@mail.uc.edu