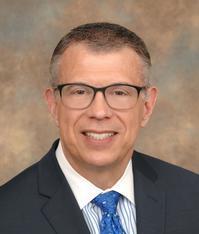 Joseph Steven Price
Assoc Dir Administration UCCC
Medical Sciences Building
2005C
COM UC Cancer Center - 0662
Steve Price is Executive Director for Center Administration and Associate Director for Research Administration at the University of Cincinnati Cancer Center (UCCC).   In this role, he supports the Co-Directors of the UCCC, as well as, UC appointed research faculty, staff, and leaders at the University of Cincinnati, UC Health, and Cincinnati Children's in further developing programs and administrative infrastructures necessary to increase cancer-related transdisciplinary research and collaboration at the three institutions. His focus is to build an effective, NCI-compliant cancer center administrative team that will serve the partner institutions and their imperative to enhance cancer research, eliminate health disparities, and achieve future NCI designation for the benefit of the community and patients served in the Tristate region and beyond.

He joined UC in 2018 as the Associate Director of Administration for the former Cincinnati Cancer Center (CCC), coming to the institution from Wake Forest School of Medicine (WFSOM) in Winston-Salem, NC where he held key administrative positions. His roles included Director of Clinical Research Management, Associate Director of Finance and Administration, then Director of Finance and Operations in the Comprehensive Cancer Center of Wake Forest University (NCI designated since 1973). 

In the WFSOM Dean's Office as Administrative Director of Centers, he provided institutional oversight of eleven interdisciplinary research centers and consultative services to faculty leadership and staff teams. He developed additional research administrative operations expertise in Wake's Center for Genomics and Personalized Medicine Research.

From his early career, Steve has corporate and higher education experience, which he has applied in academic medicine.  As Assistant Dean for Executive and Management Education at Wake Forest's Babcock Graduate School of Management, he collaborated with business faculty to develop and deliver custom management and leadership development programs for corporate partners.  He led significant quality and process improvement initiatives as Service Quality Leader at a 3,000-person operations center for American Express.  His initial knowledge of healthcare developed as chief financial officer for several small hospitals in Humana's former hospital division (now part of Columbia/HCA) and Health Management Associates (now part of Community Health Systems).

Steve received a BSBA from the Kenan-Flagler School of Business at UNC-Chapel Hill and MBA from the Babcock Graduate School of Management at Wake Forest.  He is married to Molly Barnett, Associate Director (retired) at the Coy C. Carpenter Medical Library at Wake Forest.  They have three children and two grandchildren who reside in Colorado, Pennsylvania, and North Carolina.
MBA: Wake Forest University Winston-Salem, NC, 1990 (MBA with Distinction, Finance and Service Operations Focus)
BSBA: University of North Carolina Chapel Hill, NC, 1983 (Business Administration with Accounting Emphasis)