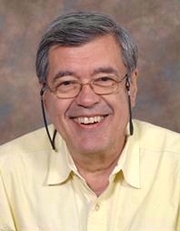 Alvaro Puga , PhD
Professor-Emeritus
Kettering Lab Complex
424
COM EH EGMT Puga Lab - 0056
The Ah receptor is a ligand-activated transcription factor that mediates the induction of the CYP1 family of cytochrome P450s and of several Phase II detoxification enzymes. Induction of these genes is the best characterized AHR function but it does not adequately explain the diversity of AHR-mediated effects, such as its involvement in regulation of growth factor signaling, cell cycle proliferation, differentiation, arrest and apoptosis. My lab has found that disruption of AHR expression levels, or AHR activation by TCDD, results in gene expression changes that perturb cardiomyocyte differentiation in embryonic stem cells, suggesting that during development the AHR coordinates a complex regulatory target network responsible for attainment and maintenance of cardiac homeostasis. The long-term objective of my research is to characterize how specific gene-environment interactions during embryogenesis cause congenital cardiac malformations. Specifically, the central question that we ask is whether interplay during early development between endogenous and toxic/adaptive functions of the aryl hydrocarbon receptor (AHR) and its most potent ligand, 2,3,7,8-tetrachlorodibenzo-p-dioxin (TCDD)—a model for many environmental agents—perturbs the concerted differentiation patterns of cardiac cell lineages and leads to congenital cardiac malformations at birth and to adult heart disease later in life. We will determine if down-regulation of Ahr is required to maintain ES cell pluripotency and to assess how TCDD exposure deregulates key signaling pathways during differentiation. The health significance of this work is that in humans and mice, polymorphisms that result in haploinsufficiency in several transcription factor genes affected by TCDD cause congenital cardiac malformations that are also epidemiologically associated with maternal exposure to dioxins and polychlorinated biphenyls during pregnancy and cause  human congenital malformations and adult cardiovascular disease. Results from this research will be highly significant to the understanding and prevention of environmental cardiac injury.
Ph.D.: Purdue University West Lafayette, IN, 1972 (Molecular Biology and Biophysics)
Research and Practice Interests
My laboratory investigates the impact of genetic diversity on the response of individuals or populations to toxic or carcinogenic environmental agents. The long-term objective of this work is to elucidate the molecular mechanisms that underlie this response. Many chemical compounds interfere with the control mechanisms that regulate gene expression, and some compounds may induce overexpression of target genes, while others may repress their normal expression levels. The ultimate effect of this process isan alteration of the steady-state levels of the proteins encoded by the genes affected. In recent years, however, it has become increasingly clear that this effect varies drastically as a result of genetic differences in the individuals affected. My interests are centered, on the one hand, on the molecular mechanisms of action of these toxic environmental agents, and on the other, on the analysis of genetic diversity in the response to these agents. The genes of interest are those that code for transcription factors with a regulatory role in the expression of detoxification enzymes. Our work centers on the molecular mechanisms of action of dioxin (2,3,7,8-tetrachlorodibenzo-p-dioxin, or TCDD), a ligand for the aromatic hydrocarbon (Ah) receptor, that functions as a transcriptional activator of the cytochrome P450 CYP1A1 gene. The CYP1A1 enzyme is responsible for the metabolic activation of many polycyclic aromatic hydrocarbon procarcinogens to ultimate carcinogens. In mice, and possibly in humans, allelic differences at the genetic locus for the Ah receptor are responsible for differences in ligand affinity, gene inducibility and ultimately, cancer incidence. We are therefore also analyzing structure/function relationships of variant forms of the gene coding for the Ah receptor protein.
Grant: #5-R01-ES-006273 Investigators:Puga, Alvaro 09-30-2004 -06-30-2010 National Institute of Environmental Health Sciences Molecular Mechanisms of Dioxin Action Role:PI $1,766,020.00 Closed Level:Federal
Grant: #2 R01 ES010807 Investigators:Puga, Alvaro 01-01-2006 -02-28-2011 National Institute of Environmental Health Sciences Molecular Mechanisms of Complex Mixture Toxicity Role:PI $1,703,956.00 Closed Level:Federal
Grant: #HE-WSU-00-15-01-A0-S0-E0 Investigators:Puga, Alvaro 07-01-2000 -06-30-2003 Ohio Board of Regents DNA Microarray Approaches to Toxicology Testing Role:PI $133,337.00 Closed Level:State of Ohio
Grant: #5-R01-ES-010807-05-A0-S0-E0 Investigators:Puga, Alvaro 01-16-2001 -12-31-2005 National Institute of Environmental Health Sciences Molecular Mechanisms of Complex Mixture Toxicity Role:PI $1,499,400.00 Closed Level:Federal
Grant: #PMERP-03-A0-S0-E0 Investigators:Puga, Alvaro 06-01-2001 -11-30-2004 Philip Morris External Research Program Molecular Markers of Benzo[a]pyrene-Induced Atherosclerosis Role:PI $976,956.73 Closed Level:Industry
Grant: #5-R01-ES-06273-05-A0-S0-E0 Investigators:Puga, Alvaro 09-30-1993 -08-31-1999 National Institute of Environmental Health Sciences Molecular Mechanisms of Dioxin Action Role:PI $850,854.00 Closed Level:Federal
Grant: #5-R01-ES-006273-09-A0-S0-E0 Investigators:Puga, Alvaro 05-01-1999 -04-30-2004 National Institute of Environmental Health Sciences Molecular Mechanisms of Dioxin Action Role:PI $963,420.00 Closed Level:Federal
Grant: #P30 ES006096-16A1 Investigators:Caruso, Joseph; Deka, Ranjan; Embi, Peter; Greis, Kenneth; Ho, Shuk Mei; Lemasters, Grace; Medvedovic, Mario; Meller, Jaroslaw; Nebert, Daniel; Pinney, Susan; Puga, Alvaro; Rohs, Amy; Woo, Daniel 04-01-2008 -03-31-2013 National Institute of Environmental Health Sciences Environmental Genetics Role:Collaborator $8,028,782.00 Active Level:Federal
Grant: #R01 EY015227 Investigators:Ho, Shuk Mei; Kao, Winston Whei Yang; Puga, Alvaro; Tam, Neville Ngai Chung; Xia, Ying 06-01-2009 -05-31-2014 National Eye Institute The Role of MAP 3 Kinase 1 in Ocular Surface Morphogenesis Role:Collaborator $1,759,938.00 Active Level:Federal
Grant: #R56 ES006273 Investigators:Medvedovic, Mario; Puga, Alvaro 09-01-2009 -08-31-2011 National Institute of Environmental Health Sciences Molecular Mechanisms of Dioxin Action Role:PI $453,870.00 Closed Level:Federal
Grant: #R01 ES010807 Investigators:Nebert, Daniel; Puga, Alvaro; Xia, Ying 01-06-2011 -12-31-2015 National Institute of Environmental Health Sciences Molecular Mechanisms of Complex Mixture Toxicity Role:PI $1,347,002.00 Active Level:Federal
Grant: #R01 ES006273 Investigators:Medvedovic, Mario; Puga, Alvaro 04-01-2011 -01-31-2016 National Institute of Environmental Health Sciences Molecular Mechanisms of Dioxin Action Role:PI $1,275,591.00 Active Level:Federal
Grant: #R21 ES020048 Investigators:Medvedovic, Mario; Puga, Alvaro 06-09-2011 -05-31-2013 National Institute of Environmental Health Sciences Epigenetics of Lead Toxicity in Mouse Brain Role:PI $440,475.00 Active Level:Federal
Grant: #P30ES006096 Investigators:Caruso, Joseph; Chen, Aimin; Deka, Ranjan; Greis, Kenneth; Haynes, Erin; Ho, Shuk Mei; Lemasters, Grace; Leung, Yuet Kin; Medvedovic, Mario; Meller, Jaroslaw; Meloncon, Lisa; Pinney, Susan; Porollo, Alexey; Puga, Alvaro; Thomas, Michael; Woo, Daniel; Yadav, Jagjit; Yancey, Elissa 04-01-2013 -03-31-2018 National Institute of Environmental Health Sciences Environmental Genetics Role:Collaborator $1,743,768.00 Active Level:Federal
Grant: #R21ES023319 Investigators:Puga, Alvaro; Rubinstein, Jack 08-29-2013 -07-31-2016 National Institute of Environmental Health Sciences Transgenerational Inheritance of Epigenetic Effects of Polychlorinated Biphenyls Role:PI $326,966.00 Awarded Level:Federal
Grant: #T32 ES016646 Investigators:Nebert, Daniel; Puga, Alvaro 07-01-2008 -06-30-2014 National Institute of Environmental Health Sciences Gene-Environment Interaction Training Program Role:PI $1,861,830.00 Active Level:Federal
Grant: #1 R01 ES024744-01 Investigators:Puga, Alvaro; Rubinstein, Jack 11-10-2014 -10-31-2019 National Institute of Environmental Health Sciences Gene-Environment Interactions in the Fetal Origin of Adult Cardiac Disease Role:PI $501,042.00 Awarded Level:Federal
Grant: #R01 EY015227-10A1 Investigators:Kao, Winston Whei Yang; Puga, Alvaro; Xia, Ying 12-01-2014 -11-30-2019 National Eye Institute The Role of MAP 3 Kinase 1 in Ocular Surface Morphogenesis Role:Collaborator $395,729.00 Active Level:Federal
Grant: #ES010807 Investigators:Biesiada, Jacek; Medvedovic, Mario; Niu, Liang; Puga, Alvaro; Xia, Ying 09-30-2017 -06-30-2022 National Institute of Environmental Health Sciences Molecular Mechanisms of Complex Mixture Toxicity Role:PI $445,504.00 Awarded Level:Federal
Grant: #R01HD098106 Investigators:Medvedovic, Mario; Puga, Alvaro; Xia, Ying 04-09-2019 -03-31-2024 National Institute of Child Health and Human Development Gene-environment interactions in epithelial morphogenesis Role:Collaborator $463,850.00 Awarded Level:Federal
Grant: #R21ES031190 Investigators:Biesiada, Jacek; Ko, Chia-I; Puga, Alvaro; Zhang, Xiang 07-01-2020 -06-30-2022 National Institute of Environmental Health Sciences Disruption of Pluripotency by Dioxin Exposure Role:Collaborator $240,750.00 Awarded Level:Federal
Grant: #T32ES007250 Investigators:Puga, Alvaro; Stambrook, Peter 07-01-2020 -06-30-2025 National Institute of Environmental Health Sciences Environmental Carcinogenesis and Mutagenesis Role:Collaborator $552,799.00 Awarded Level:Federal
Grant: #R21ES023507 Investigators:Ho, Shuk-Mei; Puga, Alvaro; Xia, Ying 07-01-2014 -06-30-2017 National Institute of Environmental Health Sciences Gene-Environment Interactions in Eyelid Morphogenesis Role:Collaborator $435,250.00 Closed Level:Federal
Grant: #R21ES033342 Investigators:Burns, Katherine; Medvedovic, Mario; Puga, Alvaro; Xia, Ying 04-01-2022 -03-31-2024 National Institute of Environmental Health Sciences Signaling mechanisms of gene-environment interactions in female reproductive Role:Collaborator 243000.00 Awarded Level:Federal
Peer Reviewed Publications
Khanal, Tilak; Choi, Kwangmin; Leung, Yuet-Kin; Wang, Jiang; Kim, Dasom; Janakiram, Vinothini; Cho, Sung-Gook; Puga, Alvaro; Ho, Shuk-Mei; Kim, Kyounghyun (2017. ) Loss of NR2E3 represses AHR by LSD1 reprogramming, is associated with poor prognosis in liver cancer.Scientific reports, , 7 (1 ) ,10662 More Information
Wang, Qin; Fan, Yunxia; Kurita, Hisaka; Jiang, Min; Koch, Sheryl; Rao, Marepalli B; Rubinstein, Jack; Puga, Alvaro (2017. ) Aryl Hydrocarbon Receptor Ablation in Cardiomyocytes Protects Male Mice from Heart Dysfunction Induced by NKX2.5 Haploinsufficiency.Toxicological sciences : an official journal of the Society of Toxicology, , More Information
Ko, Chia-I; Puga, Alvaro (2017. ) Does the Aryl Hydrocarbon Receptor Regulate Pluripotency?.Current opinion in toxicology, , 2 ,1-7 More Information
Ko, Chia-I; Fan, Yunxia; de Gannes, Matthew; Wang, Qin; Xia, Ying; Puga, Alvaro (2016. ) Repression of the Aryl Hydrocarbon Receptor Is Required to Maintain Mitotic Progression and Prevent Loss of Pluripotency of Embryonic Stem Cells.Stem cells (Dayton, Ohio), , 34 (12 ) ,2825-2839 More Information
Li, Yue; Xie, Changchun; Murphy, Susan K; Skaar, David; Nye, Monica; Vidal, Adriana C; Cecil, Kim M; Dietrich, Kim N; Puga, Alvaro; Jirtle, Randy L; Hoyo, Cathrine (2016. ) Lead Exposure during Early Human Development and DNA Methylation of Imprinted Gene Regulatory Elements in Adulthood.Environmental health perspectives, , 124 (5 ) ,666-73 More Information
Kurita, Hisaka; Carreira, Vinicius S; Fan, Yunxia; Jiang, Min; Naticchioni, Mindi; Koch, Sheryl; Rubinstein, Jack; Puga, Alvaro (2016. ) Ah receptor expression in cardiomyocytes protects adult female mice from heart dysfunction induced by TCDD exposure.Toxicology, , 355-356 ,9-20 More Information
Wang, Qin; Kurita, Hisaka; Carreira, Vinicius; Ko, Chia-I; Fan, Yunxia; Zhang, Xiang; Biesiada, Jacek; Medvedovic, Mario; Puga, Alvaro (2016. ) Ah Receptor Activation by Dioxin Disrupts Activin, BMP, and WNT Signals During the Early Differentiation of Mouse Embryonic Stem Cells and Inhibits Cardiomyocyte Functions.Toxicological sciences : an official journal of the Society of Toxicology, , 149 (2 ) ,346-57 More Information
Carreira, Vinicius S; Fan, Yunxia; Kurita, Hisaka; Wang, Qin; Ko, Chia-I; Naticchioni, Mindi; Jiang, Min; Koch, Sheryl; Zhang, Xiang; Biesiada, Jacek; Medvedovic, Mario; Xia, Ying; Rubinstein, Jack; Puga, Alvaro (2015. ) Disruption of Ah Receptor Signaling during Mouse Development Leads to Abnormal Cardiac Structure and Function in the Adult.PloS one, , 10 (11 ) ,e0142440 More Information
Carreira, Vinicius S; Fan, Yunxia; Wang, Qing; Zhang, Xiang; Kurita, Hisaka; Ko, Chia-I; Naticchioni, Mindi; Jiang, Min; Koch, Sheryl; Medvedovic, Mario; Xia, Ying; Rubinstein, Jack; Puga, Alvaro (2015. ) Ah Receptor Signaling Controls the Expression of Cardiac Development and Homeostasis Genes.Toxicological sciences : an official journal of the Society of Toxicology, , 147 (2 ) ,425-35 More Information
Mongan, Maureen; Meng, Qinghang; Wang, Jingjing; Kao, Winston W-Y; Puga, Alvaro; Xia, Ying (2015. ) Gene-Environment Interactions Target Mitogen-activated Protein 3 Kinase 1 (MAP3K1) Signaling in Eyelid Morphogenesis.The Journal of biological chemistry, , 290 (32 ) ,19770-9 More Information
Lindquist, Diana M; Beckwith, Travis; Cecil, Kim M; Sánchez-Martín, Francisco Javier; Landero-Figueroa, Julio; Puga, Alvaro (2015. ) Prenatal and early postnatal lead exposure in mice: neuroimaging findings.Quantitative imaging in medicine and surgery, , 5 (4 ) ,511-8 More Information
Sánchez-Martín, Francisco Javier; Fan, Yunxia; Carreira, Vinicius; Ovesen, Jerald L; Vonhandorf, Andrew; Xia, Ying; Puga, Alvaro (2015. ) Long-term Coexposure to Hexavalent Chromium and B[a]P Causes Tissue-Specific Differential Biological Effects in Liver and Gastrointestinal Tract of Mice.Toxicological sciences : an official journal of the Society of Toxicology, , 146 (1 ) ,52-64 More Information
Cox, Timothy M; Drelichman, Guillermo; Cravo, Renata; Balwani, Manisha; Burrow, Thomas Andrew; Martins, Ana Maria; Lukina, Elena; Rosenbloom, Barry; Ross, Leorah; Angell, Jennifer; Puga, Ana Cristina (2015. ) Eliglustat compared with imiglucerase in patients with Gaucher's disease type 1 stabilised on enzyme replacement therapy: a phase 3, randomised, open-label, non-inferiority trial.Lancet (London, England), , 385 (9985 ) ,2355-62 More Information
Winans, Bethany; Nagari, Anusha; Chae, Minho; Post, Christina M; Ko, Chia-I; Puga, Alvaro; Kraus, W Lee; Lawrence, B Paige (2015. ) Linking the aryl hydrocarbon receptor with altered DNA methylation patterns and developmentally induced aberrant antiviral CD8+ T cell responses.Journal of immunology (Baltimore, Md. : 1950), , 194 (9 ) ,4446-57 More Information
Sánchez-Martín, Francisco Javier; Lindquist, Diana M; Landero-Figueroa, Julio; Zhang, Xiang; Chen, Jing; Cecil, Kim M; Medvedovic, Mario; Puga, Alvaro (2015. ) Sex- and tissue-specific methylome changes in brains of mice perinatally exposed to lead.Neurotoxicology, , 46 ,92-100 More Information
Ovesen, Jerald L; Fan, Yunxia; Zhang, Xiang; Chen, Jing; Medvedovic, Mario; Xia, Ying; Puga, Alvaro (2014. ) Formaldehyde-Assisted Isolation of Regulatory Elements (FAIRE) analysis uncovers broad changes in chromatin structure resulting from hexavalent chromium exposure.PloS one, , 9 (5 ) ,e97849 More Information
Kurita, Hisaka; Schnekenburger, Michael; Ovesen, Jerald L; Xia, Ying; Puga, Alvaro (2014. ) The Ah receptor recruits IKK? to its target binding motifs to phosphorylate serine-10 in histone H3 required for transcriptional activation.Toxicological sciences : an official journal of the Society of Toxicology, , 139 (1 ) ,121-32 More Information
Ovesen, Jerald L; Fan, Yunxia; Chen, Jing; Medvedovic, Mario; Xia, Ying; Puga, Alvaro (2014. ) Long-term exposure to low-concentrations of Cr(VI) induce DNA damage and disrupt the transcriptional response to benzo[a]pyrene.Toxicology, , 316 ,14-24 More Information
Ko, Chia-I; Wang, Qin; Fan, Yunxia; Xia, Ying; Puga, Alvaro (2014. ) Pluripotency factors and Polycomb Group proteins repress aryl hydrocarbon receptor expression in murine embryonic stem cells.Stem cell research, , 12 (1 ) ,296-308 More Information
Sánchez-Martín, Francisco Javier; Fan, Yunxia; Lindquist, Diana M; Xia, Ying; Puga, Alvaro (2013. ) Lead induces similar gene expression changes in brains of gestationally exposed adult mice and in neurons differentiated from mouse embryonic stem cells.PloS one, , 8 (11 ) ,e80558 More Information
Fan, Yunxia; Ovesen, Jerald L; Puga, Alvaro (2012. ) Long-term exposure to hexavalent chromium inhibits expression of tumor suppressor genes in cultured cells and in mice.Journal of trace elements in medicine and biology : organ of the Society for Minerals and Trace Elements (GMS), , 26 (2-3 ) ,188-91 More Information
Wang, Jingcai; Chen, Liang; Ko, Chia-I; Zhang, Lin; Puga, Alvaro; Xia, Ying (2012. ) Distinct signaling properties of mitogen-activated protein kinase kinases 4 (MKK4) and 7 (MKK7) in embryonic stem cell (ESC) differentiation.The Journal of biological chemistry, , 287 (4 ) ,2787-97 More Information
Geh, Esmond; Meng, Qinghang; Mongan, Maureen; Wang, Jingcai; Takatori, Atsushi; Zheng, Yi; Puga, Alvaro; Lang, Richard A; Xia, Ying (2011. ) Mitogen-activated protein kinase kinase kinase 1 (MAP3K1) integrates developmental signals for eyelid closure.Proceedings of the National Academy of Sciences of the United States of America, , 108 (42 ) ,17349-54 More Information
Ovesen, Jerald L; Schnekenburger, Michael; Puga, Alvaro (2011. ) Aryl hydrocarbon receptor ligands of widely different toxic equivalency factors induce similar histone marks in target gene chromatin.Toxicological sciences : an official journal of the Society of Toxicology, , 121 (1 ) ,123-31 More Information
Puga, Alvaro (2011. ) Perspectives on the potential involvement of the AH receptor-dioxin axis in cardiovascular disease.Toxicological sciences : an official journal of the Society of Toxicology, , 120 (2 ) ,256-61 More Information
Peng, Zhimin; Geh, Esmond; Chen, Liang; Meng, Qinghang; Fan, Yunxia; Sartor, Maureen; Shertzer, Howard G; Liu, Zheng-Gang; Puga, Alvaro; Xia, Ying (2010. ) Inhibitor of kappaB kinase beta regulates redox homeostasis by controlling the constitutive levels of glutathione.Molecular pharmacology, , 77 (5 ) ,784-92 More Information
Wang, Ying; Fan, Yunxia; Puga, Alvaro (2010. ) Dioxin exposure disrupts the differentiation of mouse embryonic stem cells into cardiomyocytes.Toxicological sciences : an official journal of the Society of Toxicology, , 115 (1 ) ,225-37 More Information
Reichard, John F; Puga, Alvaro (2010. ) Effects of arsenic exposure on DNA methylation and epigenetic gene regulation.Epigenomics, , 2 (1 ) ,87-104 More Information
Fan, Yunxia; Boivin, Gregory P; Knudsen, Erik S; Nebert, Daniel W; Xia, Ying; Puga, Alvaro (2010. ) The aryl hydrocarbon receptor functions as a tumor suppressor of liver carcinogenesis.Cancer research, , 70 (1 ) ,212-20 More Information
Sartor, Maureen A; Schnekenburger, Michael; Marlowe, Jennifer L; Reichard, John F; Wang, Ying; Fan, Yunxia; Ma, Ci; Karyala, Saikumar; Halbleib, Danielle; Liu, Xiangdong; Medvedovic, Mario; Puga, Alvaro (2009. ) Genomewide analysis of aryl hydrocarbon receptor binding targets reveals an extensive array of gene clusters that control morphogenetic and developmental programs.Environmental health perspectives, , 117 (7 ) ,1139-46 More Information
Chen, Liang; Ovesen, Jerald L; Puga, Alvaro; Xia, Ying (2009. ) Distinct contributions of JNK and p38 to chromium cytotoxicity and inhibition of murine embryonic stem cell differentiation.Environmental health perspectives, , 117 (7 ) ,1124-30 More Information
Puga, Alvaro; Ma, Ci; Marlowe, Jennifer L (2009. ) The aryl hydrocarbon receptor cross-talks with multiple signal transduction pathways.Biochemical pharmacology, , 77 (4 ) ,713-22 More Information
Ma, Ci; Marlowe, Jennifer L; Puga, Alvaro (2009. ) The aryl hydrocarbon receptor at the crossroads of multiple signaling pathways. EXS, , 99 ,231-57
Reichard, John F; Sartor, Maureen A; Puga, Alvaro (2008. ) BACH1 is a specific repressor of HMOX1 that is inactivated by arsenite.The Journal of biological chemistry, , 283 (33 ) ,22363-70 More Information
Marlowe, Jennifer L; Fan, Yunxia; Chang, Xiaoqing; Peng, Li; Knudsen, Erik S; Xia, Ying; Puga, Alvaro (2008. ) The aryl hydrocarbon receptor binds to E2F1 and inhibits E2F1-induced apoptosis.Molecular biology of the cell, , 19 (8 ) ,3263-71 More Information
Peng, Li; Mayhew, Christopher N; Schnekenburger, Michael; Knudsen, Erik S; Puga, Alvaro (2008. ) Repression of Ah receptor and induction of transforming growth factor-beta genes in DEN-induced mouse liver tumors.Toxicology, , 246 (2-3 ) ,242-7 More Information
Schnekenburger, Michael; Talaska, Glenn; Puga, Alvaro (2007. ) Chromium cross-links histone deacetylase 1-DNA methyltransferase 1 complexes to chromatin, inhibiting histone-remodeling marks critical for transcriptional activation.Molecular and cellular biology, , 27 (20 ) ,7089-101 More Information
Schnekenburger, Michael; Peng, Li; Puga, Alvaro HDAC1 bound to the Cyp1a1 promoter blocks histone acetylation associated with Ah receptor-mediated trans-activation.Biochimica et biophysica acta, , 1769 (9-10 ) ,569-78 More Information
Chang, Xiaoqing; Fan, Yunxia; Karyala, Saikumar; Schwemberger, Sandy; Tomlinson, Craig R; Sartor, Maureen A; Puga, Alvaro (2007. ) Ligand-independent regulation of transforming growth factor beta1 expression and cell cycle progression by the aryl hydrocarbon receptor.Molecular and cellular biology, , 27 (17 ) ,6127-39 More Information
Reichard, John F; Schnekenburger, Michael; Puga, Alvaro (2007. ) Long term low-dose arsenic exposure induces loss of DNA methylation.Biochemical and biophysical research communications, , 352 (1 ) ,188-92 More Information
Reichard, John F; Motz, Gregory T; Puga, Alvaro (2007. ) Heme oxygenase-1 induction by NRF2 requires inactivation of the transcriptional repressor BACH1.Nucleic acids research, , 35 (21 ) ,7074-86 More Information
Genter, Mary Beth; Marlowe, Jennifer; Kevin Kerzee, J; Dragin, Nadine; Puga, Alvaro; Dalton, Timothy P; Nebert, Daniel W (2006. ) Naphthalene toxicity in mice and aryl hydrocarbon receptor-mediated CYPs.Biochemical and biophysical research communications, , 348 (1 ) ,120-3 More Information
Reichard, John F; Dalton, Timothy P; Shertzer, Howard G; Puga, Alvaro (2006. ) Induction of oxidative stress responses by dioxin and other ligands of the aryl hydrocarbon receptor.Dose-response : a publication of International Hormesis Society, , 3 (3 ) ,306-31 More Information
Talaska, Glenn; Ginsburg, David; LaDow, Kathy; Puga, Alvaro; Dalton, Timothy; Warshawsky, David (2006. ) Impact of Cyp1a2 or Ahr gene knockout in mice: implications for biomonitoring studies.Toxicology letters, , 162 (2-3 ) ,246-9 More Information
Singleton, David W; Feng, Yuxin; Yang, Jun; Puga, Alvaro; Lee, Adrian V; Khan, Sohaib A (2006. ) Gene expression profiling reveals novel regulation by bisphenol-A in estrogen receptor-alpha-positive human cells.Environmental research, , 100 (1 ) ,86-92 More Information
Marlowe, Jennifer L; Puga, Alvaro (2005. ) Aryl hydrocarbon receptor, cell cycle regulation, toxicity, and tumorigenesis.Journal of cellular biochemistry, , 96 (6 ) ,1174-84 More Information
Kann, Simone; Estes, Cameron; Reichard, John F; Huang, Ming-Ya; Sartor, Maureen A; Schwemberger, Sandy; Chen, Ying; Dalton, Timothy P; Shertzer, Howard G; Xia, Ying; Puga, Alvaro (2005. ) Butylhydroquinone protects cells genetically deficient in glutathione biosynthesis from arsenite-induced apoptosis without significantly changing their prooxidant status.Toxicological sciences : an official journal of the Society of Toxicology, , 87 (2 ) ,365-84 More Information
Kann, Simone; Huang, Ming-Ya; Estes, Cameron; Reichard, John F; Sartor, Maureen A; Xia, Ying; Puga, Alvaro (2005. ) Arsenite-induced aryl hydrocarbon receptor nuclear translocation results in additive induction of phase I genes and synergistic induction of phase II genes.Molecular pharmacology, , 68 (2 ) ,336-46 More Information
Puga, Alvaro; Tomlinson, Craig R; Xia, Ying (2005. ) Ah receptor signals cross-talk with multiple developmental pathways.Biochemical pharmacology, , 69 (2 ) ,199-207 More Information
Tan, Zongqing; Huang, Mingya; Puga, Alvaro; Xia, Ying (2004. ) A critical role for MAP kinases in the control of Ah receptor complex activity.Toxicological sciences : an official journal of the Society of Toxicology, , 82 (1 ) ,80-7 More Information
Barnes-Ellerbe, Sonya; Knudsen, Karen E; Puga, Alvaro (2004. ) 2,3,7,8-Tetrachlorodibenzo-p-dioxin blocks androgen-dependent cell proliferation of LNCaP cells through modulation of pRB phosphorylation.Molecular pharmacology, , 66 (3 ) ,502-11 More Information
Marlowe, Jennifer L; Knudsen, Erik S; Schwemberger, Sandy; Puga, Alvaro (2004. ) The aryl hydrocarbon receptor displaces p300 from E2F-dependent promoters and represses S phase-specific gene expression.The Journal of biological chemistry, , 279 (28 ) ,29013-22 More Information
Singleton, David W; Feng, Yuxin; Chen, Yangde; Busch, Steve J; Lee, Adrian V; Puga, Alvaro; Khan, Sohaib A (2004. ) Bisphenol-A and estradiol exert novel gene regulation in human MCF-7 derived breast cancer cells.Molecular and cellular endocrinology, , 221 (1-2 ) ,47-55 More Information
Wei, Yu-Dan; Tepperman, Katherine; Huang, Ming-ya; Sartor, Maureen A; Puga, Alvaro (2004. ) Chromium inhibits transcription from polycyclic aromatic hydrocarbon-inducible promoters by blocking the release of histone deacetylase and preventing the binding of p300 to chromatin.The Journal of biological chemistry, , 279 (6 ) ,4110-9 More Information
Vonderheide, Anne P; Meija, Juris; Tepperman, Katherine; Puga, Alvaro; Pinhas, Allan R; States, J Christopher; Caruso, Joseph A (2004. ) Retention of Cr(III) by high-performance chelation ion chromatography interfaced to inductively-coupled plasma mass spectrometric detection with collision cell. Journal of chromatography. A, , 1024 (1-2 ) ,129-37
Puga, Alvaro; Sartor, Maureen A; Huang, Ming-Ya; Kerzee, J Kevin; Wei, Yu-Dan; Tomlinson, Craig R; Baxter, C Stuart; Medvedovic, Mario (2004. ) Gene expression profiles of mouse aorta and cultured vascular smooth muscle cells differ widely, yet show common responses to dioxin exposure. Cardiovascular toxicology, , 4 (4 ) ,385-404
Karyala, Saikumar; Guo, Junhai; Sartor, Maureen; Medvedovic, Mario; Kann, Simone; Puga, Alvaro; Ryan, Patrick; Tomlinson, Craig R (2004. ) Different global gene expression profiles in benzo[a]pyrene- and dioxin-treated vascular smooth muscle cells of AHR-knockout and wild-type mice. Cardiovascular toxicology, , 4 (1 ) ,47-73
Guo, Junhai; Sartor, Maureen; Karyala, Saikumar; Medvedovic, Mario; Kann, Simone; Puga, Alvaro; Ryan, Patrick; Tomlinson, Craig R (2004. ) Expression of genes in the TGF-beta signaling pathway is significantly deregulated in smooth muscle cells from aorta of aryl hydrocarbon receptor knockout mice. Toxicology and applied pharmacology, , 194 (1 ) ,79-89
Puga, Alvaro; Marlowe, Jennifer; Barnes, Sonya; Chang, Ching-yi; Maier, Andrew; Tan, Zongqing; Kerzee, J Kevin; Chang, Xaoqing; Strobeck, Matt; Knudsen, Erik S (2002. ) Role of the aryl hydrocarbon receptor in cell cycle regulation. Toxicology, , 181-182 ,171-7
Senft, Albert P; Dalton, Timothy P; Nebert, Daniel W; Genter, Mary Beth; Puga, Alvaro; Hutchinson, Richard J; Kerzee, J Kevin; Uno, Shigeyuki; Shertzer, Howard G (2002. ) Mitochondrial reactive oxygen production is dependent on the aromatic hydrocarbon receptor. Free radical biology & medicine, , 33 (9 ) ,1268-78
Puga, Alvaro; Xia, Ying; Elferink, Cornelis (2002. ) Role of the aryl hydrocarbon receptor in cell cycle regulation. Chemico-biological interactions, , 141 (1-2 ) ,117-30
Dalton, Timothy P; Puga, Alvaro; Shertzer, Howard G (2002. ) Induction of cellular oxidative stress by aryl hydrocarbon receptor activation. Chemico-biological interactions, , 141 (1-2 ) ,77-95
Tan, Zongqing; Chang, Xiaoqing; Puga, Alvaro; Xia, Ying (2002. ) Activation of mitogen-activated protein kinases (MAPKs) by aromatic hydrocarbons: role in the regulation of aryl hydrocarbon receptor (AHR) function. Biochemical pharmacology, , 64 (5-6 ) ,771-80
Maier, Andrew; Schumann, Brenda L; Chang, Xiaoqing; Talaska, Glenn; Puga, Alvaro (2002. ) Arsenic co-exposure potentiates benzo[a]pyrene genotoxicity. Mutation research, , 517 (1-2 ) ,101-11
Wetherill, Yelena B; Petre, Christin E; Monk, Kelly R; Puga, Alvaro; Knudsen, Karen E (2002. ) The xenoestrogen bisphenol A induces inappropriate androgen receptor activation and mitogenesis in prostatic adenocarcinoma cells. Molecular cancer therapeutics, , 1 (7 ) ,515-24
Dalton, T P; Kerzee, J K; Wang, B; Miller, M; Dieter, M Z; Lorenz, J N; Shertzer, H G; Nerbert, D W; Puga, A (2001. ) Dioxin exposure is an environmental risk factor for ischemic heart disease. Cardiovascular toxicology, , 1 (4 ) ,285-98
Puga, A; Maier, A; Medvedovic, M (2000. ) The transcriptional signature of dioxin in human hepatoma HepG2 cells. Biochemical pharmacology, , 60 (8 ) ,1129-42
Maier, A; Dalton, T P; Puga, A (2000. ) Disruption of dioxin-inducible phase I and phase II gene expression patterns by cadmium, chromium, and arsenic. Molecular carcinogenesis, , 28 (4 ) ,225-35
Puga, A; Barnes, S J; Chang, C; Zhu, H; Nephew, K P; Khan, S A; Shertzer, H G (2000. ) Activation of transcription factors activator protein-1 and nuclear factor-kappaB by 2,3,7,8-tetrachlorodibenzo-p-dioxin. Biochemical pharmacology, , 59 (8 ) ,997-1005
Strobeck, M W; Fribourg, A F; Puga, A; Knudsen, E S (2000. ) Restoration of retinoblastoma mediated signaling to Cdk2 results in cell cycle arrest.Oncogene, , 19 (15 ) ,1857-67 More Information
Puga, A; Barnes, S J; Dalton, T P; Chang, C y; Knudsen, E S; Maier, M A (2000. ) Aromatic hydrocarbon receptor interaction with the retinoblastoma protein potentiates repression of E2F-dependent transcription and cell cycle arrest. The Journal of biological chemistry, , 275 (4 ) ,2943-50
Shertzer, H G; Puga, A; Chang, C; Smith, P; Nebert, D W; Setchell, K D; Dalton, T P (1999. ) Inhibition of CYP1A1 enzyme activity in mouse hepatoma cell culture by soybean isoflavones. Chemico-biological interactions, , 123 (1 ) ,31-49
Vasiliou, V; Reuter, S F; Williams, S; Puga, A; Nebert, D W (1999. ) Mouse cytosolic class 3 aldehyde dehydrogenase (Aldh3a1): gene structure and regulation of constitutive and dioxin-inducible expression. Pharmacogenetics, , 9 (5 ) ,569-80
Carvan, ; Ponomareva, ; Solis, ; Matlib, ; Puga, ; Nebert, (1999. ) Trout CYP1A3 Gene: Recognition of Fish DNA Motifs by Mouse Regulatory Proteins. Marine biotechnology (New York, N.Y.), , 1 (2 ) ,155-166
Dalton, T P; Shertzer, H G; Puga, A (1999. ) Regulation of gene expression by reactive oxygen.Annual review of pharmacology and toxicology, , 39 ,67-101 More Information
Shertzer, H G; Nebert, D W; Puga, A; Ary, M; Sonntag, D; Dixon, K; Robinson, L J; Cianciolo, E; Dalton, T P (1998. ) Dioxin causes a sustained oxidative stress response in the mouse.Biochemical and biophysical research communications, , 253 (1 ) ,44-8 More Information
Fitzgerald, C T; Nebert, D W; Puga, A (1998. ) Regulation of mouse Ah receptor (Ahr) gene basal expression by members of the Sp family of transcription factors.DNA and cell biology, , 17 (9 ) ,811-22 More Information
Chang, C Y; Puga, A (1998. ) Constitutive activation of the aromatic hydrocarbon receptor. Molecular and cellular biology, , 18 (1 ) ,525-35
Puga, A; Hoffer, A; Zhou, S; Bohm, J M; Leikauf, G D; Shertzer, H G (1997. ) Sustained increase in intracellular free calcium and activation of cyclooxygenase-2 expression in mouse hepatoma cells treated with dioxin. Biochemical pharmacology, , 54 (12 ) ,1287-96
Micka, J; Milatovich, A; Menon, A; Grabowski, G A; Puga, A; Nebert, D W (1997. ) Human Ah receptor (AHR) gene: localization to 7p15 and suggestive correlation of polymorphism with CYP1A1 inducibility. Pharmacogenetics, , 7 (2 ) ,95-101
Puga, A; Nebert, D W; McKinnon, R A; Menon, A G (1997. ) Genetic polymorphisms in human drug-metabolizing enzymes: potential uses of reverse genetics to identify genes of toxicological relevance.Critical reviews in toxicology, , 27 (2 ) ,199-222 More Information
Hoffer, A; Chang, C Y; Puga, A (1996. ) Dioxin induces transcription of fos and jun genes by Ah receptor-dependent and -independent pathways.Toxicology and applied pharmacology, , 141 (1 ) ,238-47 More Information
FitzGerald, C T; Fernandez-Salguero, P; Gonzalez, F J; Nebert, D W; Puga, A (1996. ) Differential regulation of mouse Ah receptor gene expression in cell lines of different tissue origins.Archives of biochemistry and biophysics, , 333 (1 ) ,170-8 More Information
Nebert, D W; McKinnon, R A; Puga, A (1996. ) Human drug-metabolizing enzyme polymorphisms: effects on risk of toxicity and cancer.DNA and cell biology, , 15 (4 ) ,273-80 More Information
Liang, H C; Li, H; McKinnon, R A; Duffy, J J; Potter, S S; Puga, A; Nebert, D W (1996. ) Cyp1a2(-/-) null mutant mice develop normally but show deficient drug metabolism. Proceedings of the National Academy of Sciences of the United States of America, , 93 (4 ) ,1671-6
Puga, A; Micka, J; Chang, C Y; Liang, H C; Nebert, D W (1996. ) Role of molecular biology in risk assessment. Advances in experimental medicine and biology, , 387 ,395-404
Vasiliou, V; Puga, A; Chang, C Y; Tabor, M W; Nebert, D W (1995. ) Interaction between the Ah receptor and proteins binding to the AP-1-like electrophile response element (EpRE) during murine phase II [Ah] battery gene expression. Biochemical pharmacology, , 50 (12 ) ,2057-68
Duh, J L; Zhu, H; Shertzer, H G; Nebert, D W; Puga, A (1995. ) The Y-box motif mediates redox-dependent transcriptional activation in mouse cells. The Journal of biological chemistry, , 270 (51 ) ,30499-507
Yao, Y; Hoffer, A; Chang, C Y; Puga, A (1995. ) Dioxin activates HIV-1 gene expression by an oxidative stress pathway requiring a functional cytochrome P450 CYP1A1 enzyme. Environmental health perspectives, , 103 (4 ) ,366-71
Vasiliou, V; Theurer, M J; Puga, A; Reuter, S F; Nebert, D W (1994. ) Mouse dioxin-inducible NAD(P)H: menadione oxidoreductase: NMO1 cDNA sequence and genetic differences in mRNA levels. Pharmacogenetics, , 4 (6 ) ,341-8
Liu, R M; Vasiliou, V; Zhu, H; Duh, J L; Tabor, M W; Puga, A; Nebert, D W; Sainsbury, M; Shertzer, H G (1994. ) Regulation of [Ah] gene battery enzymes and glutathione levels by 5,10-dihydroindeno[1,2-b]indole in mouse hepatoma cell lines. Carcinogenesis, , 15 (10 ) ,2347-52
Chang, C; Smith, D R; Prasad, V S; Sidman, C L; Nebert, D W; Puga, A (1993. ) Ten nucleotide differences, five of which cause amino acid changes, are associated with the Ah receptor locus polymorphism of C57BL/6 and DBA/2 mice. Pharmacogenetics, , 3 (6 ) ,312-21
Nebert, D W; Puga, A; Vasiliou, V (1993. ) Role of the Ah receptor and the dioxin-inducible [Ah] gene battery in toxicity, cancer, and signal transduction. Annals of the New York Academy of Sciences, , 685 ,624-40
Vasiliou, V; Puga, A; Nebert, D W (1993. ) Mouse class 3 aldehyde dehydrogenases: positive and negative regulation of gene expression. Advances in experimental medicine and biology, , 328 ,131-9
Vasiliou, V; Puga, A; Nebert, D W (1992. ) Negative regulation of the murine cytosolic aldehyde dehydrogenase-3 (Aldh-3c) gene by functional CYP1A1 and CYP1A2 proteins. Biochemical and biophysical research communications, , 187 (1 ) ,413-9
Nebert, D W; Petersen, D D; Puga, A (1991. ) Human AH locus polymorphism and cancer: inducibility of CYP1A1 and other genes by combustion products and dioxin. Pharmacogenetics, , 1 (2 ) ,68-78
Carrier, F; Chang, C Y; Duh, J L; Nebert, D W; Puga, A (1994. ) Interaction of the regulatory domains of the murine Cyp1a1 gene with two DNA-binding proteins in addition to the Ah receptor and the Ah receptor nuclear translocator (ARNT). Biochemical pharmacology, , 48 (9 ) ,1767-78
Pilon, A L; Kozak, C A; Nebert, D W; Puga, A (1993. ) Localization of the murine Hmg1 gene, encoding an HMG-box protein, to mouse chromosome 2. Mammalian genome : official journal of the International Mammalian Genome Society, , 4 (10 ) ,612-4
Puga, A; Nebert, D W; Carrier, F (1992. ) Dioxin induces expression of c-fos and c-jun proto-oncogenes and a large increase in transcription factor AP-1.DNA and cell biology, , 11 (4 ) ,269-81 More Information
Carrier, F; Owens, R A; Nebert, D W; Puga, A (1992. ) Dioxin-dependent activation of murine Cyp1a-1 gene transcription requires protein kinase C-dependent phosphorylation. Molecular and cellular biology, , 12 (4 ) ,1856-63
Puga, A; Raychaudhuri, B; Nebert, D W (1992. ) Transcriptional derepression of the murine Cyp1a-1 gene by mevinolin. FASEB journal : official publication of the Federation of American Societies for Experimental Biology, , 6 (2 ) ,777-85
RayChaudhuri, B; Nebert, D W; Puga, A (1990. ) The murine Cyp1a-1 gene negatively regulates its own transcription and that of other members of the aromatic hydrocarbon-responsive [Ah] gene battery.Molecular endocrinology (Baltimore, Md.), , 4 (12 ) ,1773-81 More Information
Puga, A; Raychaudhuri, B; Salata, K; Zhang, Y H; Nebert, D W Stable expression of mouse Cyp1a1 and human CYP1A2 cDNAs transfected into mouse hepatoma cells lacking detectable P450 enzyme activity.DNA and cell biology, , 9 (6 ) ,425-36 More Information
Puga, A; Nebert, D W (1990. ) Evolution of the P450 gene superfamily and regulation of the murine Cyp1a1 gene. Biochemical Society transactions, , 18 (1 ) ,7-10
Shibata, M; Puga, A; Salata, K F; Bachurski, C J; Lerman, M I; Notkins, A L (1989. ) Expression of a viral gene in insulin-producing cell lines renders them susceptible to immunological destruction. Diabetologia, , 32 (10 ) ,709-15
Nebert, D W; Jones, J E; Owens, J; Puga, A (1988. ) Evolution of the P450 gene superfamily. Progress in clinical and biological research, , 274 ,557-76
Puga, A; Oates, E L (1987. ) Isolation and nucleotide sequence of rat Cu/Zn superoxide dismutase cDNA clones. Free radical research communications, , 3 (6 ) ,337-46
Research - University of Cincinnati Department of Environmental Health
160 Panzeca Way
Cincinnati  Ohio, 45267
Phone: 513.558.0916
Alvaro.Pugauc.edu