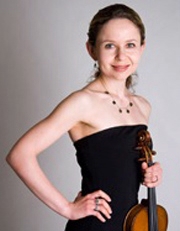 Anna Reider
Anna Reider has performed extensively throughout Europe, North and South America, Russia and Israel. She has concertized with orchestras around the world, establishing herself as one of the most promising young violinists of her generation. Born in Russia to pianist Tatiana Reider and violinist Vladimir Reider, she began her violin studies in earnest at the age of seven, following in the footsteps of both her father and her grandfather (Itzhak Reider).

Reider's first solo orchestra performance came at age nine. Since then, she has won the Grand Prize at the Russian National Competition for Young Violinists, the Clermont Violin Competition in Israel, the top award of the America-Israel Cultural Foundation, and was a two-time winner of the Aspen Fellowship Award. Her various chamber music engagements have included a recital with Michael Tree, the LaSalle Chamber Music Series, the Linton Chamber Music Series, the Mayors 801 Plum Series, and numerous engagements with members of the Cincinnati Symphony Orchestra and Israeli Chamber Orchestra. Reider's solo recital at the Kravis Center in West Palm Beach, with accompaniment by her mother, Tatiana, won her critical acclaim.

Reider joined the Cincinnati Symphony Orchestra as a first violinist in 2002. Her summer festival appearances have included Aspen, Caramoor and Keshet Alon. Reider has made many live recordings for television and radio. Her feature CD recording of the Wieniawski Violin Concerto in F# Minor with the Plovdiv Philharmonic Orchestra came out in the spring of 2004 on the MMO label.

Reider studied in Novosibirsk with Zahar Bron and as a Starling Scholarship student of Dorothy Delay, Kurt Sassmannshaus and Piotr Milewski at the University of Cincinnati.