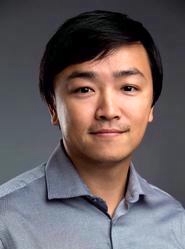 Jialiang Wang
Assistant Professor
Dr. Julian Wang received his Ph.D. in architecture from Texas A&M University and the first doctoral degree in engineering from Tianjin University, China. Before joining UC, Wang taught building technology in Missouri University Science and Technology and also worked at the Environmental Energy Technologies Division of Lawrence Berkeley National Laboratory.
 
Wang has been educated as an architect, engineer, and researcher, which enables him to explore the integrated approach and design-oriented research for building sustainability. His teaching and research focus on built environmental technology and its integration into the design process. His recent research projects are funded by the NSF, EPA, AIA, NIST, and NSF China. He is also the recipient of a few fellowships and awards, such as Richard Kelly Award, ThinkSwiss Research Fellow, and IESNA Young Professionals Fund.

In addition, he serves as an editorial board member in the journal of Technology | Architecture + Design (TAD) and also scientific committee for several international conferences (PLEA, ACE, JCCME) in the field of sustainable building design and technology.
Ph.D. in Architecture, Texas A&M University 2014
Dr.Eng in Building Science, Tianjin University 2011
Investigators:Co-PI 08-24-2018 -02-24-2019 Federal Highway Administration Evaluate Opportunities to Provide Training Simulation for ODOT Snow and Ice Drivers $39,791.70 Active
Investigators:PI 04-26-2018 -06-30-2022 The Nuckolls Fund for Lighting Education, Inc. Establish Cross-disciplinary Architectural Lighting Education $20,000.00 Active
Investigators:Co-PI 08-01-2017 -07-31-2019 NIST PSCR First Responder Indoor Location Using LTE Direct Mode Operations and BIM $398,869 Active
Investigators:PI 07-01-2017 -12-31-2019 UC AHSS (Level II) Tailored Energy Feedbacks to Promote Household Energy Saving Behaviors $30,000 Active
Investigators:PI 01-01-2017 -12-31-2018 Environmental Protection Agency-Phase II Sensible Home: Micro-environmental Control through Wearable Personal Sensor $75,000 Active
Investigators:Co-PI 08-01-2016 -07-31-2019 NSF CMMI The Photothermal Effects of Iron Oxide Nanoparticles on Energy Efficient Windows $349,948 Active
Investigators:PI 11-01-2015 -10-31-2016 EPA - Phase I Sensible Home: Micro-environmental Control through Wearable Personal Sensor $15,000 Completed Type:Grant
Investigators:PI 01-01-2013 -12-31-2015 NSF-China Study on Bioclimatic Features of Bio-inspired Kinetic Envelopes Based on Parametric Methods of BIM ~ $37,332 Completed
Investigators:PI 01-01-2011 -12-31-2011 AIA / BSA Integrating BIM into Biomimicry for Sustainable Design $10,000 Completed
Grant: #CMMI-1847024 Investigators:Wang, Jialiang 07-01-2019 -06-30-2024 National Science Foundation CAREER: Understanding Thermal and Optical Behaviors of NIR-Selective Dynamic Glazing Structures of Buildings Role:PI $500,000.00 Awarded Level:Federal
Grant: #33810 / FHA E190477 Investigators:Ma, Jiaqi; Wang, Jialiang 08-26-2019 -02-26-2020 Federal Highway Administration Assess the Effectiveness of Type 2 and Type 3 Safety Vest for Day and Night Use Role:Collaborator $65,960.06 Awarded Level:Federal
Research and Practice Interests
His research agenda has been focused on sustainable built environments in recent years. The topics include smart buildings and envelopes, daylighting and windows, performance-based design and analysis, and biomimicry for building sustainability. He is particularly interested in the multidisciplinary approach to sustainable design which combines experimental works on building technologies, computational modeling and simulation, and user-ended data sensing and processing.