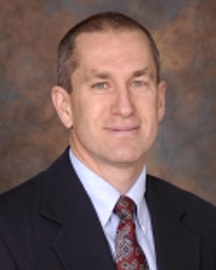 John D Wyrick , MD
Adjunct Professor
University of Cincinnati College of Medicine
231 Albert Sabin Way
ML 0212
Cincinnati , Ohio 45267
Phone 513-558-2870
Fax 513-558-2220
Email john.wyrick@uc.edu
John D. Wyrick, MD is currently a Professor at the University of Cincinnati College of Medicine, Department of Orthopaedic Surgery and Sports Medicine, Division of Upper Extremity Surgery and Trauma.

Dr. Wyrick grew up in the West Virginia area.  He received his Bachelor of Science in Microbiology from Ohio State University in 1980; and his Medical Degree from Wright State University in 1984. From there he completed a 1 year internship in general surgery at University of Cincinnati Medical Center, Cincinnati Ohio (1984 - 1985); 1 year research fellowship in orthopaedic surgery at the University of Cincinnati, Cincinnati Ohio (1985 - 1986); 5 year residency in orthopaedic surgery at Miami Valley Hospital, Dayton, Ohio (1986 - 1991) ; 1 year fellowship - Mary S. Stern hand surgery at Cincinnati and Bethesda Hospitals, Cincinnati Ohio (1991 - 1992).

He is Board Certified through the American Board of Orthopaedic Surgery - Subspecialty Upper Extremity and Trauma (1994).
Bachelor's Degree: Ohio State University 1980 (Microbiology)
Medical Degree: Wright State University 1984
Internship : University of Cincinnati Cincinnati, Oh , 1985 (General Surgery )
Residency: Wright State University Dayton, Ohio, 1991 (Orthopaedic Surgery)
Fellowship: University of Cincinnati Cincinnati, OH, 1992 (Hand Surgery)
Fellowship: Martin Allgower AO Traveling Trauma Hannover, Germany and Bern, Switzerland, 1999
American Board of Orthopaedic Surgery (Certification Date: 07-15-1994 ) - (Recertification Date: to 01-01-2015 )
American Board of Surgery (Hand Surgery) (Certification Date: 08-25-1997 ) - (Recertification Date: to 08-02-2008 )
Hand Surgery
Orthopaedic Surgery
Orthopaedic Surgery
Research and Practice Interests
Positions and Work Experience
2011 -To Present Professor, Department of Orthopaedic Surgery, University of Cincinnati College of Medicine, Cincinnati, OH
Peer Reviewed Publications
Casstevens, Chris; Le, Toan; Archdeacon, Michael T; Wyrick, John D (2012. ) Management of extra-articular fractures of the distal tibia: intramedullary nailing versus plate fixation.The Journal of the American Academy of Orthopaedic Surgeons, , 20 (11 ) ,675-83 More Information
Archdeacon, Michael T; Simon, Patrick M; Wyrick, John D (2007. ) The influence of insurance status on the transfer of femoral fracture patients to a level-I trauma center.The Journal of bone and joint surgery. American volume, , 89 (12 ) ,2625-31 More Information
Archdeacon, Michael T; Wyrick, John D (2006. ) Reduction plating for provisional fracture fixation. Journal of orthopaedic trauma, , 20 (3 ) ,206-11
Wyrick, John D Proximal row carpectomy and intercarpal arthrodesis for the management of wrist arthritis. The Journal of the American Academy of Orthopaedic Surgeons, , 11 (4 ) ,277-81
Wyrick, J D; Youse, B D; Kiefhaber, T R (1998. ) Scapholunate ligament repair and capsulodesis for the treatment of static scapholunate dissociation. Journal of hand surgery (Edinburgh, Scotland), , 23 (6 ) ,776-80
Reilly, K E; Linz, J C; Stern, P J; Giza, E; Wyrick, J D (1997. ) Osteomyelitis of the tubular bones of the hand.The Journal of hand surgery, , 22 (4 ) ,644-9 More Information
Wyrick, J D; Stern, P J; Kiefhaber, T R (1995. ) Motion-preserving procedures in the treatment of scapholunate advanced collapse wrist: proximal row carpectomy versus four-corner arthrodesis.The Journal of hand surgery, , 20 (6 ) ,965-70 More Information
Lin, H H; Wyrick, J D; Stern, P J (1995. ) Proximal interphalangeal joint silicone replacement arthroplasty: clinical results using an anterior approach.The Journal of hand surgery, , 20 (1 ) ,123-32 More Information
Cantor, R M; Stern, P J; Wyrick, J D; Michaels, S E (1994. ) The relevance of ligament tears or perforations in the diagnosis of wrist pain: an arthrographic study.The Journal of hand surgery, , 19 (6 ) ,945-53 More Information
Wyrick, J D; Stern, P J (1992. ) Secondary nerve reconstruction. Hand clinics, , 8 (3 ) ,587-98
Bruno, L P; Stern, P J; Wyrick, J D Skeletal changes after burn injuries in an animal model. The Journal of burn care & rehabilitation, , 9 (2 ) ,148-51
Wyrick, J D; Stern, P J; Bruno, L P; Alexander, J W (1988. ) The inhibition of skeletal changes in a rat burn model with a local muscle flap. Plastic and reconstructive surgery, , 81 (2 ) ,246-50
Bonnaig, Nicolas S; Casstevens, Chris; Archdeacon, Michael T; Connelly, Camille; Monaco, Nathan; Wyrick, John D; Le, T Toan (2014. ) Fix It Or Discard It? A Retrospective Analysis Of Functional Outcomes After Surgically Treated Patella Fractures Comparing ORIF With Partial Patellectomy.Journal of orthopaedic trauma, , More Information
d'Heurle, Albert; Kazemi, Namdar; Connelly, Camille; Wyrick, John D; Archdeacon, Michael T; Le, Theodore T (2015. ) Prospective Randomized Comparison of Locked Plates vs. Non-Locked Plates for the Treatment of High-Energy Pilon Fractures.Journal of orthopaedic trauma, , More Information
Wyrick, John D; Dailey, Steven K; Gunzenhaeuser, Jacob M; Casstevens, E Christopher (2015. ) Management of Complex Elbow Dislocations: A Mechanistic Approach.The Journal of the American Academy of Orthopaedic Surgeons, , 23 (5 ) ,297-306 More Information
Ho S.;Stern P.;Alexander J.;Bruno L.;Wyrick J.;Waymack J. (12-01-1987. ) Relationship of prostaglandin E2 to pathologic new bone formation in a burn model .Surgical Forum, , 38 ,540-542
Bagnoli D.; Barre P.; Gabel S.; Scher K.; Wyrick J. (01-01-1988. ) Effect of bupivacaine on wound healing in a rabbit model .Surgical Forum, , 39 ,530-532
Archdeacon M.;Ford K.;Wyrick J.;Paterno M.;Hampton S.;Ludwig M.;Hewett T. (01-01-2008. ) A prospective functional outcome and motion analysis evaluation of the hip abductors after femur fra.Journal of Orthopaedic Trauma, , 22 (1 ) ,3-9 More Information
D'Heurle A.;Le T.;Grawe B.;Casstevens E.;Edgington J.;Archdeacon M.;Wyrick J. (11-01-2013. ) Perioperative risks associated with the operative treatment of clavicle fractures.Injury, , 44 (11 ) ,1579-1581 More Information
Wyrick J.;Dailey S.;Gunzenhaeuser J.;Christopher Casstevens E. (01-01-2015. ) Management of complex elbow dislocations: A mechanistic approach.Journal of the American Academy of Orthopaedic Surgeons, , 23 (5 ) ,297-306 More Information
D'Heurle A.;Kazemi N.;Connelly C.;Wyrick J.D.;Archdeacon M.T.;Le T.T. (01-01-2015. ) Prospective randomized comparison of locked plates versus nonlocked plates for the treatment of high.Journal of Orthopaedic Trauma, , 29 (9 ) ,420-423 More Information
Kakazu, Rafael; Dailey, Steven K; Schroeder, Amanda J; Wyrick, John D; Archdeacon, Michael T (2016. ) Iatrogenic Radial Nerve Palsy After Humeral Shaft Nonunion Repair: More Common Than You Think.Journal of orthopaedic trauma, , 30 (5 ) ,256-61 More Information
Kakazu R.;Dailey S.;Schroeder A.;Wyrick J.;Archdeacon M. (05-01-2016. ) Iatrogenic Radial Nerve Palsy after Humeral Shaft Nonunion Repair: More Common Than You Think.Journal of Orthopaedic Trauma, , 30 (5 ) ,256-261 More Information
Wyrick J.D.;Keller T.J. (11-04-2015. ) Persistent elbow instability.Shoulder and Elbow Trauma and its Complications, , 2 ,225-246 More Information
Wyrick J.D.;Dailey S.K. (11-04-2015. ) Complex elbow dislocations.Shoulder and Elbow Trauma and its Complications, , 2 ,13-45 More Information
Wyrick J.D.;Jimenez A.W. (11-04-2015. ) Fractures of the proximal radius and ulna: Coronoid fractures.Shoulder and Elbow Trauma and its Complications, , 2 ,145-166 More Information
Grawe B.;Le T.;Lee T.;Wyrick J. (01-01-2012. ) Open Reduction and Internal Fixation (ORIF) of Complex 3- and 4-Part Fractures of the Proximal Humer.Geriatric Orthopaedic Surgery & Rehabilitation, , 3 (1 ) ,27-32 More Information
Schumaier, Adam P; Southam, Brendan R; Avilucea, Frank R; Finnan, Ryan P; Wyrick, John D; Archdeacon, Michael T; Le, Theodore T (2019. ) Factors Predictive of Blocking Screw Placement in Retrograde Nailing of Distal Femur Fractures.Journal of orthopaedic trauma, , 33 (6 ) ,e229-e233 More Information
Dailey, Steven K; Miller, Ashley R; Kakazu, Rafael; Wyrick, John D; Stern, Peter J (2018. ) The Effectiveness of Mini-C-Arm Fluoroscopy for the Closed Reduction of Distal Radius Fractures in Adults: A Randomized Controlled Trial.The Journal of hand surgery, , 43 (10 ) ,927-931 More Information
Schumaier, Adam Phillip; Avilucea, Frank Roman; Southam, Brendan Ryan; Sinha, Preetha; Le, Theodore Toan; Wyrick, John Dwight; Archdeacon, Michael Thomas (2018. ) Terminal position of a tibial intramedullary nail: a computed tomography (CT) based study.European journal of trauma and emergency surgery : official publication of the European Trauma Society, , More Information
Dailey, Steven K; Wyrick, John D (2014. ) Femoral Lengthening Over an Intramedullary Nail: A Case of Failed Distraction: A Case Report.JBJS case connector, , 4 (3 ) ,e68-e6 More Information
Hussain M.;Kakazu R.;Jimenez A.;Wyrick J. (01-01-2020. ) Proximal Cortical Breach After Retrograde Femoral Nailing for Femoral Shaft Fracture: A Case Report.JBJS case connector, , 10 (1 ) ,e0388 More Information
Kakazu R.;Wyrick J. (12-01-2018. ) Management of Complex Proximal Humerus Fractures: What Is the Role of Open Reduction and Internal Fi.Current Geriatrics Reports, , 7 (4 ) ,264-271 More Information
Sprague S.;Schemitsch E.H.;Swiontkowski M.;Della Rocca G.J.;Jeray K.J.;Liew S.;Slobogean G.P.;Bzovsky S.;Heels-Ansdell D.;Zhou Q.;Bhandari M.;Sprag S.;Devereaux P.J.;Guyatt G.;Heetveld M.J.;Richardson M.;Thabane L.;Tornetta P.;Walter S.D.;McKay P.;Scott T.;Garibaldi A.;Viveiros H.;Swinton M.;Gichuru M.;Buckingham L.;Duraikannan A.;Maddock D.;Simunovic N.;Agel J.;Van Lieshout E.M.M.;Zielinski S.M.;Rangan A.;Hanusch B.C.;Kottam L.;Clarkson R.;Haverlag R.;McCormack R.;Apostle K.;Boyer D.;Moola F.;Perey B.;Stone T.;Viskontas D.;Lemke H.M.;Zomar M.;Moon K.;Moon R.;Oatt A.;Buckley R.E.;Duffy P.;Korley R.;Puloski S.;Powell J.;Johnston K.;Carcary K.;Lorenzo M.;McKercher R.;Sanders D.;MacLeod M.;Lawendy A.R.;Tieszer C.;Stephen D.;Kreder H.;Jenkinson R.;Nousiainen M.;Axelrod T.;Murnaghan J.;Nam D.;Wadey V.;Yee A.;Milner K.;Kunz M.;Ghent W.;McKee M.D.;Hall J.A.;Nauth A.;Ahn H.;Whelan D.B.;Vicente M.R.;Wild L.M.;Khan R.M.;Hidy J.T.;Coles C.;Leighton R.;Biddulph M.;Johnston D.;Glazebrook M.;Alexander D.;Coady C.;Dunbar M.;Amirault J.D.;Gross M.;Oxner W.;Reardon G.;Richardson C.G.;Trenholm J.A.;Wong I.;Trask K.;MacDonald S. (05-01-2018. ) Factors Associated with Revision Surgery after Internal Fixation of Hip Fractures.Journal of Orthopaedic Trauma, , 32 (5 ) ,223-230 More Information
Schumaier A.;Avilucea F.;Southam B.;Sinha P.;Le T.;Wyrick J.;Archdeacon M. (01-01-2018. ) Terminal position of a tibial intramedullary nail: a computed tomography (CT) based study.European Journal of Trauma and Emergency Surgery, , More Information
Nauth A.;Creek A.T.;Zellar A.;Lawendy A.R.;Dowrick A.;Gupta A.;Dadi A.;van Kampen A.;Yee A.;de Vries A.C.;de Mol van Otterloo A.;Garibaldi A.;Liew A.;McIntyre A.W.;Prasad A.S.;Romero A.W.;Rangan A.;Oatt A.;Sanghavi A.;Foley A.L.;Karlsten A.;Dolenc A.;Bucknill A.;Chia A.;Evans A.;Gong A.;Schmidt A.H.;Marcantonio A.J.;Jennings A.;Ward A.;Khanna A.;Rai A.;Smits A.B.;Horan A.D.;Brekke A.C.;Flynn A.;Duraikannan A.;Stødle A.;van Vugt A.B.;Luther A.;Zurcher A.W.;Jain A.;Amundsen A.;Moaveni A.;Carr A.;Sharma A.;Hill A.D.;Trommer A.;Rai B.S.;Hileman B.;Schreurs B.;Verhoeven B.;Barden B.B.;Flatøy B.;Cleffken B.I.;Bøe B.;Perey B.;Hanusch B.C.;Weening B.;Fioole B.;Rijbroek B.;Crist B.D.;Halliday B.;Peterson B.;Mullis B.;Richardson C.G.;Clark C.;Sagebien C.A.;van der Pol C.C.;Bowler C.;Humphrey C.A.;Coady C.;Koppert C.L.;Coles C.;Tannoury C.;DePaolo C.J.;Gayton C.;Herriott C.;Reeves C.;Tieszer C.;Dobb C.;Anderson C.G.;Sage C.;Cuento C.;Jones C.B.;Bosman C.H.R.;Linehan C.;van der Hart C.P.;Henderson C.;Lewis C.G.;Davis C.A.;Donohue C.;Mauffrey C.;Sundaresh D.C.;Farrell D.J.;Whelan D.B.;Horwitz D.;Stinner D.;Viskontas D.;Roffey D.M. (04-15-2017. ) Fracture fixation in the operative management of hip fractures (FAITH): an international, multicentr.The Lancet, , 389 (10078 ) ,1519-1527 More Information
Wyrick J. (01-01-2015. ) Glenoid and other scapula fractures.Shoulder and Elbow Trauma and its Complications, , 1 ,167-190 More Information
McCormack R.;Apostle K.;Boyer D.;Moola F.;Perey B.;Stone T.;Viskontas D.;Michael Lemke H.;Zomar M.;Moon K.;Moon R.;Oatt A.;Buckley R.E.;Duffy P.;Korley R.;Puloski S.;Johnston K.;Powell J.;Carcary K.;Sanders D.;Lawendy A.;Tieszer C.;Stephen D.;Kreder H.;Jenkinson R.;Nousiainen M.;Axelrod T.;Murnaghan J.;Nam D.;Wadey V.;Yee A.;Milner K.;Kunz M.;Schemitsch E.H.;Ahn H.;Hall J.A.;McKee M.D.;Whelan D.B.;Nauth A.;Vicente M.R.;Wild L.M.;Khan R.M.;Hidy J.T.;Coles C.;Leighton R.;Biddulph M.;Johnston D.;Glazebrook M.;Alexander D.;Coady C.;Dunbar M.;Amirault D.;Gross M.;Oxner W.;Reardon G.;Richardson G.;Trenholm A.;Wong I.;Trask K.;MacDonald S.;Dobbin G.;Bicknell R.;Yach J.;Bardana D.;Wood G.;Harrison M.;Yen D.;Lambert S.;Howells F.;Ward A.;Zalzal P.;Brien H.;Naumetz V.;Weening B.;Simunovic N.;Wai E.K.;Papp S.;Gofton W.T.;Liew A.;Kingwell S.P.;Johnson G.;O'Neil J.;Roffey D.M.;Borsella V.;Avram V.;Oliver T.M.;Jones V.;Jones C.B.;Ringler J.R.;Endres T.J.;Sietsema D.L.;Jeray K.J.;Scott Broderick J.;Goetz D.R.;Pace T.B.;Schaller T.M.;Porter S.E.;Tanner S.L.;Snider R.G. (09-26-2014. ) Fixation using alternative implants for the treatment of hip fractures (FAITH): Design and rationale.BMC Musculoskeletal Disorders, , 15 (1 ) , More Information
Dailey S.;Wyrick J. (01-01-2014. ) Femoral lengthening over an intramedullary nail: A case of failed distraction: A case report.JBJS Case Connector, , 4 (3 ) , More Information
Academic - University of Cincinnati College of Medicine
231 Albert Sabin Way
Cincinnati   Ohio, 45267
Phone: 513-558-2870
Fax: 513-558-2220
john.wyrick@uc.edu