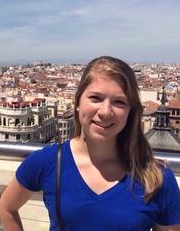 Ashley Nichole (Johann) Anneken
Assistant Professor Educator
Old Chemistry Building
719A
A&S Romance & Arabic Languages & Literat - 0377
Ashley holds a M.A. in Spanish from the University of Cincinnati and a B.A. in Spanish, Psychology, and Legal Studies from Saint Louis University, and has also studied in Mérida, Mexico, and Madrid, Spain. In the classroom, Ashley is inspired by the ability of foreign-language education to guide learners through unique discovery processes of self and society. Her current projects involve implementing Integrated Performance Assessment and Game-Based Language Learning.
Honors Bachelor of Arts: Saint Louis University St. Louis, Missouri, 2017 (Spanish, Psychology, Legal Studies)
Master of Arts: University of Cincinnati Cincinnati, Ohio, 2019 (Spanish)
Positions and Work Experience
2017 - Graduate Teaching Assistant, Teach Basic Intensive Spanish, emphasizing language acquisition through interaction and meaningful communicative exchange via the Communicative Approach. Assist with pilot course using flipped, hybrid approach. , University of Cincinnati, Cincinnati, Ohio
2016 -2017 Intern, Compiled organizational guide regarding preparation and implementation of Power of Attorney workshops in Missouri and Illinios; prepared bilingual Spanish-English educational materials and presentations on topics of concern to the immigrant community; translated client letters and forms from English to Spanish and Spanish to English. , Migrant and Immigrant Community Action Project, St. Louis, Missouri
2018 -2018 Teaching Assistant, Online Basic Intensive Spanish, Facilitated online learning experience through Blackboard LMS and Panorama Supersite. , University of Cincinnati, Cincinnati, Ohio
08-2019 -06-2021 Adjunct Instructor of Spanish, Teach undergraduate Spanish 1001 and 1002 in a flipped, hybrid course format, 5 credit hours, 20 students per class; facilitate learning online environment using curriculum platform and Canvas LMS, with task-based activities in the classroom. Served as level liaison to collaborate with Basic Spanish Coordinator on level meeting presentations and curriculum development. , University of Cincinnati, Cincinnati, OH
08-2021 -To Present Assistant Professor - Educator, University of Cincinnati, Cincinnati, Ohio
Invited Presentations
Ashley Johann (10-2018. ) "The Hybrid Course from a TA's Perspective." .Online Language Teaching at UC: What's Working. University of Cincinnati. UC. . Level:College
Ashley Johann (04-2019. ) "Gramática: Expressing what you have to do and what you are going to do." Sample lesson from Contraseña. .Spanish instructor and TA training, University of Cincinnati. UC. . Level:Department
Ashley Johann (01-2019. ) "Active Learning: Going Beyond 'Textbook + Lecture = Class.'" ."Get Up and Go" Workshop, University of Cincinnati. UC. . Level:University
Paper Presentations
Ashley Johann (04-2016. ) Guinea Ecuatorial: El aislamiento y el fracaso de la libertad feminina en "Historia de una maestra" .Saint Louis University. Other Institution.
Ashley Johann (04-2018. ) "Tiempo de silencio: La técnica narrativa como facilitador del análisis psicológico." .University of Cincinnati. UC. Level:National
Ashley Johann (04-2019. ) "Lazarillo de Tormes: A incorporar el canon en las clases de nivel básico." .University of Cincinnati. UC. Level:National
Symposium
Ashley Johann (04-2016. ) Policy, Public Sentiment, and the Immigrant Experience .Saint Louis University. Other Institution. Level:University
Ashley Johann (11-2019. ) "Blending IPA and other pedagogies to maximize critical thinking about texts." .Washington, D.C.. Conference. Level:International
Johann, Ashley and Vojtko Rubí, Jen. (2020. ) Reconfiguring classroom space to promote proficiency-oriented instruction .Online. Conference. Level:International
Johann, Ashley and Vojtko Rubí, Jen. (2021. ) Interpersonal Assessments in Synchronous and Asynchronous Online Courses. Online. Conference. Level:International
34-SPAN-101 BASIC SPANISH I Level:Undergraduate