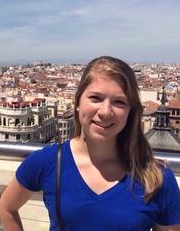 Ashley Nichole (Johann) Anneken
Assistant Professor Educator
Old Chemistry Building
719A
A&S Romance & Arabic Languages & Literat - 0377
Ashley holds a M.A. in Spanish from the University of Cincinnati and a B.A. in Spanish, Psychology, and Legal Studies from Saint Louis University, and has also studied in Mérida, Mexico, and Madrid, Spain. Ashley is inspired by the ability of foreign-language education to guide learners through unique discovery processes of self and society, and her research interests include literature and psychoanalytic theory, as well as women's travel narratives.
Honors Bachelor of Arts: Saint Louis University St. Louis, Missouri, 2017 (Spanish, Psychology, Legal Studies)
Master of Arts: University of Cincinnati Cincinnati, Ohio, 2019 (Spanish)
Research and Practice Interests
As an Spanish instructor, Ashley views the classroom not only as a space to learn a new language of communication, but also as a space to explore different facets of the self and society through the lens of a foreign language. As a researcher, Ashley is particularly interested in psychoanalytic literary theory and women's travel narratives, as well as the literary expression of themes of politics, memory, and collective consciousness. 
Positions and Work Experience
2017 - Graduate Teaching Assistant, Teach Basic Intensive Spanish, emphasizing language acquisition through interaction and meaningful communicative exchange via the Communicative Approach. Assist with pilot course using flipped, hybrid approach. , University of Cincinnati, Cincinnati, Ohio
2016 -2017 Intern, Compiled organizational guide regarding preparation and implementation of Power of Attorney workshops in Missouri and Illinios; prepared bilingual Spanish-English educational materials and presentations on topics of concern to the immigrant community; translated client letters and forms from English to Spanish and Spanish to English. , Migrant and Immigrant Community Action Project, St. Louis, Missouri
2018 -2018 Teaching Assistant, Online Basic Intensive Spanish, Facilitated online learning experience through Blackboard LMS and Panorama Supersite. , University of Cincinnati, Cincinnati, Ohio
08-2019 -06-2021 Adjunct Instructor of Spanish, Teach undergraduate Spanish 1001 and 1002 in a flipped, hybrid course format, 5 credit hours, 20 students per class; facilitate learning online environment using curriculum platform and Canvas LMS, with task-based activities in the classroom. Served as level liaison to collaborate with Basic Spanish Coordinator on level meeting presentations and curriculum development. , University of Cincinnati, Cincinnati, OH
08-2021 -To Present Assistant Professor - Educator, University of Cincinnati, Cincinnati, Ohio
Invited Presentations
Ashley Johann (10-2018. ) "The Hybrid Course from a TA's Perspective." .Online Language Teaching at UC: What's Working. University of Cincinnati. UC. . Level:College
Ashley Johann (04-2019. ) "Gramática: Expressing what you have to do and what you are going to do." Sample lesson from Contraseña. .Spanish instructor and TA training, University of Cincinnati. UC. . Level:Department
Ashley Johann (01-2019. ) "Active Learning: Going Beyond 'Textbook + Lecture = Class.'" ."Get Up and Go" Workshop, University of Cincinnati. UC. . Level:University
Paper Presentations
Ashley Johann (04-2016. ) Guinea Ecuatorial: El aislamiento y el fracaso de la libertad feminina en "Historia de una maestra" .Saint Louis University. Other Institution.
Ashley Johann (04-2018. ) "Tiempo de silencio: La técnica narrativa como facilitador del análisis psicológico." .University of Cincinnati. UC. Level:National
Ashley Johann (04-2019. ) "Lazarillo de Tormes: A incorporar el canon en las clases de nivel básico." .University of Cincinnati. UC. Level:National
Symposium
Ashley Johann (04-2016. ) Policy, Public Sentiment, and the Immigrant Experience .Saint Louis University. Other Institution. Level:University
Ashley Johann (11-2019. ) "Blending IPA and other pedagogies to maximize critical thinking about texts." .Washington, D.C.. Conference. Level:International
Johann, Ashley and Vojtko Rubí, Jen. (2020. ) Reconfiguring classroom space to promote proficiency-oriented instruction .Online. Conference. Level:International
Johann, Ashley and Vojtko Rubí, Jen. (2021. ) Interpersonal Assessments in Synchronous and Asynchronous Online Courses. Online. Conference. Level:International
34-SPAN-101 BASIC SPANISH I Level:Undergraduate