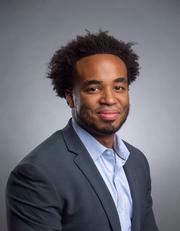 Antar Akari Tichavakunda
Antar A. Tichavakunda received his Ph.D. in Urban Education Policy from the University of Southern California. Born and raised in Washington, DC, Tichavakunda is a product of DC Public School and earned a Bachelor of Arts in Education Studies from Brown University. Prior to his doctoral studies, Tichavakunda worked as an 11th grade English teacher in DC Public Schools. Using qualitative inquiry, Tichavakunda has engaged in research on college readiness, Black students' experiences at predominantly White institutions, and more broadly the sociology of race and higher education. His published work can be found in The Educational Forum, The Journal of Negro Education, and Education and Urban Society. He has also signed an advance book contract with SUNY Press based on his research concerning Black students' campus lives. Tichavakunda enjoys military pressing, incline bench pressing, and avoiding leg-day at all costs. A walking contradiction, he identifies with Sith ideology in Star Wars but would probably be a member of the Hufflepuff house in Harry Potter.
PhD: University of Southern California 2018 (Urban Education Policy- Higher Education)
M.Ed: George Mason University 2013
B.A.: Brown University 2011 (Education Studies/Policy)
Research and Practice Interests
I examine, from a sociological perspective, how higher education can shape a more equitable society. Stemming from this central theme, I examine a) college access and b) race relations in in higher education.
Grant: #R25084 Investigators:Tichavakunda, Antar 05-01-2020 -04-30-2021 UC's URC Faculty Research Cost Support Awards Program Cartographies of the Campus Racial Climate Role:PI $7,500.00 Active Level:Internal UC
Peer Reviewed Publications
Antar A. Tichavakunda (2019. ) The case for summer: Conceptualizing the Summer Divide in higher education .Industry and Higher Education , , 33 (3 ) ,157-160
Antar A. Tichavakunda and William G. Tierney (2018. ) The 'Wrong' Side of the Divide: Highlighting Race for Equity's Sake. Journal of Negro Education, , 87 (2 ) ,110-124
Link to the Journal of Negro Education
Antar A. Tichavakunda (2017. ) Perceptions of Financial Aid: Black Students at a Predominantly White Institution .The Educational Forum, , 81 (1 ) ,3-17
Antar A. Tichavakunda (2017. ) Fostering college readiness: An ethnography of a Latina/o afterschool program. .Education and Urban Society, , 1-24
Ethnography of an Afterschool Program
Antar A. Tichavakunda (2019. ) An Overdue Theoretical Discourse: Pierre Bourdieu's Theory of Practice and Critical Race Theory in Education.Educational Studies , , 1-16
An Overdue Theoretical Discourse
More Information
Book Chapter
Antar A. Tichavakunda (2020 ) Relational Sociology and Race Relations: Pushing the Conversation in Higher Education Relational Sociology and Research on Schools, Colleges and Universities .Albany, NY, SUNY Press
Zoë B. Corwin & Antar A. Tichavakunda (2018 ) Facilitating Digital Access: The Role of Digital Empowerment Agents Diversifying Digital Learning: Online Literacy and Educational Opportunity .Baltimore, MD, Johns Hopkins University Press
University of Southern California Rossier Dissertation of Distinction Awarded the PhD Dissertation of distinction award for the school of education for the 2017-2018 academic year at the University of Southern California. Status:Recipient Level:College