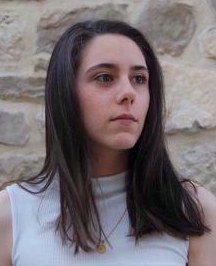 Olga Sanz Casasnovas
Graduate Assistant
Olga Sanz holds a degree in Hispanic Studies from the University of Zaragoza. She is currently in her first year of a Spanish MA and working as a TA for this same department. 
Filología Hispánica: Universidad de Zaragoza Zaragoza (Aragón) , 2019
Research and Practice Interests
Interested in grottesque as a aesthetic category, Olga studied this subject for her final project in the University of Zaragoza. She investigated La vida de Pedro Saputo, an aragonese novel, and its relation with this aesthetic category. This study was qualified with a 9.1 of 10. 
Other Publications
Olga Sanz Casasnovas (2018. ) Revista IMAN (nº 19), 47-50
Symposium
Olga Sanz Casasnovas (03-22-2019. ) "El elemento grotesco en la Vida de Pedro Saputo: El episodio del convento" .Madrid (Spain). Conference. Level:University
"El elemento grotesco en la Vida de Pedro Saputo: El episodio del convento"