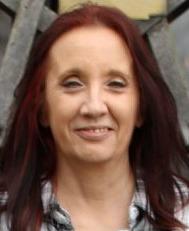 Kristi Jo Hall
Assistant Professor
Ms.
Univeristy of Cincinnati, Clermont College
4200 Clermont College Drive
Batavia, Ohio 45103
Phone 513-558-4807
Email kristi.hall@uc.edu
Kristi Hall is an Assistant Professor of Information Technology at the University of Cincinnati, Clermont College. She has a Master's degree in instructional technology and design and has taught information technology and computer science for several institutions over the past 25 years. She teaches courses in IT fundamentals, programming, networking, digital media and IT ethics,  She has also served as an instructional designer and coordinator of distance learning for a small private college in Southern Ohio and has worked in the information technology field.
Associate of Applied Business: Southern State Community College (Computer Programming)
Bachelor of Arts: Capital University (Management Information Systems)
Paper Presentations
Hall, K. & Chundur, S. Tools and Techniques to Increase Student Engagement in Online Programs .
Hall, K. Quality Improvement…Why Emergency Remote Learning is not the same as Online Education .
Hall, K. Beyond Digital Citizenship…Let's Teach our Students to be Digital Leaders .
Hall, K. Encouraging Student Voice with DE&I Based Online Communication Standards .
Post Graduate Training and Education
01-2003-05-2004 Masters in Education, Completed the M.Ed. in Instructional Technology and Design, Viginia Polytechnic Institute, , Blacksburg, VA
Certified Quality Matters IYOC Instructor
Certified Quality Matters Peer Reviewer
-IT-1050 FUND OF INFO TECH Level:Undergraduate
-IT-2020 IMPLICATIONS OF IT
-IT-2040C FUND OF WEB DEVELOP
-IT-2060C DATABASE MGT I
Computer Networking
Database Management II
Fundamentals of Open Source Web Server Application Development
Fundamentals of Digital Media
-IS-2080C DIGITAL TECH IN BUS
Fundamentals of Data Visualization
Academic - Univeristy of Cincinnati, Clermont College
4200 Clermont College Drive
Batavia  Ohio, 45103
Phone: 513-558-4807
kristi.hall@uc.edu