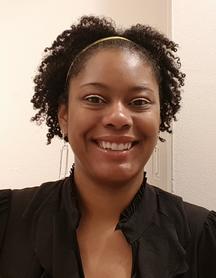 Shureka _ Nyawalo
Assistant Professor Educator
Assistant Professor Educator and Coordinator of the Basic French Program
Email nyawalsa@ucmail.uc.edu
My name is Dr. Shureka Nyawalo and I am an Assistant Professor Educator and the Basic French Program Coordinator at the University of Cincinnati Clifton (uptown) campus. My research and scholarly interests include French phonology, second/foreign language teaching and learning, and teaching in higher education contexts. At UC, I teach 1000-level and 3000-level courses in French. As coordinator, I oversee the 1000- and 2000-level courses in the French program.
PhD: Université Bordeaux Montaigne Pessac, France, 2017 (L1 French phonology)
MA: Penn State University State College, PA, 2007 (French phonology, applied linguistics)
BA: Truman State University Kirksville, MO, 2004 (French, French translation, linguistics)
Positions and Work Experience
08-2019 - Assistant Professor Educator and Basic French Program Coordinator, University of Cincinnati, Cincinnati, OH
08-2017 -05-2019 Visiting Assistant Professor, College of Wooster, Wooster, OH
08-2015 -05-2017 Visiting Instructor, Colorado State University-Pueblo, Pueblo, CO
08-2012 -05-2012 Adjunct Instructor, Shawnee State University, Portsmouth, OH
01-2012 -05-2012 Visiting instructor, Central Michigan University, Mount Pleasant, Michigan
Paper Presentations
Shureka Nyawalo (11-2018. ) Aspects sociolinguistiques du schwa final en conversation à Bordeaux .Paris, France.
Shureka Nyawalo (11-2017. ) Une analyse de la liaison après être et avoir : un cas d'étude à Bordeaux .Paris, France.
Shureka Nyawalo (02-2017. ) Liaison and enchaînement realization in L2 and L3 French: Results from a reading task .Loveland, Colorado.
Shureka Nyawalo (04-2016. ) Schwa realization in Bordeaux French: a sociolinguistic approach .Pueblo, Colorado.
Shureka Nyawalo (01-2015. ) A case study of Minnesota French in attrition: what is retained and what is lost .Portsmouth, Ohio.
Shureka Nyawalo (07-2014. ) Class size, interpersonal relationships, and foreign language anxiety .Grand Forks, North Dakota.
(Basic Languages Committee ) Committee Chair Type:Departmental Service Level:Department
(Policies Committee ) Committee Member Type:Departmental Service Level:Department
(Evaluation Committee ) Committee Member Type:Departmental Service Level:Department
(Language Placement Committee ) Committee Member Type:University/College Service Level:College
Member of AABHE, The American Association of Blacks in Higher Education
Member of AATF, The American Association of Teachers of French
Member of AAUSC, The American Association of University Supervisors, Coordinators, and Directors of Foreign Language Programs
Member of ACTFL, The American Council on the Teaching of Foreign Languages
Basic French 1
Basic French 2
Speaking in French about France/Francophone Cultures
Extended Basic French 1
French Practicum 1 Level:Graduate
French Practicum 2 Level:Graduate
Academia.edu profile: independent.academia.edu/SNyawalo
Linked in profile: www.linkedin.com/in/shurekanyawalo,
Academic - nyawalsa@ucmail.uc.edu