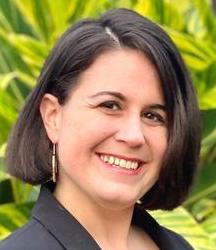 Carmen Marie Culotta
Research Associate
Before joining the University of Cincinnati Evaluation Services Center in 2020, Dr. Culotta was an Associate Trial Consultant, assisting attorneys with trial preparation and conducting focus group research with mock jurors. Additionally, she was an Instructor in the Department of Psychology at Wright State University from 2014-19.

Her research and teaching interests include adolescent peer relationships and positive youth development. Currently, Dr. Culotta teaches PRFS 1001, the first-year experience course for College of Education, Criminal Justice, and Human Services majors at UC. 

Dr. Culotta served the Miami Valley community in Ohio as an Executive Board Member of the Norris Cole Foundation (2018-19), which focuses on youth literacy, and she currently serves as a Court Appointed Special Advocate for the Montgomery County Juvenile Court and as an appointed member of the Dayton City Commission's Police Use of Force Committee. 

In her capacity as a UCESC Research Associate, Dr. Culotta is the project lead/co-lead for several evaluation projects that focus on a range of topics, including K-12 family/school partnerships, community mental health centers, and various STEM-focused higher-education initatives. 
 
Ph.D.: The Pennsylvania State University 2014 (Developmental Psychology)
M.S.: The Pennsylvania State University 2010 (Developmental Psychology)
B.S.: University of New Orleans 2006 (Psychology)
Peer Reviewed Publications
Goff, P.A., Jackson, M.C., Di Leone, B.A.L., Culotta, C.M., & DiTomasso, N.A. (2014. ) The essence of innocence: Consequences of dehumanizing Black children .Journal of Personality and Social Psychology, , 106 ,526 -545
Culotta, C.M. & Goldstein, S.E. (2008. ) Adolescents' aggressive and prosocial behavior: Associations with jealousy and social anxiety .Journal of Genetic Psychology, , 169 ,21 -33
Other Publications
Culotta, C.M. (2019. ) Analyzing racial stereotypes in NFL scouting reports: An in-class activity .In S. Baker (Ed.) Teaching Tips: A Compendium of Conference Presentations on Teaching, 2017-18. Retrieved from: http://teachpsych.org/ebooks/teachingtips3,